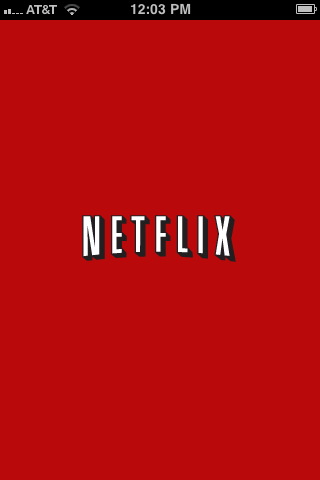 This last week saw the long-awaited release of Netflix for the Apple iPhone and iPod Touch. Netflix already provides the ability to stream movies on a number of platforms including Wii, Playstation 3, Xbox and iPad. Subscribers to Netflix have been waiting for iPhone support ever since the Netflix was announced for the Apple iPad at the Apple launch in January. Support for Netflix on the iPhone was announced back in June during the Apple launch of the iPhone 4, which created a lot of excitement for the audience.
The Netflix application is free but requires membership to one of the available packages, starting at $8.99. The application allows users to browse/search available shows/movies, add them to their instant queue or view them on their iPhone or iPod Touch over a WiFi or 3G connection. There have been a number of applications available which allowed Netflix queue management, but this official application is the first with streaming.
As an avid Netflix member, I downloaded the app for my iPhone 3G on day one and was pleased with the streaming quality and ease of use, access to my instant queue, new releases and ability to very quickly start streaming a movie. The quality of the movie was as good as any movie I've saved on the iPhone, and streaming did not seem to struggle with a good signal. A nice feature is the ability to start viewing a movie or show on the iPhone or iPod and then resume on another device. Unfortunately, the current version does not appear to allow displaying on an external device such as a TV or monitor.
With the number of devices that you can stream movies on, the issue of user access and parental control becomes more important. To access your instant queue and stream movies each household only needs to use their Netflix account. Unless a household wants to purchase additional accounts, everyone who wants to view movies will use the same login, but doing so allows access to any rated movie as well as anything in the instant queue. As more devices are added, parental control will become harder with families sharing one instant queue, as it allows anyone with account access to resume watching a movie, whether it is appropriate or not. To control access, one possible solution could be for Netflix to provide separate logins for other family members under the main account, complete with their own queue and parental controls over which ratings each account could access. Netflix only allows up to six devices per account, so the logins couldn't be abused, and monitoring activity by device would be easier, including knowing who watched what and when.
The Netflix service continues to grow, providing more access and content. A recent deal that Netflix signed with Epix, a premium cable TV channel, will add even more value to the Netflix service by bringing movies from MGM, Paramount and Lionsgate. As they compete with Hulu, Google and Apple's TV service, Netflix will need to continue adding value for its customers. Now that Netflix has released their application for iPhone and iPod Touch, the focus should turn to other devices such as Android.
As Netflix continues to expand, adding devices and content, we'll be watching.  We all have our ideas on what Netflix might do next, but whether or not they materialize remains to be seen.  What are your thoughts on how you would like to see the service evolve?