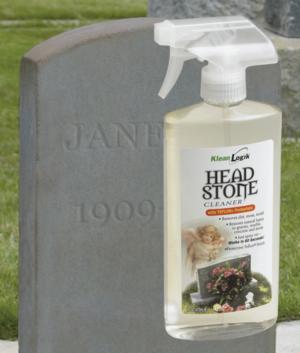 Is your loved one's final resting place not looking up to snuff?
Sure you could clean it up with any old bottle of all purpose cleaner but why not use something specifically designed for the task.
Klean Logik's Headstone Cleaner takes just 60 seconds to restore your beloved's headstone to its original beauty.  The specially formulated spray deep cleans, renews luster and easily lifts dirt, moss, mold and grime away leaving behind a protective Teflon finish that helps preserve and maintain both the headstone itself and the inscription.
Headstone Cleaner works on granite, marble, concrete and natural stone and contains no harsh or harmful chemicals.
Pick up a bottle now for only $8 here.