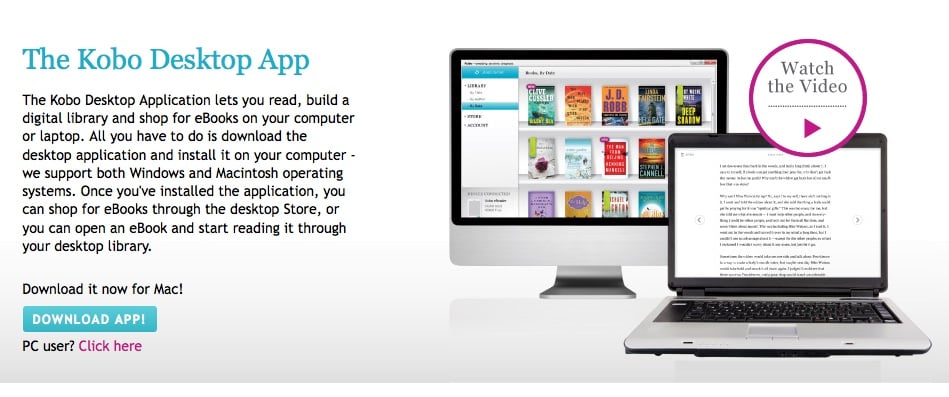 Kobo has been all over smartphones for some time, but their "desktop" offerings have been browser-based. Kobo has finally released a dedicated desktop application for Macs and PCs, so you don't have to worry about juggling Firefox tabs to read a book. This puts them on closer footing to Amazon and B&N, who both offer feature-rich desktop programs as companions to their smartphone offerings.
I also think this is a fairly major shift for Kobo. Their early offerings were very connection-dependent, and even the smartphone apps required an active connection to read a book. Now, their smartphone apps all download the books, they even offer a non-connected ebook reading device, and they've moved their last bastion of web-based interaction to the desktop. It shows how much Kobo has grown as a company, and the ways they are evolving from a simple ebook website to a serious competitor to B&N and Amazon.
The other big game changer here is how the Kobo Desktop app lets users interact with Sony Readers as well. This means users aren't limited to Sony's expensive and confusing ebookstore, and might be the one saving grace for Sony's new ebook line. Very smart move by Kobo, especially if their desktop app is less finicky than Adobe and Sony's own desktop offerings.
You can download the Kobo Desktop apphere, and check out their full release below!
Popular eReaders Now Easily Connect to Kobo Service

TORONTO, ON — September 8, 2010, 2010— Kobo, a global eReading service, today announced the Kobo Desktop Application, a free, downloadable application now available from www.kobobooks.com that enables users to read, build a digital library, and shop for eBooks directly from their computer or laptop. The new application also allows Kobo customers with 3rd party eReaders, such as the Sony Reader, to easily connect to Kobo to download or purchase content.

The new Kobo Desktop Application offers a personalized, secure and central destination where users can manage their entire Kobo reading experience. Through the Desktop Application customers can instantly access their library and download their purchases directly to their computer and read offline without an Internet connection. Additionally, the Kobo Desktop Application enables users to shop for eBooks through the integrated Kobo eBook Store and download content to their desktop to easily build and manage their library.

Kobo currently offers dedicated applications for iPhone, iPad, BlackBerry, Android, Android Tablets, as well as the Kobo eReader. Now with the Kobo Desktop users can sync their entire library between their mobile devices and the desktop. Customers with popular eReaders can now manage their digital library in one place, connect to the Kobo store to buy or download free content from over 2.2 million titles, and benefit from Kobo's range of free applications for mobile devices. The free application also comes preloaded on every Kobo eReader making it easy for users to organize their library right out of the box.

Consistent with the overall Kobo reading experience, the Kobo Desktop Application allows users to customize font, style and size to suit their own reading preferences, and the company's signature bookmarking feature makes it possible to pickup reading where you left off. Plus, bookmarks follow a user from the Kobo Desktop Application to their smartphone, tablet, or eReader allowing for continuous reading on any device.

"Kobo has long supported reading across platforms, and now we are the first to provide an experience that supports a wide range of eReaders and mobile devices, "said Michael Serbinis, CEO of Kobo. "As an avid reader and book lover, I understand the importance of knowing your books are safe, secure and always at your fingertips. The Kobo desktop is the first phase of a new Kobo initiative to give readers more control over their eBooks, and new tools to display and share their growing library."

The Kobo desktop application supports both Windows and Macintosh operating systems and is currently available for free download from http://www.kobobooks.com/desktop. The application also comes preloaded on every Kobo eReader. The Kobo eReader is available for purchase at Borders in the US, Indigo Books & Music and Walmart in Canada, and Whitcoull's, A&R, and Borders in Australia / New Zealand.

About Kobo, Inc.
Kobo is a global eReading service backed by majority shareholder Indigo Books & Music, Borders Group, REDgroup Retail, and Cheung Kong Holdings. Kobo believes consumers should be able to read any book on any device. With a catalog of over two million eBooks, and an open platform, Kobo enables retailers, device manufacturers and mobile operators to bring the joy of eReading to customers everywhere. For more information, visit www.kobobooks.com.

About "Powered by Kobo": Kobo, Inc."Powered by Kobo" is an eBook partner program from Kobo, a global eBook service backed by Indigo Books & Music, Borders Group, REDgroup Retail, and Cheung Kong Holdings. The 'Powered by Kobo' program provides a flexible solution for hardware manufacturers and retailers worldwide to launch an eReader or eBook store. "Powered by Kobo" partners have access to Kobo's catalogue of more than two million titles and applications for smartphones, netbooks, laptops, tablets and dedicated eReaders. Kobo's vision is to deliver any book on any device and is a strong voice in the eBook industry supporting open standards for eBooks and eReaders. For more information, visit www.kobobooks.com.

THIS WEEK ONLY: Celebrate the new Kobo Desktop App by saving $2 on select eBooks by using promo code "kobodesktop".