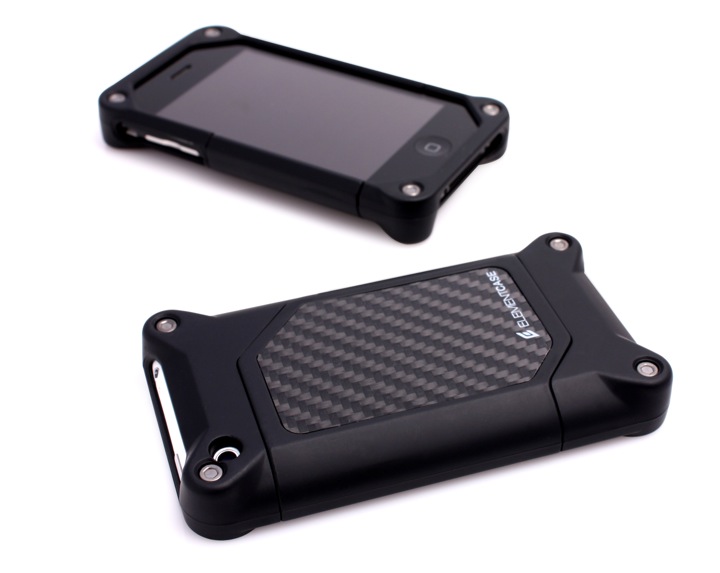 While Dan, Judie and I LOVED the design of the Element Vapor Case for the iPhone 4 we weren't thrilled with what it did to our iPhones' reception.  That aside, there's no denying the company has created some super slick looking accessories for both the iPad and the iPhone.
Element has just announced a new line of cases for the iPhone 3G/3Gs and iPhone 4 and once again their designs haven't disappointed.  The Carbon Fiber Line, featuring the Formula and Ion cases is available now in extremely limited quantities for iPhone 3GS, and will released in October for iPhone 4.
Both cases cases meld highly shock-absorbent design with the moto-style, race-inspired beauty of genuine Carbon Fiber.
The Formula (seen above), is a three piece, break apart-slider case that features flared corners, exposed fasteners and universal compatibility with any dock or iPhone accessory.  Molded from high-impact polycarbonate, Formula will be available initially in a matte-black, rubber tone finish that offers the ultimate meld of function and fashion.
The Ion is a form-fitting silicone case and features a massively thick silicone housing for iPhone with a high, flared lip over iPhone's front glass and complete protection from any angle in the event of a drop.  An inlaid Carbon Fiber backing features printed graphics coated in a pure resin finish, preserving the beauty of the Carbon within and giving added protection for the iPhone's back.
Only one thousand first-production units of each case will be available exclusively for iPhone 3GS in this first release, each retailing for $59.
You can learn more by visiting the Element Case web site here.