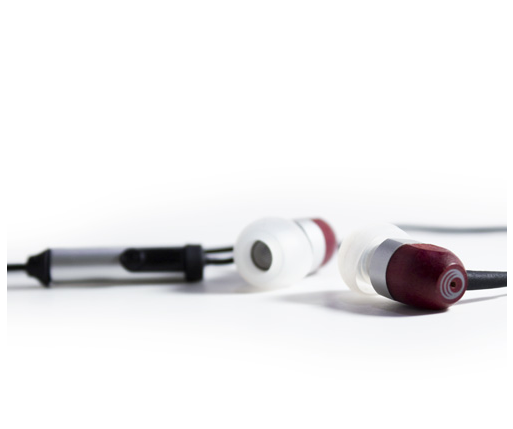 We've reviewed a few of Thinksound's offerings before and found them to be amongst the best when it comes to good sounding, good fitting and good looking in-ear headphones.  But that's not all….  Thinksound headphones are assembled primarily from renewable, recyclable resources like wood and aluminum, and feature PVC-free cables. The packaging is made from bleach-free recycled cardboard and eliminates the common plastic pieces normally associated with headphone packaging.
The company has just announced its newest release, the ts02+ mic, a 8mm high-definition headphone with integrated microphone and call control.
The headphone will be compatible with the iPhone, iPad, and most Blackberry models and smart phones and like Thinksound's Like previous models, the ts02+mic will be available in two finishes – silver/cherry and black/chocolate.  All thinksound headphones include four different-sized silicon earbuds to ensure a comfortable fit. A cotton carrying case pouch is also included to carry the headphones, and includes room for an iPod, iPhone, and many other popular MP3 players.
The ts02+mic are on sale now for $99 and you can earn more by visiting the Thinksound product page here.