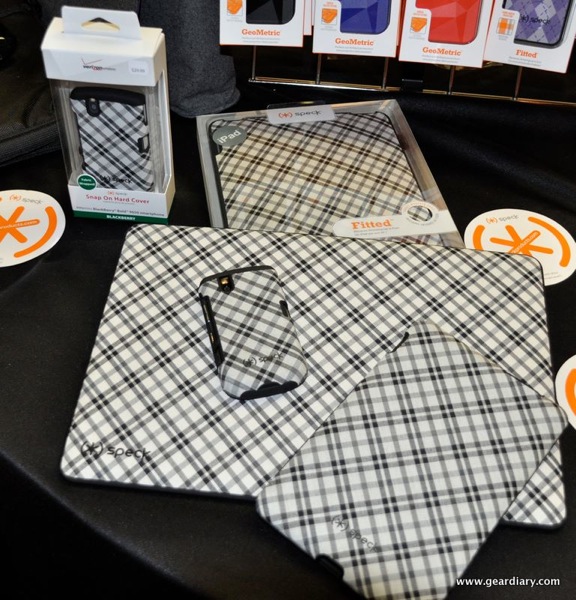 Believe it or not Christmas is right out around the corner. Every year around this time many of the public relation firms that represent technology companies begin to offer up their products for inclusion in "holiday gift guides". These guides, which are published by both print and online media, showcase the hottest tech. for the upcoming holiday season.
On September 15th, I had the opportunity to attend the Pepcom Holiday Spectacular in NYC. This event allowed a sampling of tech companies to display their latest and greatest products. The products shown ran the gamut, from iPhone cases to TVs and more.
Ready to start your holiday shopping? Here's a small sampling of what's hot for the tech lover on your list.
I've reviewed both the Native Union Moshi Moshi 02 and 03 series devices and they are amongst my most favorite products of all time. There's nothing worse that using your iPhone for an extended telephone call and the Native Union devices flat-out solve the problem. The new 04 model was designed by award-winning British designer Michael Young. It combines not only Bluetooth capabilities but also two high quality stereo speakers for music playback as well. There's noise reduction, conference calling, and off course plain telephone dialing. The handset itself is made from brushed aluminum and features a soft touch casing. It'll come in two colors, taupe with cooper or black with silver.
- 3 modes (private call, conference call, music playback)
- 6 hours talk time, 2 hours music play back, 120 hours standby
- Call answering directly from the base
- A2DP
- Noise reduction
Learn more by visiting the Native Union home page here.
Haier's new Blu-Ray Player, the BDP100, is poised to capture a big share of the market. Not only does the super affordable device (M.S.R.P. – $149) allow for playback in full 1080p but it connects to the internet (ethernet or a WiFi dongle required, a WiFi enabled model is coming soon) which allows you to stream your favorite music from Pandora or watch Netflix and more. What's great about it is the fact that it's equipped with Netfilx 2.0 which allows for the user to see the entire Nefilx catalogue without having to access their computer.  I recently picked up a Samsung WiFi enabled Blu-Ray and it's running Netflix 1.0.  The only streaming content I'm able to see on it is what's set up in my queue.
Also on the horizon from Haier are two docks specifically for the iPad.
The IPD-100 View XL is a powerful 25 watt speaker system that creates some serious sound while docking your iPad. You can dock the iPad in either orientation, landscape or portrait and then watch movies or TV shows while your device gets re-charged. The dock comes with a free alarm clock app, too. It'll be available in November with a retail price of $129.99
The smaller IPD-01 Flex allows you to dock the iPad into three different positions. An ergonomic position for typing, portrait or landscape. This makes it one of the most versatile stands I've come across. Almost a cross between a stand and a docking station.  It features built-in speakers, and aux input for use with an iPod or other Mp3 player and a remote control. Look for it in November, with a retail price of $79.99.
Learn more by visiting the Haier home page here.
After much success with their Juice Pack Air back up battery style case for the iPhone and iPod Touch Mophie is back with the industry's first iPad back up battery. The Power Station is a 3600 mAh external battery that's rated to work with not only the iPad but the iPhone and iPod Touch as well. It utilizes USB out port which allows it to also charge almost any USB capable device (other cell phones, Mp3 players etc.) too. It features an on/off switch and visual power level display so you'll know exactly how much power's remaining. The Power Station retails for $99.95 and is available via the Mophie Web site now; it will be in Apple retail stores shortly.
Learn more by visiting the Mophie home page here.
Case-Mate had a bunch of new announcements to make at the event. They've partnered with Nordstorm to sell new versions of their hottest products this holiday season. The new offerings will be available in 100 Nordstrom stores starting in November. For the iPad consumers will find the Venture case now available in faux lizard skins and in bright colors including pink, gold, black and purple. And for the iPhone Nordstrom gets the Barely There (also in the faux lizard), I Make My Case with renowned graphic artists such as Deanne Cheuk, Matt Moore, Cinda B and more. And there's a new case too. The Hula case for the iPhone 4 is a bumper style case that comes in a variety of colors including pink, blue, white and red. Prices range from $19.99 to $89.99 and everything will hit stores sometime in November.
Case-Mate has also partnered with Pong, makers of a radiation reducing iPhone 4 case. The new "Bounce" series of cases not only seek to look good and provide protection for your phone, but perhaps even more importantly to also protect the user from any harmful radiation exposure that may be coming from the phone itself.. The Bounce line will be available for the iPhone 4, Blackberry 8520, 9560, 9700 and 9800.
Learn more by visiting the Case-Mate website here.
I've been a big fan of XtremeMac ever since I spotted their iPhone 3G/3Gs cases at Office Depot last year. The company has really stepped up their game with a host of new stuff. The Incharge Duo for the iPad is a dual charging dock for iPod, iPhone and iPad. You can simultaneously charge any combination of iDevices at the same time. The dock comes complete with LED status indicators to let you know when each device is fully charged.  It's available in Apple retail stores right now.
The 3 in 1 Micro Dock, also from XtremeMac features 3 functions packed into a small, portable package. Plug your iPhone  or iPod Touch in and it'll play your music, re-charge the device and wake you up in the morning. It comes with its own app too.  Perfect for the business traveler who wants to pack light but also wants a convenient way hear his/her music while on the road.
Learn more by visiting the XtremeMac home page here.
The imation Link allows you to wireless stream HD video from your computer (Mac or PC) to any HD ready TV, projector or monitor. It features a small USB dongle which your plug into your computer and a larger receiver which goes into your TV via an HDMI connection. Once set up the two devices communicate with each other via line of site (no more than about 30 ft.) to stream the full HD picture.  This offers a faster than WiFi experience.
Learn more by visiting the imation home page here.
Speck is one of our favorite case manufacturers. What struck me most about their latest offerings was the consistency across all of their product line. Yes they have a ton of new cases for a variety of devices but their patterns now stretch across their entire portfolio. If you want to coordinate your entire device lineup so that everything matches you can!  From your Kindle to your Blackberry to your Mac Book.  You can rock the same styled case on each.  But you're not limited to choosing cases that are exactly the same. Many of the colors Speck uses in their cases, for example, match up with those used in their bags. This allows you to color coordinate your gadget's wardrobe just like you do your own.
Learn more by visiting the Speck home page here.
New from Monster are the Beats By Dre Pro series. I reviewed the Solo HD Beats and was a big fan of their rich bass and cool sound.  The new over the ear style Pro series headphone packs some serious power. They feature passive noise cancellation, superb comfort, ear cups that swivel and can also be removed for easy cleaning and a 7-foot long tangle free cord. These headphones, which retail for $399 are perfect for in-studio production, the working DJ or for the ultimate music listening experience at home.
Learn more by visiting the Beats By Dre home page here.
Yes, it's early to start thinking about holiday shopping but this event was simply a taste of what's to come.  I for one am looking forward to the upcoming holiday season and the months leading up to them.  We'll start to see more and more companies offering up more and more cool stuff.
What's on your holiday list this year?  Leave a comment below letting me know!