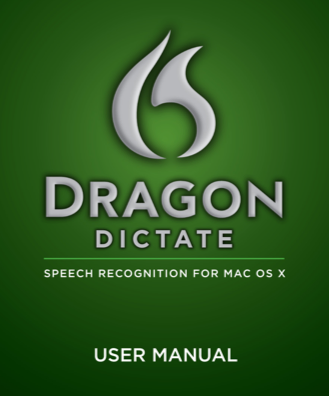 As I have discussed here on the site numerous times, I make a great deal of use of various voice recognition services. On my iPhone, iPod Touch and iPad I use Dragon Dictation. It works beautifully so long as you are in a relatively quiet place and are speaking slowly and clearly. Yes, you can only record for 60 seconds at a time before you need to let the software process what you said but, after time, it becomes second nature to speak in relatively short snippets and then, after that first voice note has been transcribed, continue with the next section.
On my Mac I have been using MacSpeech Dictate which is currently at version 1.5. When I first moved over the Mac a few years ago the voice-recognition options on the Mac were rather pitiful. They were slow, and in remarkably inaccurate. Over time it has improved significantly- in large part thanks to the fact that MacSpeech Dictate version 1.5 uses the Dragon NaturallySpeaking voice-to-text transcription engine to power it. Still, as good as MacSpeech Dictate has become, it lags far behind Dragon NaturallySpeaking which currently came out in version 11.
I used a beta version of Dragon NaturallySpeaking version 11 and was wowed not only by the accuracy of the transcription, but also the degree to which you can control your computer using nothing more than your voice. Nuance, the company behind Dragon NaturallySpeaking, has spent a tremendous amount of time and effort to make sure that each point increase of Dragon NaturallySpeaking version has brought greater accuracy and far more usability than the prior version. As a result, when Dragon NaturallySpeaking version 11 was released I was looking for solutions so I might be able to use the software on my Mac running Windows in a virtual environment. I even went so far as to think about getting a Windows-based laptop. (But I just couldn't bring myself to do it.)
Well, now I don't have to.
That's right, I don't have to look towards Windows in order to get the exceptional accuracy that Dragon NaturallySpeaking version 11 offers because Nuance, who bought MacSpeech a number of months ago, has just rebranded MacSpeech Dictate and released a new version. This morning I get to share with you the fact that… (drumroll….) Dragon Dictate for Mac version 2.0 is released and available for download right now. (Download is for people with MacSpeech Dictate who want to upgrade. New purchases should ship within two weeks.)
The new software offers…
a more streamlined setup, revamped user interface, and dynamic new voice commands for dictation, editing, navigation, and proofreading. Dragon Dictate for Mac also "learns" better than any previous version of Dictate, response faster to commands and supports Dragon voice shortcuts for searching the web, e-mail and Mac desktop by voice.
The new version of the software is an upgrade from version 1.5 to version 2.0 but it is much more than that. Nuance has taken voice recognition for the Mac a huge leap forward with this software. They have put a great deal of effort into making sure that there is as much parity between Dragon NaturallySpeaking and Dragon Dictate for Mac. No, they aren't the same software… and Nuance didn't want them to be. Nuance wanted to make sure that Dragon Dictate for Mac was truly a native Mac application and therefore they didn't simply port the Windows version over to the Mac. They did, however, use the same engine that Dragon NaturallySpeaking version 11 uses so that the accuracy when you're speaking is phenomenal. How good is it? I'm actually speaking with in "New Jersey speak" (ie VERY fast) as I'm writing this and I'm standing about 4 feet away from my iMac wearing a headset that I received for the review of Dragon NaturallySpeaking version 11. I have not had to make a single correction so far and I'm not speaking any slower than I would if I were conversing with Elana. (By the way, the software even spelled my wife's name right which is pretty unusual in light of the fact that usually her name is spelled with either an A or the letter I at the beginning.)
I had the opportunity to speak with a number of the representatives from Nuance's team last week when I first received a prerelease beta of the software and I was impressed by their goals and the way in which they have met or exceeded them. There are a number of interesting additions that they have brought into the software that make usability enhanced over the prior version.
One of the key things I learned was that they wanted to have this version of the software bring one of the more popular features of Dragon NaturallySpeaking to the Mac. That is, they wanted the software to be able to control the mouse hands-free using nothing more than your voice. As they commented to me, "this is important for a small but an important part of our consumer base–those with disabilities". As result they brought in what they referred to as "MouseGrid" which allows you to map out your computer's screen and use the map to navigate the mouse to a specific section of that screen with a few short commands.
It works quickly, it works well and is something that anyone with a physical limitation might find remarkably useful.
For me, the MouseGrid is nice but I am not sure how much I will use it. What matters most to me is having the ability to speak as quickly as possible and have the transcription be as close to 100% accurate as possible. By using the Dragon NaturallySpeaking engine Nuance has increased the accuracy so that it is now as high as 99% right out-of-the-box. Yes, you still need to spend a few minutes training the software when you first start using it but the software is intuitive enough that you're simply walk right through the process. After you've done it your good to go and can then begin speaking to your computer and having the words appear right on the screen.
Nuance also added a host of new commands as well as voice shortcuts and editing capability. For those who want to dig a little bit deeper into the software they added a command editor which allows you to create specific voice commands that will work within specific applications. My suspicion is that most people using the software won't want to dig so deeply into the software but it's good to know that if you want to do such a thing you are able to do it. In addition, if there is a specific piece of software that you use all the time it might well be worth spending the time to set up specific commands within that one particular piece of software. (When I was given a live demo from Nuance's headquarters via Citrix I noticed that a number of my most important programs were being used with these unique commands on the demonstration computer.)
Another nice feature of the updated software is the fact that with any given profile you can add on additional sources. In the past, for example, if I created a profile using a USB headset and I wanted to use a different USB headset or some other form of input device I needed to create a new profile and go through the entire training process once again. That's no longer the case. I created an initial profile with the software and have since added to other audio sources to it and simply had to go through a very brief process to get them up and running. It's a small thing but it makes a huge difference if you're going to be using the software quite a bit.
One of the things I found most interesting about the approach that Nuance took to this new software is that they wanted to make sure that they didn't lose those individuals who have been using MacSpeech Dictate but they also wanted to make it as easy as possible for people who have been using Dragon NaturallySpeaking on a Windows PC to make the move over to Mac. This was especially important because they've discovered that a rather significant number of people who use their software use both a Windows and a Mac computer–oftentimes Windows at work and a Mac at home. So what Nuance did in order to make this possible was that they went about building into Dragon Dictate for Mac both MacSpeech syntax and Dragon NaturallySpeaking syntax for voice commands. In other words those who are used to doing editing on MacSpeech dictate will find their works just fine with the new version while those who are used to using Dragon NaturallySpeaking on a Windows PC will find that they can make the move without much trouble at all. It's a smart move, and move that should help them build the user base for the software quickly.
Dragon voice shortcuts for search are another great feature of the software. With this software you can say something like "search Google for who dancing lessons", "search Bing for wedding dress repair", "search mail for RSVP" or, and I loved this one when I saw it in the press release and I had demonstrated to me, "search Mac for history term paper".
I just started ScreenFlow recording this so that I can demonstrate how quickly I'm able to speak and have the text appear on my screen with tremendous accuracy. Among the things the you can do with the new software is that you can edit with your voice and you can even have it proofread for you. As the company explains, "the new proofreading commands and Dragon dictate for Mac take advantage of the powerful text-to-speech capabilities built into Mac OS X. So just dictate text, and asked Dragon Dictate for Mac to read it back."
As you can see unable to speak remarkably quickly and it captures everything with great accuracy.
There are also new commands that allow you to have "surrounding punctuation"–as you just saw I was able to put the quotes around the words that I'd spoken and didn't have to touch the computer. You can even say something like put parentheses around these words.
Integration with some key Mac applications makes a huge difference.
Dragon Dictate for Mac Works with the mail app.
It works with iCal… and much much more.
READ THE MANUAL!
I'm not big on reading manuals. When I was a kid I would get a new model airplanes together and I would do it without ever opening up the instructions. Sure, sometimes I ended up with a few extra parts but I always got the model airplane put together. One of the things that is absolutely worth noting is the fact that there is so much power built into the software that it's worthwhile taking the time to actually read the user manual. If you don't you won't unlock even a 10th of the power of the software.
I was looking through the user manual and I came upon something that I think is worth noting to anybody considering the software– "the golden rule of DragonDictate". The rule is–"when you're working with text, don't mix your voice with your hands".
In other words, if you're creating a document using your voice you can't then turn around and use the keyboard or the mouse to jump around the text. This is because Dragon needs to know where you are in the text and it doesn't know unless it's been the "one" to actually type the words. Now that's a little bit less of an issue if you're using the built in Notepad program because that program belongs to Dragon Dictate and therefore is more familiar with what's going on as it's taking place. Little hints such as that aren't automatically apparent but make a huge difference in the usability of the software and a huge difference one wanting to reduce the failure rate and the frustration rate when you first begin using voice to text transcription software. In other words, if you're going to make the investments in purchasing the software there is a second investment that you ought to be making–you want to invest some time and actually looking through the user manual prior to actually beginning with the software. It will make a huge difference in the quality of the experience and the reduction of frustration–especially when you're first using.
The user manual will be available here so you can really get a sense of just how powerful the software is. Check back later today and it should be linked here.
So let's talk about price for a moment. Voice to text translation software has never been cheap. That's just the reality. For someone like me who does a lot of writing and has wrist issues is worth every penny but it's not cheap. And in fact if you're buying Dragon Dictate for Mac for the first time it's certainly not inexpensive with prices starting at $199.99. That's for the basic software package which includes high-quality noise canceling headset. If you want to use a Bluetooth headset with the software it will cost you $299.99 and if you are purchasing the software for educational environment it'll cost $169. If, however, you already own MacSpeech Dictate this new update will only cost you $49.99. And if you have a registered version of Dragon NaturallySpeaking for Windows you can get this new software for $99.99. Nuance told me that they price the software as an upgrade so inexpensively because they want to get as many people as possible moving from MacSpeech Dictate version 1.5 in as significant numbers as possible. Having written this entire post using the software and not having to touch my keyboard a single time–seriously I have not touched my keyboard a single time–a $50 upgrade to this new software is a bargain.
In order to run the software you need to have an Intel-based Mac that is running Snow Leopard, has 3 GB of hard drive space available and a minimum of 2 GB of RAM. In other words if you have a current Apple computer you're good to go.
The software is available for download if you are upgrading and is available for pre-order now. Visit Nuance's site for details.
Update- we are getting word of some upgrade issues with downloading the new software. You might want to hold off a few hours before trying to do the upgrade.
Should be fine now… and watch the site tomorrow morning for some additional information…