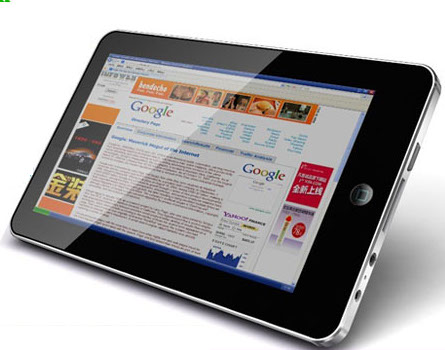 I've been watching Joe Born's Neuros Technology for quite a while.  From the mp3 players to the Neuros OSD to the Neuros Link, Joe's products have all had open source and technology in mind.  What if that idea was applied to remote controls?  That's where Joe's bright idea comes up.  Joe has worked on procuring some Android tablets with the idea of using them for controlling the Neuros Link without wires.  The Neuros Link is a computer that comes with what I like to call a couch interface.   That is a full screen interface that will allow you to watch content on your TV using Boxee, Hulu or even your own local content on your network or on a USB drive.  For more on the Neuros Link itself, check out my review.
Above is a demo of the Tablet that Joe is offering up on his store.  It is one of the better Chinese made Android tablets.  It will also have a Boxee remote control app as well as other apps pre-installed on the tablet for controlling programs that come with the Neuros Link.
Since it also comes in the box with the root user enabled.  This means there is no jumping through hoops to crack the bootloader or any other steps that may be necessary on other Android devices to load custom ROMs.  Once the community starts developing an Android 2.2 image for this tablet, I see lots of big things happening with this.  Sure, it's not the same type of hardware that is in the Samsung Galaxy Tab, but for what Joe wants to do with it, it doesn't need to be.
The specs are:
• Google Android OS 1.6
• VIA MW8505 600MHz
• 128MB DDR2
• 2GB NAND FLASH, support most TF card up to 32GB
• RealTouchTM enhanced response resistive touch display
• 7-inch (diagonal) high-brightness TFT LCD widescreen
• 800-by-480-pixel resolution
• Support for display of multiple languages and characters simultaneously
• 802.11b/g/n Wi-Fi CERTIFIED network connection
•1.3MP camera
• SD (support up to 32G HCSD)
• USB 2.0
• Stereo Audio out
• Microphone
• Support document to Go (Word, Excel, PPT, PDF)
Audio and Video
• H.263, H.264 (in 3GP or MP4 container),MP3, MIDI, OGG Vorbis, WAV etc
•  JPEG, PNG, GIF, BMP
• High-Fidelity stereo speaker
The above video shows just one of Joe's ideas.  The video is showing how to control music playing on the Neuros Link with the attached TV screen turned off.  This is just one of many uses that I will test out once I receive my review unit from Neuros.
This tablet is also very fairly priced; the Control Tablet 1002 is available for ordering at only $129.99 via the Neuros website.