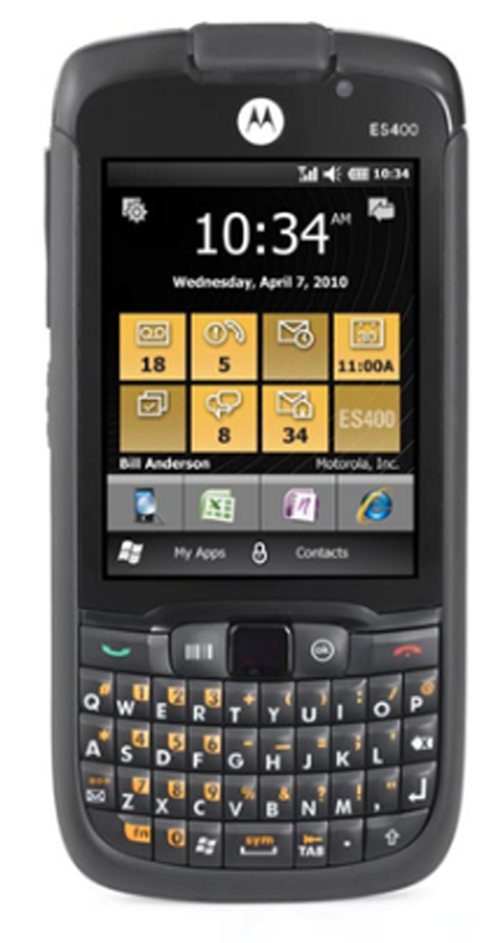 The regular onslaught  of weekly smartphone announcements highlighting the latest offerings running Android or the upcoming Windows Phone 7 OS, it's very easy for Motorola's ES400 to get lost in the mix.   The device doesn't immediately scream 'sexy' and it's running Windows Mobile 6.5.   Yes, I said 6.5!
So why on earth should you even care about the ES400?   Read on to see why this semi-rugged and enterprise-ready handheld may be exactly what your business needs.
Let's be clear who the target audience for the Motorola ES400 is.   It's not the tween texter.  It's not mobile gamer.   It's not the person who's looking to swap out their Android or iOS handheld every two years.    The ES400 is targeted towards the business user who requires a ruggedized handheld optimized for field service.
Forget the gigantor handhelds you've seen being used in loading docks or service calls spanning a variety of field operations.   Your technicians and engineers want something that is more modern, and not a 10 lb brick haphazardly strapped to a belt clip.   Motorola makes no bones about it, referring to the ES400 as an Enterprise Digital Assistant aimed at commercial and industrial use.  This is where the ES400 fits in, and make no mistake, it's not only targeting those old, oversized Windows Mobile devices used by various service men and women; it's also targeting BlackBerry for enterprise use.
The Motorola ES400 next to a BlackBerry 9700 Bold
The form factor itself  makes the ES400 look like a slightly  elongated BlackBerry.  The resistive touch screen, full QWERTY keyboard, and a customized Windows Mobile 6.5.3 Professional  OS.   This is probably the part that initially gets the most 'Huh?!?' responses.   Yes, Windows Phone 7 is upon us with a slew of consumer friendly devices that aim to rival Google's Android and Apple's iOS offerings.   Where the ES400 and 6.5 fit in is quite a different space.
Many businesses rely on a base of applications that, today, will only run on Windows Mobile 6.5.   The fact that Windows Phone 7 has been fast approaching has been a bit of concern for companies that have built solutions around 6.5 — because those applications are not likely to be certified for the Windows Phone 7 platform.     Whether it's a homegrown WinMo app that was built around  embedded Windows CE, or an Oracle or SAP based application — chances are it's not been re-coded and certified for Windows Phone 7.
In that respect, Windows Phone 7 is distinctly branching out to target consumers; leaving the business world to rely on the Windows Mobile 6.5.X operating system.   The challenge there is that most, if not all, consumer based 6.5 devices — like the HTC Touch Pro 2 — are shrinking in inventory.   Carriers and resellers want what's going to sell to the masses and let's be blunt, a phone running Windows Mobile 6.5 isn't it.
In that same vein, businesses want a device that WILL run 6.5 to allow them to extend their enterprise service applications — but do so in a more, shall we say, svelte package.   In the current economic climate, companies needing to save money may be swayed over by the ES400 over BlackBerry so they can do away with an infrastructure filled with BlackBerry Enterprise Servers fueled by ongoing license costs for users.  The ES400 will get all the lovely push email direct from Microsoft ActiveSync.
Add these features and savings to the fact that the ES400 can do enterprise-level barcode scanning direct with its camera, email, calls and turn-by-turn GPS in a semi-rugged form factor that can help decrease a company's expense for break/fix and replacement devices and you have a very solid business solution.
But that' s far from all.  The ES400 has been specially designed with both CDMA and GSM radios.   Sprint will be carrying  a branded version of the device to sell for their CDMA network, and AT&T will likewise be selling a GSM version.   If you're not into sacrifice, you can go all out with a fully unlocked ES400 unit that can be configured to work with either CDMA or GSM cellular networks directly in the software settings (be prepared to pay a higher price, though, since you won't be getting the unit subsidized through a Wireless Carrier).  The unlocked ES400 will likely win over businesses who want to use a standard device globally along with a consistent operating system and build.
I've had the pleasure of testing out an ES400 for over a month for work, and I must say that the device melds rugged business features with a consumer-friendly form very nicely.   The features, toughness and consistent OS (anyone who's tried to deploy or manage devices globally that are running varients of an OS — or worse, the bloatware from each country's carrier — may very well weep with joy at the prospect of a device that will have the same build worldwide and be able to handle GSM or CDMA with ease).
My only real critique so far during use is that the on-screen virtual keyboard is so small it's really next to useless compared to the physical QWERTY keys.   That said, the screen is visible and very useable in direct sunlight.  Overall, Motorola seems to have successfully created a device that is rugged enough for daily outdoor use (and abuse) but in a size and form that users won't be ashamed to show off.
Motorola ES400 Specifications**
Dimensions: Standard Battery: 5.08 in. L x 2.38 in. W x  0.67 in. D
Weight: Standard Battery: 5.5 oz./156 g
Display: PenTile 3 inch diagonal color display, touch,
VGA 640 x 480 portrait, Super Bright 750+ NITS
(luminous)
Touch Panel: Polycarbonate analog resistive touch with haptic'touch vibration response'
Backlight: LED Backlight
Keypad Options: QWERTY; AZERTY; QWERTZ
Expansion Slot: microSD slot — supports up to 32GB
Audio: Integrated Speaker; audio stereo

connector

(2.5 mm barrel jack); high-quality speakerphone; supports

Bluetooth

and PTT wireless or wired

h

e

adsets
Notifcations: Programmable LEDs; Audio notifcations;
CPU: 600 MHz, ARM 11 processor, MSM 7627
Memory: 256MB RAM/1GB Flash
Interfaces: Motorola Enterprise UI; customizable
homescreen, enhanced dialer and enterprise
camera solution
Drop Specifcation: Military Standard (MIL-STD) 810G 4 ft./1.22 m drop specifcation; 3 ft./0.91 m drop to vinyl covered concrete across the operating
temperature range (36 drops at 32° F/0° C, roomtemperature and 104° F/40° C)
Tumble Specifcation: 150 1.65 ft./0.5 m tumbles (equivalent to 300 consecutive drops) at room temperature; meets and exceeds applicable IEC tumble specifcatio
Operating Temperature: 32° F to 104° F/0° C to 40° C
Storage Temperature: -40° F to 158° F/-40° C to 70° C
Sealing: Meets MIL-STD 810G rain standards; meets anexceeds IP42 sealing
Humidity: 5 – 95% non-condensing
Vibration: MIL-STD 810G Method 514.5, fgure 514.5C-1; 1 hour per axis
Thermal Shock: -20° F to 158° F/-20° C to 70° C rapid transition
ESD: ±15kv Air discharge, ±8kv direct discharge, ±8kv indirect discharge
Altitude: -1,200 ft. to 15,000 ft. operational 15,000 ft. shipping
Keyboard/Side Buttons: 1 million presses
Capacity: Standard** Rechargeable Lithium Ion 1540mAh battery @ 3.7 V
Standby Time: 250 hours standard battery
Talk Time: 6 hours (WAN) standard battery
Color Camera 3.2 megapixel with Autofocus
Dual 3.5G: GSM HSDPA/HSUPA and CDMA-EVDO Rev A broadband for voice and data
Frequency Band: UMTS/HSDPA and HSUPA: 850, 1900 and 2100 MHz, GSM/EDGE: 850, 900, 1800 and 1900 MHz, CDMA/EVDO Rev A: 850 and 1900 MHz
** The ES400 will also have an Extended Battery available for purchase, giving power users even more assurance that they'll be able to get well past a full day's worth of work on a single charge.
Key enterprise features include:
Customizable Motorola Enterprise User Interface (MEUI) makes business-critical information and functions available with one key press. Includes enterprise-specific enhancements like photo annotation.
One button push-to-scan: 1D and 2D bar code reading fulfilling the needs of mobile workers.
Large, super-bright, three-inch VGA screen (750 NITS – nearly twice as bright as consumer devices for usage indoors and outdoors) plus integrated keyboard.
Easy and accurate input with stylus and touch-screen allowing signature capture that is often necessary for completing field tasks.
Standard battery power to endure full shifts in nearly any work environment. An extended-life battery is also available.
True worldwide communications with user-selectable 3.5G WAN: GSM HSPA and CDMA EVDO RevA compatibility.
Broad WLAN functionality supporting 802.11 a/b/g, enabling data, and in 2011, an application for push-to-talk over VoIP compatibility.
Durable construction to withstand dust, drops and bumps occurring every business day. Meets MIL-STD 810G drop specifications leading to lower total cost of ownership.
Enterprise-class security including built-in biometric fingerprint reader.
Three-year life cycle for easier, better IT support and product management, support and service programs designed for business, adding to a better return on investment.
Built on the standards-based Windows Mobile 6.5 platform to power seamless connectivity, application compatibility and support for industry-specific applications and advanced security and device management mobility needs.
GPS
3-axis accelerometer
1D and 2D Barcode reader
Biometric / finge-swipe recognition for additional security
MIL-STD 810G for drop specification, vibration, thermal shock and rain standards.
Read more about the Motorola ES400 via Motorola's site. Official pricing for the AT&T branded and Unlocked versions of the ES400 have not been officially announced.  AT&T is set to launch the ES400 on October 12th.
Sprint pricing details below:
Available by the end of October, the ES400S will start at $499.99 for qualifying business customers or $549.99 with a new line or eligible upgrade and two-year service agreement.  The phone will require a Sprint Business Advantage Messaging and Data plan or an Everything plan with data.  [via Sprint]