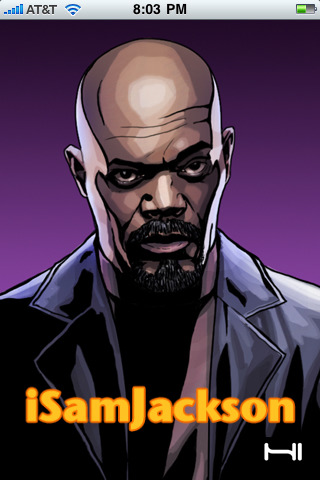 Dave Chappelle got there first:
But Samuel L. Jackson is big, really big, far too big to be contained by Quentin Tarantino, genre movies, or beer commercial parodies, don't you think?
The folks at Heatwave Interactive definitely think so, which is why they've created an iOS and Android app starring none other than the Hand of Vengeance himself.  Need I say more?  No, I don't think so.  Just surf on over and check it out, and then grab it from your Android store or iTunes.  Because it's about m****r-f**kin' time you got some Samuel L. Jackson on your m****r-f**kin' smart phone, don't you think?  (Both "clean" and "17+" versions available.)  After all, it's free, you cheap #$()&$%(!!
Full information below.
Now all of the wit, sage wisdom and voice talent of Samuel L. Jackson are available to Droid users in the brand new SamDroidJackson app from Heatwave Interactive. SamDroidJackson gives Droid users, in addition to the thousands of users already enjoying the iSamJackson app on iPhone and iPod Touch, access to a customizable soundboard of original Sam Jackson quotes and a variety of other features with the charm of Sam himself. Fans can also now download those quotes and set them as ringtones on their mobile phones from Myxer.