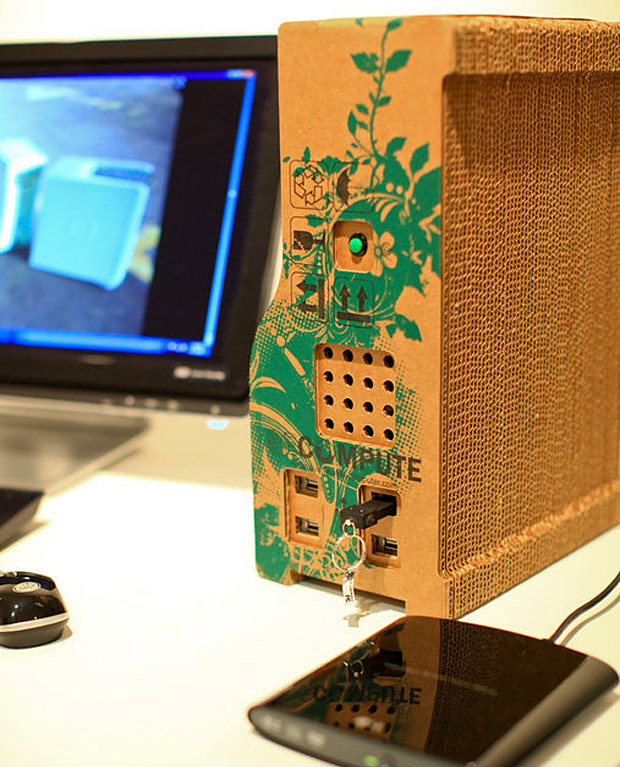 How many of you out there have old computers sitting somewhere in storage because you don't have somewhere to throw them?  I've got one PC in my basement.  The traditional tower computer is made from a variety of plastic components that come d-day (destroy-day) end up clogging our landfills.
Recompute is a Full Life Cycle Designed desktop computer that addresses sustainability during manufacturing, usage and disposal stages of its life. The project originated as a student thesis work in Industrial Design at the University of Houston.
Recompute uses only three major electronic components: A motherboard with processor & memory, power supply, and a hard drive.  Wireless adapters and external hard drives can be plugged and unplugged into USB ports.  While the average desktop case contains more than 150 parts, which take more than 300 processes to manufacture, Recompute uses 12 die-cut patterns, 40 square feet of cardboad, and 6 ounces of glue.
Talk about keeping green and being sustainable!
You can learn more about the various Recompute models by visiting their web site here or take a look at one of the units being reviewed at Engadget here.
Prices start at $499.95.
Via Werd.