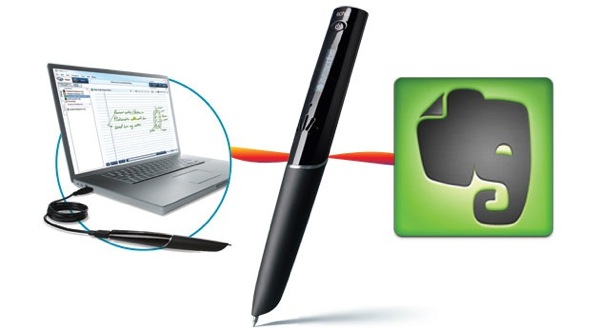 I love using my Livescribe Echo Pen. It is especially useful when I am meeting with a family prior to a funeral or with a couple prior to a wedding. It is a great way for me to take handwritten notes and then know that my notes are saved on my computer and on the web.
I love using Evernote. It is my catch-all service for notes, emails, pictures, and more. Once something is in Evernote it is accessible to me no matter where I am from any of my devices or any browser connected to the web.
Unfortunately there wasn't an easy way to use my Livescribe Echo pen and then save the information to my Evernote account… until now.
Evernote has just announced Evernote-Livescribe integration as part of Livescribe's latest software update.
Once the two are connected you can not only save your notes to your Evernote accounts simply and quickly but you can
…simply handwrite your notes, connect your Livescribe pen to your computer and those notes are sent into Evernote as high quality images. Next, Evernote processes the handwriting making it searchable, and synchronizes the notes so they're accessible from every computer and phone you use.
Seriously, think about the power that comes from using a Livescribe Echo Pen and connecting it to your Evernote account. You can now take notes, share them in Evernote so they are safe, secure and accessible from anywhere AND, thanks to, Evernote's text recognition you'll be able to search for, and find, the note you want in seconds… even if you are like me and have thousands of files in your Evernote account.
More details are available in the Evernote Trunk.