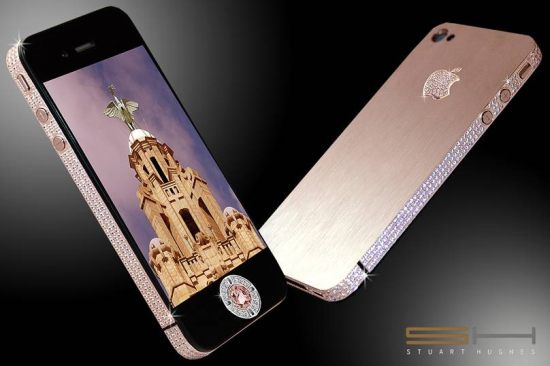 We've covered a lot of customized phones over the years.  From gold-plated to diamond encrusted, to just brands like Vertu and more.  But this customized 32 GB iPhone 4 from Stuart Hughes tops them all, and then some.
Ringing in at a cool 8 million (you read right) dollars it features a bezel which is handmade from rose gold with approximately 500 individual flawless diamonds, which total over 100 ct.  The back plate of the phone is crafted from rose gold and the Apple logo features additional diamonds as well.
Topping it all off is the iPhone 4′s home button, which is made from platinum and features a single 7.4ct pink diamond.
The phone even comes with its own storage chest which is made from a single block of granite in imperial pink, with Nubuck top grain leather lining.
Only two of these phones will be made, so if you want one you'd better get that checkbook ready now.
Via Born Rich.