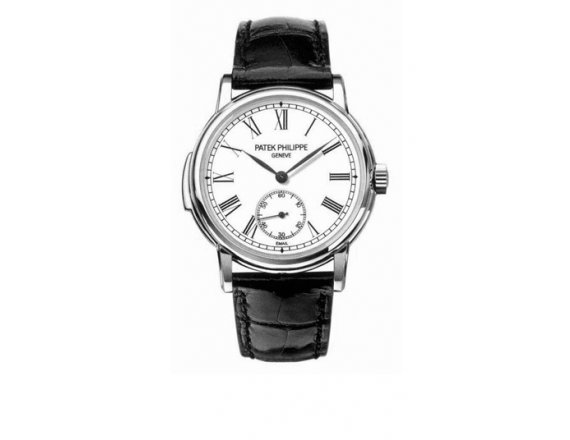 On October 6th at a Sotheby's watch auction, a Patek Philippe platinum 5078P sold for 2.42 million Hong Kong dollars (US $312,000).  Although it doesn't look like all that much, the watch has a rather distinct set of features which make it stand apart from other time pieces.
First of it's a Patek Philippe, which is the Rolls Royce of watches.  Every Patek Philippe is handmade and assembled in Geneva.
The watch has a special minute repeating function.  "This is the watch's only "complication" — a term used to describe any watch feature that does something other than tell time — but it is considered the "ultimate complication" by connoisseurs. It consists of 342 parts, all hidden in the casing except for a small switch on the outside that activates the function, which reports the time every minute through a coded series of delicate but distinct tones."
It has an enamel dial which never ages.  "Unlike metal faces, which can tarnish and darken with time and humidity, an enamel dial, produced by baking under extremely high temperatures, behaves much like bone or porcelain."
It's made from platinum, which is the hardest of all metals to sculpt.
There's a waiting list for the watch – if you can believe it, so no just walking into your local jeweler and picking one up either.
Via WSJ.