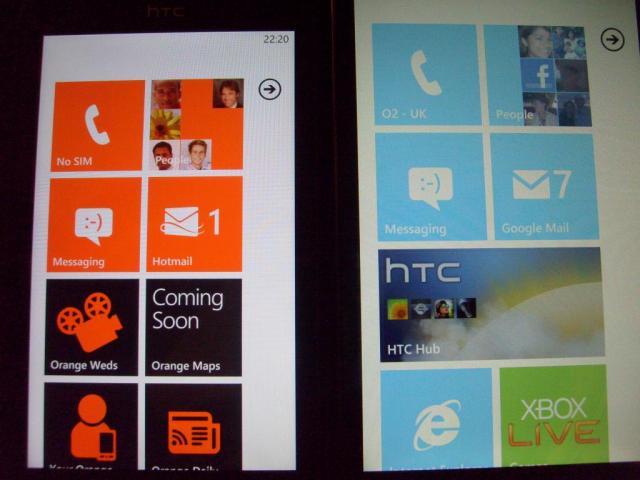 The earliest devices were seeded to select reviewers a few weeks ago, and yesterday evening the Windows Phone 7 reviews began appearing; there are features to each new Windows Phone 7 device that I find compelling, and I'll admit that my curiosity is running wild!
I've put together a review roundup of reviews, choice quotes and videos for you to enjoy, but you'll want to click through to the original sites for their full stories. I am considering using my extra AT&T voice line to upgrade into one of the new Windows Phone 7 devices, perhaps the HTC Surround, but probably the Samsung Focus. My other option is getting a T-Mobile line so I can purchase an HTC HD7.
I like having choices, and seeing a new OS — even if it is in its earliest days — is exciting!
So let's get started with the reviews and videos …
Samsung Focus (AT&T): Michael Oryl has put together an amazing – and dare I say definitive - video series on Windows Phone 7, which really gives an in-depth look at the OS and its features. He shot the videos while WP7 was running on a Samsung Focus, but what you see should basically hold true on any Windows Phone 7 device.
The Focus has what it takes to battle the best smartphones on the market when it comes to specs. It is 10mm thick, features an auto-focus 5 megapixel camera with flash, and offers everything up on a 4-inch Super AMOLED touchscreen display. This part of the equation we know Samsung can handle – we've seen it all before.

But we all know that good specs alone don't win the battle, and luckily for Samsung, Windows Phone 7 seems to have the nuts to battle with the big boys on the usability and fun aspects of smartphone use, too. App support, however, is a sticking point.
HTC 7 Surround (AT&T) — Review and video by Todd Haselton:
The Surround is teeming with top notch hardware. From its 1GHz processor to a 5 megapixel camera capable of recording 720p HD video, a kickstand for watching movies in landscape mode, and good battery life, it's a device that no smartphone shopper should overlook. There are a few weak points that hardcore smartphone users may not appreciate, but those aren't the fault of the phone itself.
LG Optimus 7 (Vodafone DE) – Review and video by Todd Haselton:
The Optimus 7 packs features like a 3.8-inch capacitive touchscreen(INFO), a Qualcomm Snapdragon processor, and an HD capable 5 megapixel camera into an elegant and solidly constructed package. It even offers easy to use hardware buttons on its front, and seems quite capable of holding onto weak signals – something I can appreciate.
HTC Surround and Samsung Focus: Matthew Miller has combined the Surround and Focus into a single post with "rather long … videos" (his words, not mine!). As always, it's quite enjoyable to read (and watch).
I think Microsoft has done a valiant job with Windows Phone 7, but I am not yet sold on using it as my only device. There seems to be too much flipping, sliding, fold over animations, and lengthy times of loading when launch things like the Marketplace. I have trouble sticking with a single device that doesn't provide me with better application notifications, such as for Twitter mentions, the ability to tether through a cable or wirelessly, and the ability to truly run multiple applications at the same time.
Matt also has posts and video on the Mac WP7 Connector software, text entry on WP7, Xbox LIVE Extras, and video showing a "bunch of 3rd party apps".
HTC Surround by Eric Zeman:
To expose the stereo speaker, just slide the top and bottom halves in opposite directions. Once you do this, you can see the thin silver grill covering the speakers. There is a button built into the grill. Pressing it cycles the Surround's sound signal processor through several presets. The timbre of the sound changes significantly when the button is pressed, but the Surround gives you no indication which setting you are leaving and which you are activating. The 3.5mm headset jack and power/lock key are up top, and the microUSB port is on the bottom. The power/lock key is easy to find and has good travel and feedback. I am glad that the microUSB port doesn't have a fussy hatch or drawer covering it. It is exposed.

Samsung Focus by Philip Bearne:
The Samsung Focus takes the best parts of Samsung's Galaxy S hardware and drops the new Windows Phone 7 OS into the mix. The phone is a classy, thin touchscreen, eschewing the sliding keyboards and gimmicks of the other Windows Phones hitting the market. But with Xbox Live tiles and a focus on friends, is this still a phone business users can get behind?
Samsung Focus by Vincent Nguyen:
Unlike the metal of some of HTC's line-up, the Focus is mostly plastic; however it's creak-free and feels solid. It's also subtle in its design, without the stylized moldings of, say, the Mozart. The usual array of controls are present, with volume on the left-hand side and a camera shortcut on the right, power/standby on top and three touch-sensitive buttons – back, Start and search – running underneath the display. A microUSB port handles recharging and synchronizing.
HTC 7 Mozart by Chris Davies:
The HTC 7 Mozart, then, takes its core 1GHz Qualcomm Snapdragon QSD8250 processor, and pairs it with 8GB of flash storage (there's no microSD card slot, remember), 512MB of RAM and 576MB of ROM, a 3.7-inch WVGA LCD TFT capacitive touchscreen and 900/2100 dual-band UMTS/HSPA. HTC are positioning the Mozart as their audio-centric device, among the HD7 and the 7 Trophy, but in actual fact it's the photography-biased model. On the back is an 8-megapixel autofocus camera with a Xenon flash, as opposed to the 5-megapixels and LED flashes of its counterparts.
HTC 7 Surround by Ewdisen Then:
HTC have a reputation for creating solid devices, and the Surround is no different. The sliding mechanism feels solid and reliable, and the chassis in general is sturdy. We wish there was some more of HTC's unibody-style metal work in evidence, as on the HTC 7 Mozart, but that's more an aesthetic preference more than anything else.
Sascha Segan takes on three Windows Phone 7 models …
Windows Phone 7 is a brand-new thing. Microsoft's total mobile OS reboot is bold and fresh. It's also definitely a Version 1.0. Zune fans will be immediately impressed, but for everyone else, buying into Windows Phone 7 is taking a gamble that Microsoft will sand away the rough edges quickly.
The first thing you notice about the Samsung Focus is its grand and gorgeous 4-inch, Super AMOLED screen. AMOLED's hypersaturated colors work well with Microsoft's UI, which has big blocks of color and clear text; the Focus makes many competing phones look washed out. The phone itself is a slim 4.9 by 2.5 by 0.4 inches (HWD) and 4.2 ounces, pretty easily pocketable. The entire front is black, so as not to take attention away from the screen; the plastic back has a businesslike pinstripe design, but looks a little greasy when overrun with fingerprints.
At 4.7 by 2.4 by 0.5 inches (HWD), the 6-ounce HTC Surround is a chunkier, heavier phone than the Focus. It has a silvery bezel around the 3.8-inch, 800-by-480 LCD screen and Dolby and SRS logos on the soft-touch plastic back. The logos hint at the Surround's flagship feature—push the screen to the left, and out slides a speaker running the entire length of the phone. A small button on the speaker cycles through audio modes like bass boost and lots-of-depth-but-kinda-tinny modes.
Jason Dunn has posted a Q&A with Andrew Brown on the Windows Phone  OTA Updates. This is one of the features I am most looking forward to in WP7!
It's a story I need not go into too many details about: anyone who's owned a PDA or phone running Windows Mobile, from the first Pocket PC to the latest Windows Phone 6.5, knows the horrors of device ROM updates. Whether it's a new ROM image designed to fix bugs and enhance performance, or a whole new OS, as buyers of these devices we've always been at the mercy of the device manufacturer and/or the wireless carriers. Who amongst us hasn't raised a fist in anger at being denied a vital software update that would fix a problem with our device? This is how the entire underground ROM scene was born – out of frustration and desperation.

Or, if you were "lucky" enough to have an update offered for your phone, you'd have the pleasure of re-installing and re-configuring everything on your phone; often a process that would take hours. Microsoft's broken model, combined with OEM/carrier refusal to offer updates likely drove more customers away from buying a second Windows Phone than any other factor. We could only look on with envy as our iPhone-using kin happily docked their phones, got an update, and were using it minutes later.

Well, envy begone! Windows Phone 7 solves this pain point once and for all – witness my interview with Andrew Brown, Program Manager for Windows Phone Update, and be amazed…
Jason really gets into the nitty-gritty of the OS about which he says — "One hour of video broken up into six chunks – yeah, only the hardcore need apply

". I've embedded the first two videos here, watch and then hit Jason's site for the remaining "chunks".
Windows Phone 7 – Leigh Geary gets down and dirty with a full overview of the new Windows Phone 7 Operating System and interface:
Windows Mobile 6.5. Oh, how we laughed. Remember the stylus? Remember the apps that looked nothing like the OS ? Heck, it didn't matter too much and Windows Mobile was still king of the ring. Business users loved it, power users loved it.

Then the iPhone turned up. BlackBerry turned up the heat and people started to move away. Power users went to the iPhone or, if they didn't want one, they started switching to Android instead. Business users went to the BlackBerry and Microsoft struggled to make the existing OS work. Icons were stretched, the interface was bent and tweaked.

Enough was enough. People wanted updates to just "happen". People wanted fluidity and an interface that wasn't a mash-mash of various bits from here and there. Windows Mobile 6.5 has now been re-branded as "Windows Phone 6.5″ and is still actually being marketed but, at least in my opinion, it's best left in the bin.

This, then, is Windows Phone 7. You've seen the screenshots, you've seen the previews. The problem, though, is that they're all very misleading. In the images it looks a little flat, perhaps a little uninteresting at times. When I finally got a device it was almost a relief. The change is…. shocking.

It's now an OS with big fonts, angular lines and a very simplistic but stylish interface. Everything slides and flips into view without stutter or grief. It's clean and the experience is maintained throughout.
The biggest problem though, and one which may need more than just an update, is the multi-tasking. I don't care about the lack of copy and paste. It's the multi-tasking and the fact that apps don't seem to have back-end system integration. Seemsic isn't listed as an upload option when I've snapped a picture. Why? Why can't I add it as an option? Why is it that Facebook, Windows Live and SkyDrive are the only options? Why is it that I have to pick up my phone, click into "Tesco Groceries", wait for it to load and then start swearing at the screen because text message has come in and I've had the sheer audacity to read it and then try and flip back into my "Tesco Groceries" app ? Oh no.. it's loading all over again.. oh no.. I've lost my shopping list. Commence shouting.
Leigh has posted two examples of the back button's behavior and "the multi-tasking thing". One example is shown here:
He's also got teaser videos of the HTC HD7 and the HTC 7 Mozart phones, with full reviews coming soon.
HTC HD7 – "Our good friends at O2 have kindly loaned us their variant of the HTC HD7 for review":
From the above it is obvious that the HD7 and Windows Phone OS is heavily communications based as can access a lot of cloud services; email, Facebook, Windows Live, Feedback to Microsoft etc. Some options if so set can also allow the phone to automatically upload newly taken photographs onto the Windows Live Skydrive system.

Being a connected social individual I have all these options turned on as well as the 'Find My Phone' GPS facility which reports your phones location back to Microsoft's servers as a security measure in case your phone was lost or stolen. In addition I've set up three Exchange accounts, Hotmail, and G-Mail, all set to use push email. The point here is that there can be a lot of background activity taking place and that can indeed have an effect of battery life. The question is whether the 1230 mA battery has enough capacity to handle the load.
The HD7 will always be compared both on specifications and size to the HD2 which preceded it to the market (and ran Windows Mobile 6.5). As you can see the machines are nigh on identical with the HD7 only being different with respect to slight housing design changes and the lack of front facing controls compared to the HD2.

Even though the HD7 weighs in at some 5 grams heavier than the HD2 and is 1-2mm greater in size it feels slightly lighter and smaller, which indicates good ergonomic design by HTC's engineers!
The picture of the HD7 and HD2 next to each other is enough to convince me that this is the WP7 device I really want. Why (why, why??!!) was it not released on AT&T.

Samsung Omnia 7 by Mark Briggeman:
The first thing you'll notice on the Omnia7 is the huge screen. This SUPER AMOLED screen offers extremely sharp pictures and also reduces power consumption compared to normal LCD displays. The colors shown on the screen are vivid and lively and extremely sharp. Black is truly black and when watching (HD) content on the big screen, there is no lag. The remainder of the front is taken up by the speaker and the three distinguished Windows Phone 7 buttons: A Back (soft)key , in the middle a Windows key to return to the start menu and the search (soft)key to search for content. At the top right corner you'll also notice the light sensor and proximity sensor.
Manufacturers can choose their own design or colors for the phone but every Windows Phone 7 device needs to meet at least the requirements below.

Capacitive, 4-point multitouch screen with WVGA (800×480) resolution
1 GHz ARM v7 "Cortex/Scorpion" or better processor
DirectX9 rendering-capable GPU
256MB of RAM with at least 8GB of Flash memory
Accelerometer with compass, ambient light sensor, proximity sensor and Assisted GPS
5-megapixel camera with flash
FM radio tuner
6 dedicated hardware buttons – back, Start, search, camera, power/sleep and Volume Up and Down.

Samsung's Omnia 7 obviously meets all these requirements. Samsung even placed a 4 inch display in the Omnia 7 where other manufacturers use 3,7 inch or 3,8 inch displays. Above mentioned requirements make the Omnia 7 a super fast and lively device. It reacts instantly and how many hubs you'll be opening, it stays fast.
MobilityMinded also has a fantastic article posted with scores of Windows Phone 7 secreenshots; it's a near complete walkthrough of the entire OS!
On hand with some critical thinking about the whole cloud-utilization process is Arne Hess, who says in his article THOUGHT: Where are the Windows Phone 7 Notifications and Live Tiles? Anywhere in the Cloud!:
Microsoft has introduced a mechanism where notifications are pushed – by a server – to the device and the device knows how to handle two different kind of notifications:

Toast Notifications: Display as overlay messages on the user's current screen
Tile Notifications: Drive a change to a tile shown in the Quick Launch area of the phone's Start screen

On the left, a toast notification on the top of the screen which indicates that a new message arrived. On the right, the tile notification, showing the current temperature of 24° with an outlook for 36°

However, and now it becomes a little bit more complicated, application development on Windows Phone 7 isn't just the application on the device anymore but to make an application alive, it requires a server/client communication. While on other mobile operating systems, the application might run in the background, pulling updates from servers, on Windows Phone 7, updates have to be pushed – by a server – to the device and Windows Phone 7 will know what to do with the received information.

A simple example with Twitter: Twitter has tweets, mentions and direct messages and on other mobile platforms, a client logs-in to the Twitter server and looks how many new tweets, mentions and direct messages are available for the user account, downloads the three message type and the client on the device is parsing the information, splitting the received messages into the tweets, mentions and direct messages inboxes.

With Windows Phone 7, Twitter has to do exactly this on its own servers, for each user and send the exact data to the Windows Phone 7 application. Twitter for Windows Phone 7 isn't looking – in the background – which and how many messages are available but a server at Twitter has to do this and telling the MPN which information should be send to the device.

Therefore, it looks like that not a single of Microsoft's 3rd party application partners have this infrastructure in place today, and therefore Windows Phone 7 doesn't take benefit of notifications for 3rd party applications. As a matter of fact this can be a pretty expensive service for 3rd party providers since they have to run and maintain a server infrastructure in the background and as more successful a service might get, as more money they have to put into the administration server-infrastructure in the background!
Interesting things to consider, and I wonder how developers will get around this complication!
I'll add more links to reviews as they appear, or if you find a 7 review that you think should be added, just let me know in the comments. Hopefully I will have one or two purchased Windows Phone 7 devices of my own, so that I can add my thoughts to the chorus.
So will you be getting a Windows Phone 7 device? If so, what do you think is its most compelling feature. If you won't be getting one, what is holding you back? Do tell …