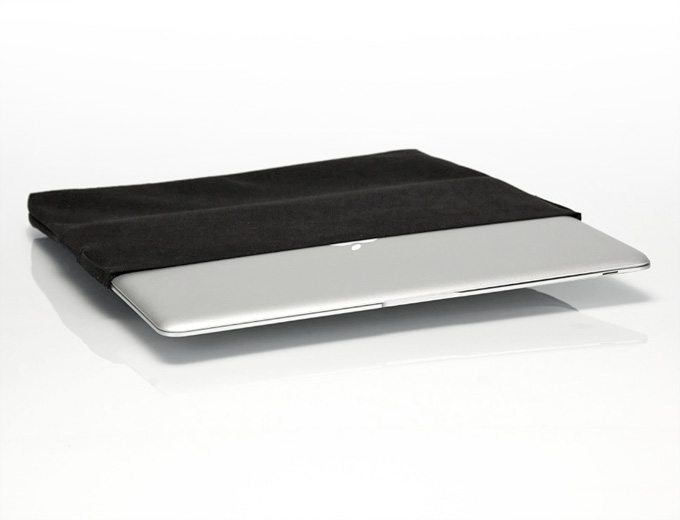 Water field Designs wasted no time in announcing two new custom-fitted cases for the just-announced MacBook Airs. Both are old favorites of mine that are perfectly sized for both the new 11.6″ and 13.3″ MBAs. Both MacBook Air cases are in production now and will begin shipping by October 29. They are currently available now for pre-order at www.sfbags.com.
The SleeveCase for MacBook Air
The SleeveCase offers simple, but excellent, slipcover protection to the MacBook Air. I have, and use one with my MacBook Pro and a second one I use with my iPad and both work perfectly. Here's how Waterfield describes it:
Proper protection starts with a proper fit. Our San Francisco sewing shop churns out a dizzying array of sleeve sizes in 1/2″ increments to ensure a custom fit for your specific laptop.

Cushioned with high-grade neoprene and wrapped in a ballistic nylon shell, our SleeveCases function as a stylish stand-alone laptop case or can be inserted into another bag. And no need to take your laptop out of its snug compartment when going through airport security—it's TSA Checkpoint Friendly. And, if you don't see your manufacturer, contact us! We've got your fit. It's a slam dunk.
The SleeveCases are now available with either the classic grey indium checked trim or the new brown distressed leather trim.
You can get an even better sense of the SleeveCase from this video.
Prices start at $37 for the MBA 11″ model and $39 for the MBA 13″ model. Details and ordering can be found here.

The Suede Jacket Sleeve for MacBook Air
It doesn't get much simpler than the Suede Jacket Sleeve. The soft material protects the MacBook Air's smooth skin and protects from minor bumps and bruises. No, this isn't the sleeve for you if you have a tendency to drop things but for good, basic protection it looks and feels awesome. Here's how Waterfield describes it.
It doesn't get any thinner than this! The Suede Jacket Sleeve helps prevent scratches and dings on your Mac and the custom-sizing plus stretch memory of the Ultrasuede® insures a snug fit. An embedded layer of neoprene inside the bottom of the case protects your laptop where it needs it most when you set it down. A finger loop on either side helps you easily slip the sleeve over your laptop. This elegant, low-profile sleeve slips easily into a briefcase, messenger bag or backpack and helps protect your laptop from the minor bumps and bruises of daily use.
The Suede Jacket Sleeve for the 11″ MBA is $25 while the version for the 13″ model is $29.

First Two Custom-fitted MacBook Air Cases from WaterField Designs

First Available, Custom-fitted cases for Apple 11.6″ and 13.3″ MacBook Air: Made in USA, WaterField Design's SleeveCase and Suede Jacket Sleeve


San Francisco, CA, October 20, 2010—WaterField Designs, a San Francisco manufacturer of custom-fitted computer cases and bags, introduces two new laptop SleeveCases and Suede Jacket Sleeves made specifically for Apple's just-announced MacBook Air 11.6 inch and 13.3 inch notebooks. Manufactured locally in San Francisco, these stylish, custom-fitted and protective Macbook Air cases will begin shipping within one week.

The form-fitted SleeveCase combines a nearly indestructible ballistic nylon shell with a high-grade neoprene interior to absorb shock and cushion the MacBook Air against bumps and bruises. Users can customize the SleeveCase to suit their individual needs—choosing either a horizontal or vertical orientation with an optional padded front flap, shoulder strap, and/or Piggyback accessories pouch. Trim options include a new distressed brown leather option or the classic eye-catching grey-checkered Indium. Toss the SleeveCase into another bag or sling it over your shoulder to travel light.

Those interested in an ultra-lightweight yet protective case can opt for a Suede Jacket Sleeve, now available in snug, custom-fitted sizes for each of the new MacBook Air models. The Suede Jacket Sleeve, made from 100% scratch-free Ultrasuede®, can double as a screen cleaner for this and other electronic devices. Two loops on either side plus a loop at the bottom aid in the insertion and removal of the MacBook Air. Neoprene padding lines the bottom of the Sleeve thus protecting the most exposed area of the device. It's a classy tuxedo for the MacBook Air.

"Our new custom-fitted cases help accentuate the portability of the MacBook Air," explained Gary Waterfield, Chief Designer. "They're compact, they stow easily, and they're highly protective. And, the distressed leather trim option is just gorgeous."

Pricing & Availability

SleeveCase size 11-1 for the 11.6 inch MacBook Air: $37.
SleeveCase size 13-5 for the 13.3 inch MacBook Air: $39
Black Ballistic Nylon with Choice of Grey Indium or Leather (+$10) trim
Options include: Front Flap ($15), Simple Shoulder Strap & D-rings ($12), Suspension Shoulder Strap and D-rings ($22.00), the Piggyback ($25).
Suede Jacket Sleeve for the MacBook Air 11.6 inch: $25. For 13.3 inch: $29. Color: Black.

About WaterField Designs
WaterField Designs manufactures custom-fitted, high-quality cases and bags for a full-range of laptop computers, iPods, cameras and other digital gear. All products are manufactured to exacting standards in San Francisco. More information is available at www.sfbags.com.