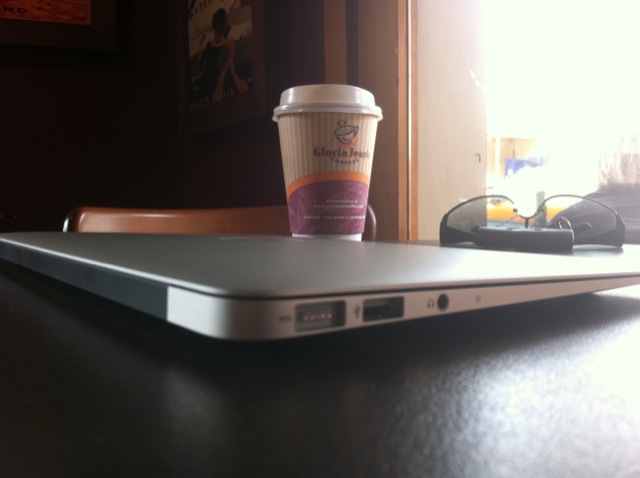 When Apple announced the new MacBook Air, I knew that I would be buying one. It looked to fix the issues that I had with the first one and fitted into my current situation better than my 13" MacBook Pro.
I purchased the 13" MacBook Pro as soon as it came out. At the time it combined the right size, performance and battery life that I needed whilst at uni, catching the train every day, and needing to do a bit of video editing at home and on the move.
That has changed however, since I no longer use my laptop for video editing, and in a lot of cases I want to be carrying it in addition to my hefty company-issue HP 8540w Mobile Workstation, making my bag very heavy.
Enter this new MacBook Air. I purchased the 11.6", 1.4Ghz, 128GB model with the standard 2GB of RAM, and figured a few first impressions were in order.
Firstly the design, which is perfect. I honestly don't know how it could be better. The Air uses Apple's uni body construction to produce a machine that is incredibly thin, without feeling cheap or flimsy in the slightest.
The Air tapers from back to front. Unlike some machines that do this, the back is hardly portly at just  1.7cm, slimming to just 0.3cm at the front.
Along the sides Apple have ditched the rubbish drop-down ports in favour of traditional connections on both sides. The new Air has gained an extra USB port (it now has two) over the previous model, whilst the new 13" Air also gets an SD slot.
Open the lid and you're greeted with the now-standard floating black keys, which feel marvelous to type on, and are full size so, no compromise on your typing speed. It feels no different to my 13" MacBook Pro, which shares the same sized keyboard as the 17" Pro.
The trackpad is enormous, and is the glass all-button variety. No teeny tiny pad here.
The new 11.6" display is fabulous, with a 16×9 aspect pushing 1366×768 pixels. I find this size just right for an ultra-portable, as it doesn't sacrifice resolution or readability to fit inside a small chassis. If you've ever tried the 8" Vaio P with its insane 1600×768 resolution you'll know what I'm talking about.
All Air's now come with Solid State Drives (SSD), there is no longer a traditional HDD option. According to Apple this move was out of necessity, since the Air simply could not fit even the tiny 1.8" drives that the previous Air used, whilst achieving such a thin form factor with good battery life.
The benefits of SSD are marked. My unit may have the slowest processor with the standard 2GB RAM, but it boots in SECONDS, resumes from standby in 1 second, and launches programs the instant you press the mouse button. Not only that but they can use less power, and make zero noise.
Speaking of noise, the Air is SILENT. There are no turbines under the hood, it remains perfectly quiet no matter what you do.
So far I've loaded up all my applications, and begun to transfer my files. Obviously dropping from a 500GB drive to 128GB means some stuff isn't going everywhere with me, but it's amazing how much junk I was carrying around. USB-powered 1TB hard drives are cheap, if you need some larger files stick extra stuff on that and chuck it in the bag, problem solved.
Battery life is one of the big winners of the new model, with Apple claiming five hours for the 11" and seven hours for the 13" (it could fit more).  Whilst I haven't had it long enough to test that, sitting here in the coffee shop with the WiFi on, screen two dots below max brightness, and browsing while typing, the battery has moved 10% in 30 minutes, so it's looking good so far. Battery was part of the reason I never bought the previous Air. I think the new battery life is going to put the Air in a lot more people's sights.
Overall, I love it so far. Having a machine this small, with a keyboard and screen this good, decent battery life and good performance is great. Now when it tags along with my work machine, I'll be wondering if I even put it in my bag.
Appropriately, this whole article was completed on the Air at the coffee shop