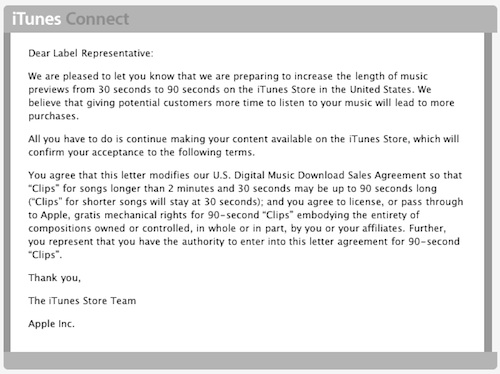 If all of music was like the Beatles album 'Please Please Me', with the average song less than 2:30 and the longest song under 3 minutes, having 30 second samples on places like iTunes and Amazon wouldn't be an issue. For songs like that, 30 seconds gets you a taste of the verse and chorus and allows you to make an informed buying decision.
However, as my younger son tells me 'you could fit a lot more songs on your iPod if you got rid of all of those 45-minute long Miles Davis songs!' While that is somewhat exaggerated , it is true enough that in my retrospective of Bitches Brew I remarked on how a 4:30 song felt like a 'short interlude'.
The point being, when you have a song like the nearly 47 minute Gondwana from Miles Davis recording Pangaea, a 30-second clip has only Al Foster establishing the rhythm and Sonny Fortune just barely starting to state a theme on flute before it fades out. There is nothing there to help you figure out if this would be a good purchase – and since you have to commit to a full double-CD $17 in this case it is pretty important to know!
Today Apple announced that they are going to introduce 90 second samples for all songs longer than 2:30. As they said in the release:
We believe that giving potential customers more time to listen to your music will lead to more purchases.
They also took the rather bold and hard-line stance of saying that in essence 'silence is acceptance'. In other words, continuing to allow songs on the iTunes store means you agree with the new terms, and if not you need to pull the music.
Personally I think both the 90 second samples and the way they are pushing this as a 'we are doing it … Period' move are great! It is definitely a customer-first move that pushes back against the music industry desire to get back to selling records as album-only without any in-store previews at all.
What about you? Do you see this as a move that will benefit you personally? What songs can you think of where the 30 second sample is useless?
Source: Macrumors