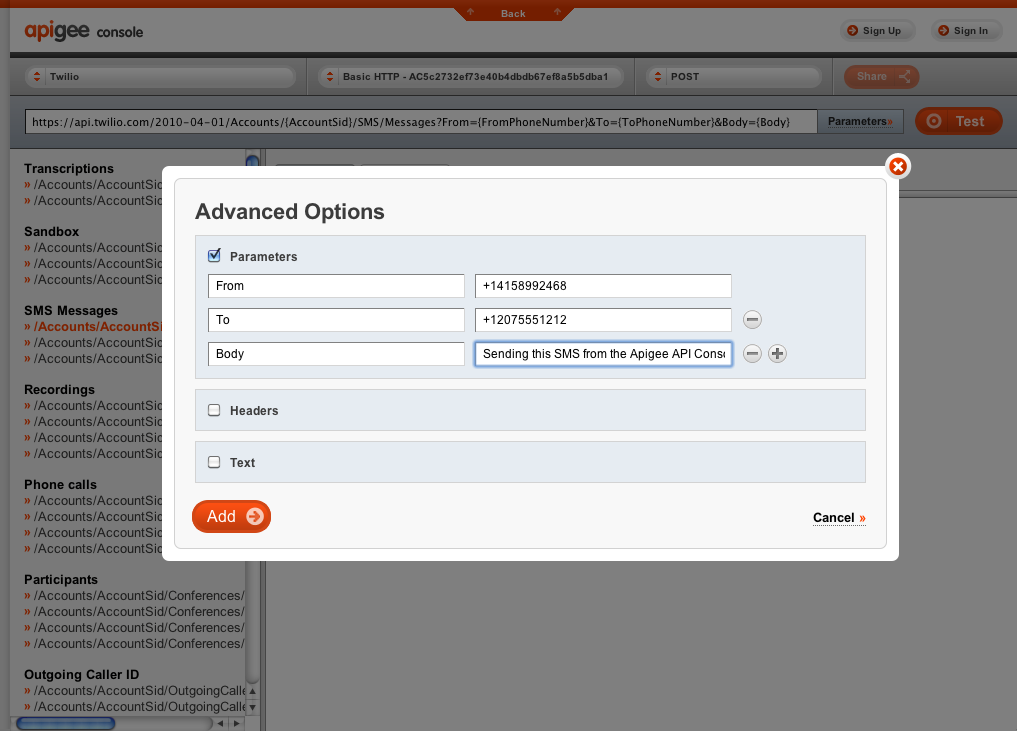 Video:  Apigee Shows How To Use The API Console to Add FourSquare Check-Ins to Your Own Application
We've covered Apigee before.  They make it easy to integrate application programming interfaces, or APIs, into your own application.    So, what does that mean?    If you want to create your own application that can take advantage of FourSquare location-based check-ins, integrate PayPal for payments, or take advantage of Twillio for SMS and Voice applications, Apigee gives you that power.  Oh, and don't forget their previous APIs that let you easily implement Facebook and Twitter into your apps.
Before you would have to code hundreds of lines of code while sitting in your parent's basement hopped up on Red Bull.   Apigee's console speeds up this process, allowing you to focus on building a killer application that takes advantage of features from the 'Big guys'.
So what are some of the features that Apigee's console gives you?  How about taking care of all those complicated authorization schemes that used to take developers days or weeks to write and test?   Want speed and ease of use? The console includes syntax highlighting and auto-complete (similar to the FireFox 'awesome bar' — except you get auto completed lists of API code right at your disposal!).   Want to speed up your learning, debugging and code building with teams?   Apigee's console includes a 'share' feature that will send a unique URL with the API request/response code information so you can leverage forums and developer communities to make your applications better even faster.
And what will you pay for all of these features?  Not.  One.  Cent.  The API console is 100% free.
So what are you waiting for?  Read on to see even more highlights and features from Apigee — and let us know about what you've created using Apigee!
Click on the image above to see a full size snapshot of the Twilio API console.
You can also check out a video example highlighting how to implement a LinkedIn API using the console.
Press Release:
Apigee Launches API Consoles for LinkedIn, PayPal, Foursquare, Twilio and SoundCloud APIs

SANTA CLARA, CA — November 11, 2010 — Apigee, the leading provider of API products and services, today launched API consoles for the LinkedIn, PayPal, Foursquare, Twilio and SoundCloud APIs.

The API consoles let developers easily learn, explore, debug and code against the APIs, allowing them to authenticate, view request/response pairs, drill into errors and share what they are seeing with others. Apigee also supports the Facebook, Twitter and SimpleGeo APIs.

"The LinkedIn, PayPal, Foursquare, Twilio and SoundCloud APIs are five of the most popular platforms for developers coding mobile, social and web applications for the API-driven internet," said Chet Kapoor, CEO, Apigee. "The Apigee API console lowers the barrier to entry for developers, giving them a powerful toolkit for learning the APIs quickly, solving problems rapidly and building better apps."

The Apigee API Explorers have several features to simplify authentication, adoption, debugging and sharing:

Support for OAuth, HTTP basic and custom token authorization schemes: The API consoles support OAuth to allow simplified authorization for the Foursquare, LinkedIn and SoundCloud APIs; OAuth and HTTP basic for the Twilio API and custom tokens for the PayPal API. Developers only need to authenticate once for the entire session.
Syntax highlighting and request auto-complete: The API consoles list all API methods, allowing developers to send requests in two clicks and view the response with syntax highlight for JSON and XML. The API consoles also auto-complete requests, making it easier than ever to get started on each API.
Parameters Pop-Up: Developers can easily configure request parameters by using the Apigee parameters pop-up, designed to support simple experimentation for figuring out what is needed for apps and integrations.
"Share" Snapshot: Developers can take a snapshot of API request/response pairs and share them with a unique URL, letting developer communities solve problems, debug and share support issues.

About Apigee

Apigee is the leading provider of API products and technology for enterprises and developers. Over 150 enterprises like Comcast, MTV Networks, GameSpy, TransUnion Interactive, Guardian Life and Constant Contact and thousands of developers use Apigee's technology. Enterprises use Apigee for visibility, control and scale of their API strategies. Developers use Apigee's free tools to learn, test, and protect APIs. Learn more at http://apigee.com.