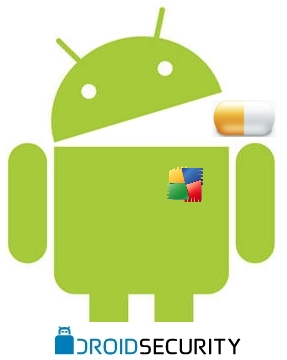 It's only a matter of time before malicious code starts hitting our mobile devices and phones. Malware and Virus's are what keeps people like me employed at times, but can make for a bad day, week, month for almost an unsuspecting user. Why people with such talent feel the need to ruin your life and empty your checkbook is beyond me, but rest assured AVG and DroidSecurity have you covered. Mobile AV software is certainly not new, but the recent acquisition of DroidSecurity by AVG makes for a killer combo in keeping your Android devices virus free with a Real Time Scanning mobile app.
I was never really big on mobile AV, but since I do so much these days on my phone, I figured it wouldn't hurt to try out. I wanted to find out if it was really worth the free download. So I installed it from the market and ran it for few days to find out what adverse effects (if any) Antivirus Free had on my Vibrant. DroidSecurity first put this on the market back in March. I don't remember too much hype about is but have skimmed past it a few times. I'm a big fan of AVG's free AV products, so when the acquisition hit the headlines it certainly sparked my interest.
Basic Menus of the App
Details from the website: (Free Version)
Security

Scan whole device and identify and remove viruses with a simpleclick
Automatic scans can be run weekly, daily, or on demand
Check apps for malware before downloading from app stores
Check website content, emails, and SMS for malware before downloading to device

Theft protection

Locate lost or stolen device using GPS
Create and display message on screen remotely
Lock device and wipe content
Manage applications remotely

SMS Spam Protection

Basic protection from SMS Spammers
In all honesty I really was planning on a pretty quick uninstall. I really didn't need anything else chewing up my battery life, and wondered if mobile virus's were actually a thread worth noticing on cell phones. After a few days of testing I was pleasantly surprised with the results. Although I have not been hit with a virus yet, I can appreciate that a quick scan runs every time I mount my SD cards, install an app, or change any files around in my media. Battery life was not noticeably any different from normal and there was not a significant amount of additional lag time when rebooting the phone, installing apps, or moving files around.
Scanning Selection
I ran a few scans manually which whips through about 4GB on my phone and 7GB on my external SD. I had a few alerts which were no big deal after checking them out. One was a reminder that I allow apps from unknown sources, and the other was the Superuser (root) app. Neither were a threat which meant for now at least I'm good to go. There are a few featured listed that are not yet available. The App Locker and Backup both give me a future availability pop up message which I'm sure will be resolved in future releases.
Scanning Results
So is it worth it? Of course, its free and has a lot of features that are designed to keep you safe. The remote features are worth checking out and locator service follows along with some of the rest and can help you find your lost or stolen phone via GPS. There is also a paid version of the app which adds a few additional features and will only set you back $10. I'll probably be picking up the paid version because I like AVG products and have good faith in what they offered over the years. From the looks of it, the program is set to become a robust suite of tools and services that keeps you safe, secure and protected. Virus's are out there and will only get worse. I recommend giving it a shot, the least you can get from it is a little peace of mind and few cool tools to play with. There are other AV apps on the Android Marketplace, just none that carry the name of AVG behind them.
*It is not noted anywhere but I recommend you uninstall the app before you do a OTA update of the OS. Not sure how well it plays with new system files but it only takes a minute to reinstall. I don't think there will be any problems, but until it happens you never know.
via DroidSecurity
Antivirus Free Direct Download (.apk)