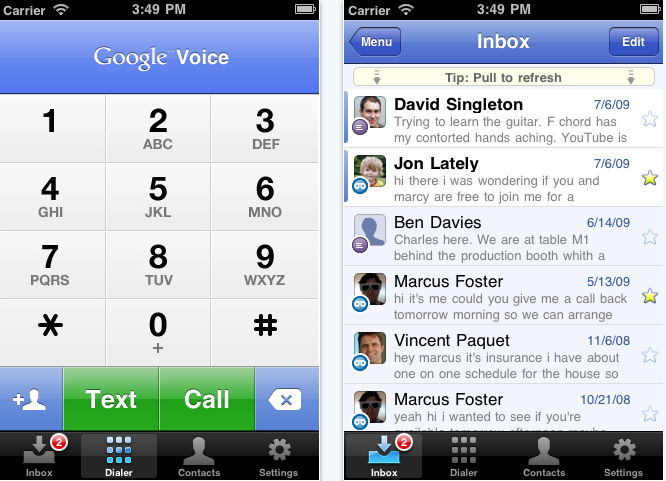 Since Apple started letting Google Voice applications back in the iTunes App Store a short time ago one or two contenders have found their way onto my home screen and the home screens of many other iPhone users.  Today another app has hit the App Store for Google Voice and this one comes straight from Google themselves.
From the Google Voice Blog……
With this native app, you'll continue to have access to all the major Google Voice features on your iPhone, like:
Cheap rates for international calls
Free text messaging to U.S. numbers
Voicemail transcription
Display your Google Voice number as caller ID when making calls
In addition to these benefits, the app provides some features that make using Google Voice on your iPhone a much better experience:
With push notifications, the app will alert you instantly when you receive a new voicemail or text message
Most of your calls will be placed via Direct Access Numbers, making them connect just as quickly as regular phone calls.
Google Voice for iPhone is available to
download from the Apple App Store today
. You'll need an iPhone with iOS 3.1 or later and a valid Google Voice account to use the app. At this time, Google Voice is available in the U.S. only.