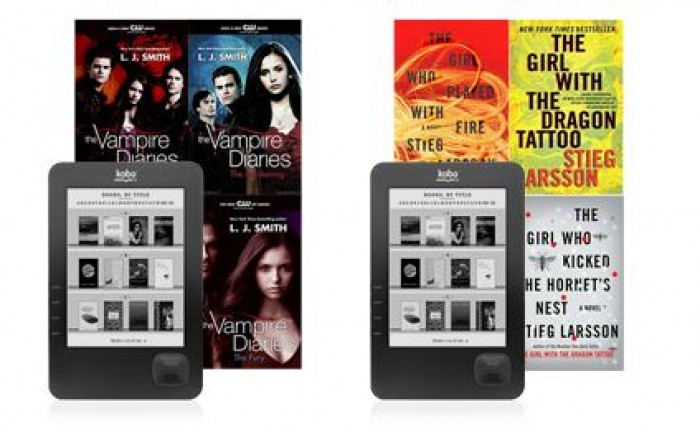 This is really brilliant. Kobo is selling "bundles" for the holidays, where you can purchase a Kobo Reader plus either "The Vampire Diaries" or "The Millenium Trilogy", all preloaded on the device.
It takes gifting ebooks to a step beyond just gift cards, plus you save a bit of money on the overall combination. This would be a great gift for an avid reader, since you're setting them up nicely with a great device AND a good set of books to get things rolling. While all Kobo Readers come with 100 classics, there's something to be said for newer titles, especially popular ones!
My favorite part, though, is how Kobo sneakily manages to discount big trilogies without stumbling into issues with the agency model. Kobo has been open about how difficult it can be to offer coupons and discounts when only titles from a few publishers are eligible, so this is a cool way to offer an overall cheaper price AND move more Readers!
Since Kobo, B&N and Amazon all tend to move in near-lockstep, I wonder if we'll see similar offerings from anyone else as we head into the holiday season?
From Kobo's blog:
Just in time for the holiday season, Kobo is here to say that bundling up isn't just for keeping warm.

A lot of customers ask our Kobo team members about hot titles, and how to get started reading a series they have heard a lot about.

Kobo listened, and for the holiday season, Kobo introduces an amazing gift for loved ones (or yourself!): eReader Bundles.

At Kobo, you can now get your choice of five exclusive bundles from bestselling authors and series preloaded on your eReader, value-priced just in time for the holidays!

The eReader is the hottest gift item for 2010 and now Kobo offers their wireless eReader with a choice of preloaded bundles – there's one for every taste – romance, thrillers, and bestsellers.

Our brand new value-priced Kobo eBook bundles, available at koboereader.com, are the perfect holiday gift. From now until December 31, you can choose to purchase a Kobo Wireless eReader (Onyx, Lilac or Silver) with one of our exclusive eBook bundles pre-loaded and save as much as $30 . This one-stop shopping is one of the many ways Kobo makes your hunt for the perfect gift just a little bit easier.

Bundles are priced between $149 and $169, and include hot selling series such as:

The Millennium Trilogy
The Vampire Diaries
These bundles are a fun and easy way to get started eReading. The bundles included are a great deal (the average discount is 30 dollars.) and eReading is one of the best gifts to give a friend or family member.

When you open your Kobo eReader with bundles added, you're ready to go. The books you bought are preloaded on the eReader. Get started out of the box.

Bundles are an exciting way for anyone to start their eReading journey. to get started today, visit koboereader.com