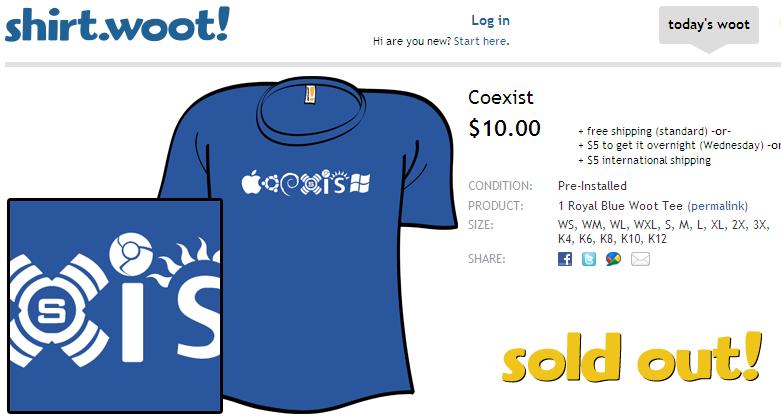 Here at Gear Diary we love our gadgets, and between all of us we make use of a wide array of operating systems and gadgets; from Mac OS X to Windows 7 to Linux to EPOC to Android to Windows Phone 7 to iOS to Windows Mobile to … well, who knows what else! There are heated discussions, but loads of respect – despite differences of usage and opinion, we coexist quite happily.
The 'coexist' logo as a way to communicate peace, tolerance, and a shared sense of community and understanding is nothing new, and the most popular usage is shown in the bumper sticker above. But it also feels very appropriate in the tech world … how many of us have not found ourselves in discussions where the rancor seemed have taken on dimensions way out of proportion with a simple computer application or operating system?
Here is the blog post describing the shirt featured today at woot:
Well, Apple looks quite nice but everything inside is quirky.
And plus the users tend to be defensive and quite jerky.

Ubuntu has a lot to give and usually runs fine,
But they've never even met someone in graphical design.

And Debian, sweet Debian, it really does a lot!
As long as you already think like the designers thought,

But skyOS? Let's face it, that's here just to be a letter.
And chromeOS? You really think that Google should be bigger?

Solaris has some street cred, but requires education,
So no one's really going to bother besides some big corporation.

And finally, good ol' Windows, about which we would write,
But our system found new updates and rebooted in the night.
There is never a bad time to work harder at peaceful coexistence with others, whether the issue that divides is one of race, religion, gender, politics, operating system or stylus versus touch.
Sadly the shirt has already sold out, but it is still a great looking logo … and a harmonious thought!
Source: Woot