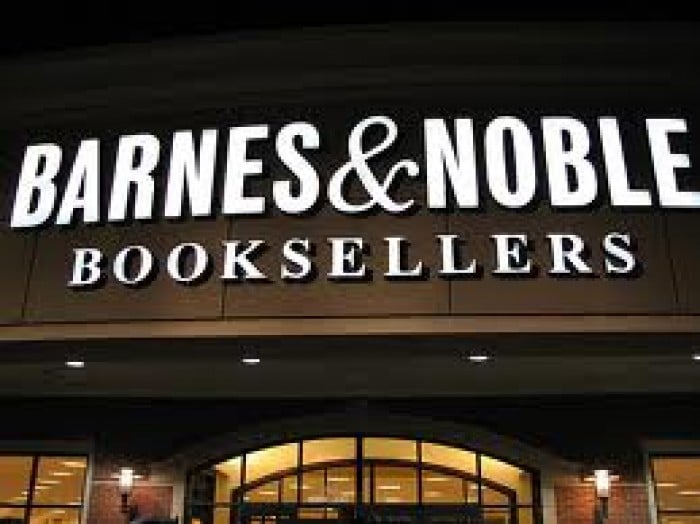 B&N released their quarterly financials this week, and it's a bit of a mixed bag. Not surprisingly, the bookstores themselves are not exactly lighting the world on fire. However, B&N is very excited about eBooks and the NOOKcolor, positively gushing about both in their press release!
Another interesting tidbit: B&N is clinging to their "We have around 20% of the ebook market" belief. Since neither Barnes and Noble nor Amazon are big on specifics, it gets awfully tough to determine how much is posturing and how much is real. However, since the various publishing houses and independent publishing sites often note the overall size of ebook sales, it's not hard for B&N and Amazon to look at the aggregate numbers, look at their company sales, and do some quick back of the envelope guesstimating.
And if we assume those are correct, with Amazon holding a large chunk (let's say somewhere around 70%) and B&N grabbing 20%, that only leaves 10% to the competition! That means Kobo, Sony, iBooks, and every smaller store is fighting over a tiny slice of the ebook pie. While Amazon had a big head start, it's incredibly impressive that B&N has managed to really establish themselves within just about a year.
Let's just hope ebook sales help support the rest of the business too! Full financials press release below, and let us know in the comments if you've bought or plan to buy a NOOK for a friend or family member!
Barnes & Noble Reports Fiscal 2011 Second Quarter Financial Results
Barnes & Noble.com Comparable Sales Increase 59% – Driven By Digital Initiatives

Barnes & Noble Launches NOOKcolor™ to Critical Acclaim

Holiday Sales Off to a Strong Start

New York, NY (November 30, 2010) – Barnes & Noble, Inc. (NYSE: BKS), the world's largest bookseller, today reported sales and earnings for its fiscal 2011 second quarter ended October 30, 2010.

SECOND QUARTER RESULTS

Total sales for the second quarter were $1.9 billion, including sales of Barnes & Noble College Booksellers ("College") of $798 million. Excluding College, total sales increased 1% over the prior year period. Comparable sales at Barnes & Noble.com increased 59% driven by increases in core products and sales of digital devices and digital content. Barnes & Noble comparable store sales decreased by 3.3% and College's comparable store sales decreased by 1.5%.

The expansion of the Toys & Games department at Barnes & Noble stores produced a 42% sales increase for the department during the second quarter. In the third quarter, the company began testing additional concepts, including an expanded children's offering and digital and electronics accessories, to drive further sales increases in 2011.

For the second quarter, the company reported earnings before interest, taxes, depreciation and amortization (EBITDA) of $46 million. The consolidated second quarter net loss was $12.6 million, or $0.22 per share, in-line with previously issued guidance of earnings of $0.05 per share to a loss of $0.25 per share.

As previously announced, the company continued to invest heavily in digital initiatives including: software and cloud services development costs; expenses relating to NOOKcolor; the addition of hundreds of thousands of titles to its digital catalog including a subscription management platform for digital newspapers and magazines; creating interactive proprietary content for children's books; developing applications to serve multiple reading and smartphone devices – including iPad®, iPhone®, Android™ and BlackBerry®; and the rollout of NOOK Boutiques in Barnes & Noble retail stores.

The additional investments are expected to continue and peak during the second half of the year, and then increase moderately in the years ahead. Payoff for these expenses is estimated to begin to appear in the third quarter, when NOOKcolor is expected to be one of the world's most sought after eReaders, and in the third and fourth quarters, when NOOKcolor owners will begin downloading digital content, including books and magazines.

BARNES & NOBLE LAUNCHES NOOKcolor

At the end of the second quarter, Barnes & Noble launched NOOKcolor, the first Reader's Tablet that enables customers to purchase interactive digital content on a full color touchscreen. Concurrent with the introduction of NOOKcolor, the company introduced NOOKnewsstand™ and NOOKkids™, enabling customers to access periodicals, magazines, and interactive children's books. Additional device features include web browsing, the ability to listen to music and much more.

NOOKcolor has received widespread critical acclaim from many technology publications, including The Wall Street Journal, which called the product "a winner." Orders for NOOKcolor significantly exceeded the company's expectations, and since going on sale on November 16, 2010, it has become the single bestselling product at Barnes & Noble.

"Since launching our eBookstore in the second half of last year, Barnes & Noble has quickly captured approximately 20% of the exploding eBook market. We have plans to grow our share well beyond 20%, and the early success of NOOKcolor is encouraging," said William Lynch, chief executive officer of Barnes & Noble, Inc. "Selling digital content is becoming a big business for us that we expect to grow at exciting rates. Based upon the double-digit comparable store sales achieved over the past weekend, we are further convinced that eReaders and accessories will be a key holiday gift item and driver of holiday sales this year, leading to accelerating eContent sales in the quarters and years ahead. We're continuing to invest in this opportunity to build the most expansive catalog of digital content available for sale, the best reading software on the market, and devices that deliver the most innovative digital reading experiences."

GUIDANCE

Barnes & Noble.com's comparable sales are expected to increase by approximately 75% for both the third quarter and the full year. The company believes these sales increases will be driven primarily by growing sales in core products and the exploding digital content business. By fiscal year end, the company expects that digital content sales will achieve a $400 million full-year run-rate.

Barnes & Noble comparable store sales are expected to increase between 5% and 7% for the third quarter, and to be in a range of flat to 3% for the full year. Increases in sales will be largely driven by sales of NOOK™ devices and accessories, and by increases in children's products and other non-book merchandise.

During the three-day post-Thanksgiving weekend, the company experienced a strong comparable store sales increase of 17.2% at Barnes & Noble stores and a comparable sales increase of 105.7% online.

College's comparable store sales are expected to be in a range of flat to a decrease of 2% for the third quarter and the full year.

The company expects to achieve EBITDA of approximately $160 to $190 million and $170 million to $205 million, for the third quarter and the full year, respectively. Third quarter earnings per share are expected to be in a range of $0.90 to $1.20. Full-year fiscal 2011 losses per share are expected to be in a range of $0.75 to $1.15.

BARNES & NOBLE DECLARES QUARTERLY DIVIDEND

The company's Board of Directors declared a quarterly cash dividend of $0.25 per share payable on December 31, 2010 to stockholders of record on December 10, 2010. At the end of the second quarter, the company had borrowings of approximately $377 million under its $1 billion revolving credit facility. The company's financial position remains strong and the revolving credit facility provides ample room for the company to fund its strategic investments.

UPDATE ON STRATEGIC ALTERNATIVE PROCESS

As previously announced on August 3, 2010, Barnes & Noble's Board of Directors has created a Special Committee to review strategic alternatives, including a possible sale of the company. This review process is currently ongoing and the company is meeting with both strategic and financial institutions.

There can be no assurance that the review of strategic alternatives will result in a sale of the company or in any other transaction. There is no timetable for the review, and the company does not intend to comment further regarding the evaluation of strategic alternatives, until a specific transaction is recommended by the Special Committee or the process is concluded.

CONFERENCE CALL

A conference call with Barnes & Noble, Inc.'s senior management will be webcast beginning at 10:00 A.M. ET on Tuesday, November 30, 2010, and is accessible at www.barnesandnobleinc.com/webcasts.

Barnes & Noble, Inc. will report holiday sales on or about January 6, 2011.

FINANCIAL TABLES

Download financial tables related to the sales and earnings for the fiscal 2011 second quarter ended October 30, 2010:

Consolidated Statements of Operations (12 KB)
Consolidated Balance Sheets (12 KB)

About Barnes & Noble, Inc.
Barnes & Noble, Inc. (NYSE:BKS), the world's largest bookseller and a Fortune 500 company, operates 717 bookstores in 50 states. Barnes & Noble College Booksellers, LLC, a wholly-owned subsidiary of Barnes & Noble, also operates 637 college bookstores serving nearly 4 million students and faculty members at colleges and universities across the United States. Barnes & Noble is the nation's top bookseller brand for the seventh year in a row, as determined by a combination of the brand's performance on familiarity, quality, and purchase intent; the top bookseller in quality for the second year in a row and the number two retailer in trust, according to the EquiTrend® Brand Study by Harris Interactive®. Barnes & Noble conducts its online business through Barnes & Noble.com (www.bn.com), one of the Web's largest e-commerce sites, which also features more than two million titles in its eBookstore (www.bn.com/ebooks). Through Barnes & Noble's NOOK™ eReading product offering, customers can buy and read eBooks on the widest range of platforms, including NOOK eBook Readers, devices from partner companies, and hundreds of the most popular mobile and computing devices using free NOOK software.

General information on Barnes & Noble, Inc. can be obtained via the Internet by visiting the company's corporate website: www.barnesandnobleinc.com.
NOOK™, NOOKstudy™, LendMe™, Read In Store™, More In Store™ and Lifetime Library™ are trademarks of Barnes & Noble, Inc. Other trademarks referenced in this release are the property of their respective owners.

Social Media Links:
Follow B&N on Twitter: www.bn.com/twitter
Become a fan of our Facebook Page: http://www.facebook.com/barnesandnoble
Subscribe to our channel: http://www.youtube.com/user/BNStudio

FORWARD-LOOKING STATEMENTS
This press release contains certain forward-looking statements (within the meaning of Section 27A of the Securities Act of 1933, as amended, and Section 21E of the Securities Exchange Act of 1934, as amended) and information relating to Barnes & Noble that are based on the beliefs of the management of Barnes & Noble as well as assumptions made by and information currently available to the management of Barnes & Noble. When used in this communication, the words "anticipate," "believe," "estimate," "expect," "intend," "plan," "will" and similar expressions, as they relate to Barnes & Noble or the management of Barnes & Noble, identify forward-looking statements. Such statements reflect the current views of Barnes & Noble with respect to future events, the outcome of which is subject to certain risks, including, among others, the general economic environment and consumer spending patterns, decreased consumer demand for Barnes & Noble's products, low growth or declining sales and net income due to various factors, possible disruptions in Barnes & Noble's computer systems, telephone systems or supply chain, possible risks associated with data privacy, information security and intellectual property, possible work stoppages or increases in labor costs, possible increases in shipping rates or interruptions in shipping service, effects of competition, higher-than-anticipated store closing or relocation costs, higher interest rates, the performance of Barnes & Noble's online, digital and other initiatives, the performance and successful integration of acquired businesses, the success of Barnes & Noble's strategic investments, unanticipated increases in merchandise, component or occupancy costs, unanticipated adverse litigation results or effects, the results or effects of any governmental review of Barnes & Noble's stock option practices, product and component shortages, the outcome of Barnes & Noble's evaluation of strategic alternatives, including a possible sale of Barnes & Noble, as announced on August 3, 2010, and other factors which may be outside of Barnes & Noble's control, including those factors discussed in detail in Item 1A, "Risk Factors," in Barnes & Noble's Annual Report on Form 10-K, filed with the SEC on June 30, 2010, and in Barnes & Noble's other filings made hereafter from time to time with the SEC. Should one or more of these risks or uncertainties materialize, or should underlying assumptions prove incorrect, actual results or outcomes may vary materially from those described as anticipated, believed, estimated, expected, intended or planned. Subsequent written and oral forward-looking statements attributable to Barnes & Noble or persons acting on its behalf are expressly qualified in their entirety by the cautionary statements in this paragraph. Barnes & Noble undertakes no obligation to publicly update or revise any forward-looking statements, whether as a result of new information, future events or otherwise after the date of this communication.