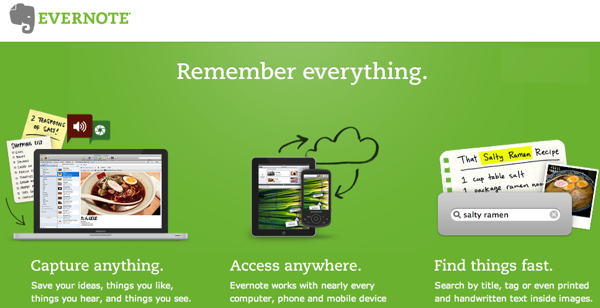 It wasn't long ago that Evernote rolled out a significant update to their Windows client. At around the same time they revealed a significant update to their Android app. I was really happy to see both since it reflected Evernote's on-going commitment to being a truly cross-platform "hybrid-web" service. It did, however, leave me wondering if their Mac and iOS clients were being left a little behind.
I don't need to wonder any longer. For the last two days I have been using an update to the Evernote Beta for Mac and it brings two of the most requested features: in-app notebook sharing and Notebook Stacks.
In-App Notebook Sharing gives the ability to share and view notebooks with others from within the Evernote for Mac application. (Previously this could only be done through the browser login.)
Users can control what they share and with whom. For example, you can share your notes publicly with the world or you can share notes with select individuals. Users with Premium accounts (which I highly recommend spending the money on) can allow others to edit the shared notes collaboratively and all of this is done within the application. Even better, premium account holders can view earlier versions of shared notes. This is a great safeguard if you are giving editorial access to others and want to revert to an earlier version.
This is a huge step forward for Evernote and something that Evernote power-users like me will find very useful. I, for example, have my own Evernote account, share one with my clergy staff for tracking pastoral issues and have a number of my friends and family members using it also now. Being able to share specific folders with them is a HUGE deal and something that I suspect will make the system even more useful (if that is possible.)
The new Notebooks Stacks bring a much needed system for organizing notes to Evernote. The company is calling this system Notebooks Stacks and describe it this way…
Stacks, like folders, are containers for notebooks and can be viewed or collapsed as needed.
Stacks are computer-specific, so work and home computers can have separate Stacks of Notebooks.
It is important to note that this is a BETA version of Evernote for Mac. As such it is a work in progress but I have not had any issues since I updated to it. For anyone who make real use of Evernote these two updates are a huge step forward. HUGE!!!
The full blog post announcing and describing them follows. For information, downloading and upgrading to Premium if you have a free account check out the Evernote Web site.
This may be a first for us: a single update that adds not one, but two of our most requested features! Normally, we don't actively promote Beta versions, but we're just too excited to keep this one under wraps. Also, it's a big release and we can use the extra eyeballs for testing.

Today's release of Evernote 2.0 Beta for Mac introduces in-app notebook sharing and our new notebooks organization feature: Notebooks Stacks.

How to get it: Get the Beta by clicking on the "Update to Beta versions" checkbox in the Software Update tab of the Evernote for Mac preferences. Then, check for updates.

A note on Beta software

Before we get into the new features, a note on Beta software. Beta software is a work-in-progress, and may contain bugs, which can adversely affect your account. If you're concerned about using Beta software, just wait until the public release.

Notebook sharing

The days of going to the Web in order to share your notebooks are over. Now, share notebooks with friends and co-workers, as well as view notebooks that have been shared with you, without ever leaving Evernote for Mac.

The left panel is now split into two tabs. There's an Account tab, which refers to your own notes, and aShared tab, which allows you to access all of Evernote's sharing functions. Click the Shared tab to get started.

Sharing your notebooks

Click on Manage Sharing at the top of the Sharing Panel. This will display a list of your notebooks. Next, click the Start Sharing button near a notebook to share it. You have two sharing options, either you can make your notebook completely public or you can share it with a select group of individuals.

Public notebooks

When you choose to Share with the world, the notebook will have a URL that you can share with anyone. These notebooks also have RSS feeds associated with them and they may be crawled by search engines if anyone publishes the URL.

Sharing with individuals and groups

You can also share notebooks with individuals and groups. This type of sharing is done by entering in email addresses of those you wish to invite to the notebook. You can also choose whether those you invite are required to sign into Evernote in order to view the notebook.

Premium feature: Editing shared notebooks

If you are an Evernote Premium user, then you can allow others to edit the contents of your shared notebook. This is a great option for group collaboration. And since it's all inside of Evernote for Mac, it feels just like working on your own notes.

Premium feature: Note history

In addition, Evernote's Premium Note History feature works for shared notebooks, allowing Premium subscribers to see previous versions of notes, which is useful when multiple people are editing the same notebook.

Linking notebooks

Notebooks can be linked into your account in two ways. Either you receive a sharing invitation from someone via email or you visit a public shared notebook. In both cases, click the Link to my account button at the top of the page.

Once you link a notebook to your account, hit Sync and it will show up in the Shared Notebook panel. The first time you view the notebook, the notes with Sync down to your desktop. You will be asked to configure how frequently you want Evernote to check for updates in these linked notebooks. You can always Sync manually by selecting a notebook and clicking the Sync button.

Notebooks Stacks

One of the biggest requests that we've received has been for ways to organize notebooks. Whether you use Evernote for your work and personal lives, or simply love to create lots of notebooks, keeping things tidy can be tough. We've come up with a great solution for keeping your notebooks neat and organized: Notebooks Stacks. Stacks are a visual grouping for notebooks. Drop all your related notebooks into their own stacks, then view or collapse them as needed.

Create a Notebook Stack

Creating Notebook Stacks is easy. Either drag and drop one notebook onto another to create a stack or CMD+click on a notebook and choose Add to Stack. Stacks are synced to your account, so as soon as they're available in the other versions of Evernote, you'll be able to see them everywhere. For now, stacks will only show up in this Mac beta.

Tip: Your local computer remembers which stacks you've left opened or closed, so you can leave a stack called "Work" open on your work machine and a stack called "Home" open… you see where this is going.

Redesigned left panel

In addition to Stacks and Sharing, the left panel also got a redesign. This update is meant to improve the experience of users with lots of notebooks, tags and saved searches. You can now resize and minimize sections within the left panel. To resize them, drag the headers up and down. You can also scroll within each section. Click on the gear icon at the bottom of the left panel to add or remove elements from the left panel. If you never use the Attributes panel, for instance, just get rid of it and reclaim some vertical space.

When is this coming to other versions of Evernote

We know that you can't wait to see these features on Evernote for Windows and other versions of Evernote. Short answer: they're coming. We're working on it. Stay tuned.