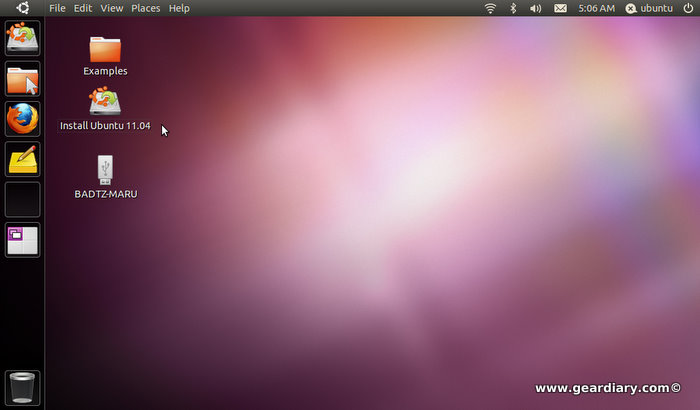 Late on the December 2nd, Ubuntu released the first Alpha quality code of their next version, 11.04, due out in April.  An alpha release is code that isn't ready to be used for production work.  This release is designed more to get people testing and looking for bugs that cna be fixed before the beta, release candidate and final release.  Today I downloaded the iso so I could share a little of the future of Ubuntu.
Those like myself already know a lot about this upcoming release as Mark Shuttleworth had announced in November that the new default desktop will be in 11.04.  The new desktop takes queues off of the desktop in the Netbook Edition version of 10.10.  This new desktop is called Unity and is built on top of the Gnome desktop that is the current default.  Those who are fans of the Gnome desktop need to put their pitchforks away as you should be able to switch back to the Gnome desktop if you so desire since it is still there.  However, it's my hope that others take a look at what they have done because there's some great stuff happening here.
What does this mean for the end user?  A simpler desktop.  The bottom taskbar is gone and is replaced by a new launcher that is along the lefthand side of the screen.  In the final release, this launcher will be able to auto hide so it won't be in the way.
Also, if you are a fan of the Mac, then you will like this next change.  The default drop down menus usually attached to each window are now moved into the upper bar in a similar manner to Mac OS X.  They say that this will increase the amount of screen real estate and reduce the amount of clutter.  I happen to agree with them and I kind of like the change.
While there are some in the Linux community that will not like these changes, I think it's an important change that Ubuntu needs to make.  At least they are attempting to make a change from the same old windows, icon, menu and pointing device interface that has changed little in the last 10 years.  It is a risky move, but it's one I think that Ubuntu can pull off.
After 11.04, future releases will change the underlaying graphics subsystem called Xorg and replace it with a new one called Wayland.  Wayland promises to be a little less kludgey than the current Xorg and hopefully will reduce flicker and other oddities that can cause the Linux desktop to not be so smooth.  This is an important piece that will make the desktop even smoother and more polished than it is now.  Fans of Firefox and other current programs that run on Xorg today don't need to worry as Wayland will be able to run X applications as well.
Will all of this make Linux a better desktop than it is today?  Only time will tell but I am totally looking forward to these changes as I think it has been a long time coming and it keeps things interesting form members of the Linux community.