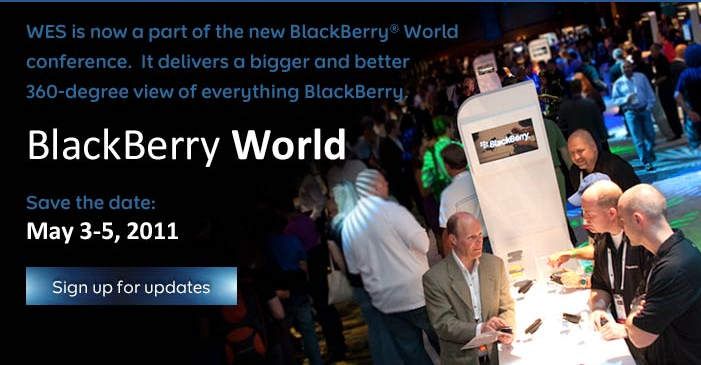 RIM announced the name change from to annual Wireless Enterprise Symposium, aka WES, conference.  Now it will simply be 'BlackBerry World'.   This change marks a further move away from focusing only on the enterprise, or business customer.    Typically the yearly conference is filled with Sales and IT staff from companies all over the world learning about the latest product and server-side offerings.
Expect much more of a consumer focus at the BlackBerry World event as RIM tries to further push the BlackBerry brand against the Apple and Google Android Behemoth's who are infiltrating business use due to the volume of users, demand and the updates both Apple and Google have made to support enterprise security requirements.   Press release on the  BlackBerry World conference follows.
December 9th, 2010:   RIM unveils BlackBerry World – a new conference focused at delivering the latest BlackBerry news and information.

BlackBerry World will feature keynotes from leading mobile thinkers, over 100 breakout sessions, Hands-on Labs, BlackBerry training, and opportunities for certification.Attendees of BlackBerry World will also be able to:

Hear the most current information about the BlackBerry solution, new application partners, and roadmaps for the future
See live demonstrations of the BlackBerry solution at work
Get answers from BlackBerry experts to develop value-driven wireless solutions, as well as carriers and vendors who can help provide valuable wireless research information
Meet and connect with key executives who are making the BlackBerry solution part of their business planning, and the industry leaders who are shaping the future of global wireless technology
Get training on the BlackBerry platform, with additional opportunities for technical certification

WES has been RIM's flagship BlackBerry conference for the past nine years. The WES tracks and content will continue to be available at BlackBerry World, but now several new invitation-only tracks have been added for BlackBerry Channel Partners.

Mark your calendars: BlackBerry World will be hosted in Orlando FL May 3-5, 2011 and registration will open in January 2011.

For more information, visit http://blogs.blackberry.com/2010/12/blackberry-world/ and www.blackberryworld.com.