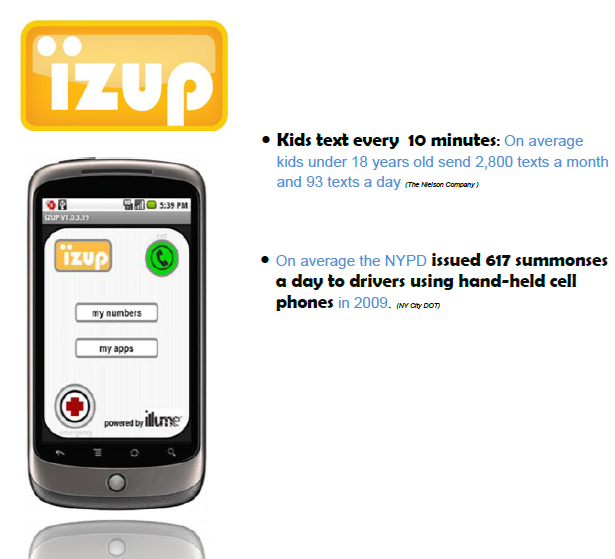 iZup (pronounced, ingeniusely enough, 'Eyes Up') is a mobile application developed by Illume Software that aims to help drivers avoid distractions caused by their mobile phones.  iZup holds text messages, e-mails and calls while you're driving, yet always allows unlimited access to 911 and a list of authorized phone numbers.  Incoming calls are directed straight to voicemail and incoming texts are held while a vehicle is in motion.  Application use and web browsing are also prohibited while driving.   If texting or use your mobile phone while driving is too much of a temptation for you to bear, this may be the solution for you and your loved ones.
Being software based, there's no expensive equipment or installation required — and this is where iZup differentiates from many other safe-driving alternatives.  iZup is currently available for BlackBerry and Android smartphones.  Illume Software has been targeting parents, employers, and insurance agencies with their solution; recently partnering with Plymouth Rock Assurance Corporation to make iZup available at a discounted price for their policy holders.   To make it even more appealing, there's currently a holiday special allowing you to use iZup for $0.99 per month (typically $2.95 per month for a single user, or $5.95 per month for up to five phones).
Interested?   Read on for a full list of features.
Features:
Drive Undistracted with iZUP:
Prevents outgoing text messages, emails and phone calls while driving
Sends incoming calls to voicemail and holds text messages when the vehicle is in motion
Prohibits web browsing and application use while driving
Why parents and employeers use iZUP:
Tamper alert notification sent to account holder when a user (child/employee) attempts to disable iZUP
Emergency 911 notification sent with a map to account holder showing location and time of the call
Unique features:
Password-protected passenger override
Three authorized phone numbers allowed (e.g. mom, employer, etc.)
One authorized application allowed (e.g. navigation application)
Emergency 911 quick dial always available
Emergency application disable (iZUP unblocks all calls after 911 call)
What sets iZUP apart:
Software solution (no hardware required)
Enhanced GPS processing
Optimized battery management
Time-delayed for stop lights, stop signs and heavy traffic
How do you get iZUP? Purchase direct through www.getizup.com.  Also available through the Android Market and Blackberry App World app stores.
Press Release on the Recent Plymouth Rock and Illume Partnership:
llume Software and Plymouth Rock Assurance Corporation Join Forces to Prevent Distracted Driving

BOSTON, MA and NEWTON, MA–(September 29, 2010) -  As Massachusetts' new distracted driving law takes effect, Illume Software, an industry leader in location-based mobile safety solutions, and Plymouth Rock Assurance Corporation, a leading New England auto insurance company, today announced that they will be working together to help to combat distracted driving. Plymouth Rock's customers will be able to get Illume Software's distracted driving solution, iZUP™ ("eyes up"), at a discounted price. The two companies are planning a series of events to draw awareness to the dangers of distracted driving.

Driving while talking on a cell phone puts drivers at a four times greater risk of an injury-causing crash, according to the Insurance Institute for Highway Safety. A recent survey by the Pew Internet & American Life Project indicated that one in three teens, ages 16 and 17, admit to texting while driving.

Chris Olie, president of Plymouth Rock Assurance Corporation, said, "Plymouth Rock is committed to helping make our roads and those who travel on them safer. We are very pleased to have forged a strong relationship with Illume Software. Their exciting iZUP app is quite an innovative product that we are hoping many of our drivers, agents and employees will consider. It helps eliminate cell phone related distractions while in a moving vehicle. Making the roads safer for everyone is a shared goal for all of us. We think programs like the one we are announcing today, which helps make an innovative technology solution more broadly and affordably available to people, is an important step in that direction."

Reflecting Plymouth Rock's longstanding reputation as a technology leader in the insurance sector the company will provide iZUP at no cost to its executives, employees and independent agents. Plymouth Rock believes this is the first 1000+ unit paid deployment of a distracted driving solution in corporate America. Massachusetts policyholders will be able to purchase iZUP at a discount through Plymouth Rock's unique Savings Pass program.

iZUP™ is an industry-leading mobile safety solution that effectively eliminates cell-phone related distractions. Once downloaded, iZUP automatically launches when it detects that the phone is in vehicle traveling more than five miles per hour. The application sends incoming calls to voicemail and holds text messages until the vehicle stops and a driver can respond to them safely. iZUP also prevents outgoing communication while driving, yet always allows emergency calls to 9-1-1 and authorized numbers, such as a parent's cell phone.

"Together with Plymouth Rock, we are working to end the dangerous practice of distracted driving on America's roadways," said Daniel Ross, president and CEO of Illume Software, developers of iZUP. "We applaud new legislation in Massachusetts to prevent texting and driving and to ban cell phone usage by teens behind the wheel. At the same time, we recognize the challenges of enforcing such legislation and the necessity for a technology solution to help consumers avoid temptation and stop the deadly behavior of distracted driving."

About Plymouth Rock Assurance Corporation
Headquartered in Boston, Massachusetts, Plymouth Rock Assurance Corporation (www.plymouthrock.com) is the flagship carrier of The Plymouth Rock Group of Companies, which together write and manage over $1 billion in auto and homeowner's insurance throughout the Northeast. Plymouth Rock's industry-leading service innovations include its Savings Pass, an exclusive, first-of-its-kind program of hundreds of dollars in retail discounts; its Crashbusters® vans, the nation's first complete mobile automobile claim service; its Door to Door Valet Claim Service(SM)that offers vehicle pick-up, delivery and guaranteed auto repairs; and its True Service® Pledge, an industry-leading written commitment to service excellence. Plymouth Rock has received a rating of "A-/Excellent" from A.M. Best, the insurance industry's premier independent rating service. Plymouth Rock policies can be purchased through independent agents in Massachusetts. To find an independent agent near you who represents Plymouth Rock, visit plymouthrock.com.

About Illume Software
With headquarters in the Boston area, Illume Software is led by experienced mobile, telecom, internet, and media veterans and boasts boards of prominent business, political, financial, and technology leaders. iZUP, a responsible solution to cell phone-related distracted driving, is the only "pure play" distracted driving solution and is the first of many products to come from the company. www.getiZUP.com
Illume Software donates five percent of net proceeds to organizations that educate people on the dangers of cell phone use while driving.