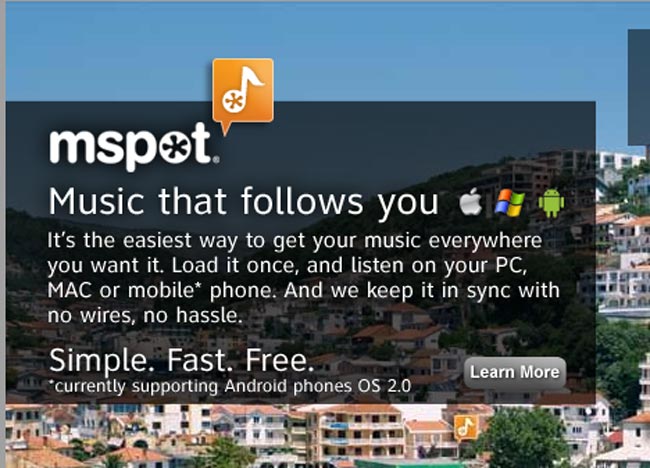 For several years now MP3Tunes has allowed you to upload music to their hosted website and stream it virtually anywhere. In the last few years that has become more and more important as mobile users become more accustomed to consuming more media and games on the go, constantly bumping up against storage limits – and therefore would rather not use precious storage space for music if there is an alternative.
Of course there have been other services announced since then, including Psonar, AudioBox.fm and tunesBag. Each offers cloud-based music streaming, but not all offer a mobile experience to go along with it. More recently web-storage site ZumoDrive introduced ZumoCast, a mobile-centric & media-centric site focused on delivering media to your mobile devices … oh, and files as well.
Why does this matter? iTunes is the predominant desktop music hub, but over time more and more folks have lost the desire to carry an iPod along with everything else – especially since their iPhone is a great iPod, and there are decent music solutions for Android as well. Last summer (leading up to the fall iPod event) a poll showed that millions of iTunes users wanted a 'play anywhere' solution … and would be willing to pay for it! And I would assume that Android users feel about the same.
Last spring mSpot introduced a similar hosted streaming service, with the same 2GB free and web-based playback. Over the summer they added an Android app, and now they have just announced an iPhone app! Here is the press info:
Popular cloud entertainment provider mSpot, Inc., today went live with the iPhone version of its popular cloud music service that offers users fast, easy access to their music collections via smart phones, PCs/Macs® and Internet TV. The service enables users to quickly upload their music to the mSpot Cloud and then immediately start listening from both desktop browsers and iPhones for free. It is currently available at www.mspot.com for PC and Mac, and in the Apple® App Store. A version of the service was launched for Android in June of this year and now has over 1 million downloads.

"We're giving you the 'next generation' iTunes experience. By putting your music in the cloud, you can access it anytime and anywhere you go, and on different devices, such as your iPhone, iPad, Mac/PC or Internet TV," said mSpot CEO Daren Tsui. "Listening to your music on multiple devices is now truly easy; it doesn't require manual syncing and troublesome cords."

How does it work? First, go to www.mSpot.com and put your iTunes collection from your PC/Mac into your own personal music locker on the Internet. Once you've uploaded your music "into the Cloud", you can access it anytime, anywhere from your iPhone or any PC/Mac. Secondly, go to The Apple App Store and download the mSpot Music app for your iPhone. All your online music will automatically be accessible on your phone. mSpot offers free cloud storage for the first 2 gigabytes (approximately 1600 songs): Additional storage is available for purchase; 40 gigabytes for $3.99 per month.

mSpot Music Features:

Instant access to music collections from mobile, PC/Mac and Internet TV.
Smart syncing across devices: No USB cords required; instantly syncs music from the cloud to user's mobile; avoids playback interruptions.
Automatically exports playlist, metadata, cover art, and more from iTunes.
Continuous playback, even during spotty cellular coverage.
Airplane mode: play cached songs on the phone without network connectivity.
"Live Lyrics": read the words to select favorite songs as they play on mobile.
"Streaming only" option for users who want to save all the storage on their mobiles for other media.
The Android app has seen plenty of updates, as have the desktops interfaces. It is already much easier to use than MP3Tunes clunky interface, and getting access to all of my iTunes through the slick mSpot interface on the iPod Touch is definitely a nice alternative.
One caveat – this is an iPhone app and it isn't universal … meaning yet another fugly '1x/2x' upscaled app. I couldn't believe it at first, a new app introduced 8 months after the iPad launched, 6 months after the iPhone 4 Retina display … and we are still upscaling? Oh well, hopefully they will change that soon in an update!
One final thing: you see in the press release that you still get 2GB for free, with 40GB costing $3.99 per month. Back in the summer when CNET compared MP3Tunes and mSpot, they rated MP3Tunes higher, and one reason was the pricing – 50GB on MP3Tunes is $4.99 and USED to be $9.99 on mSpot. Making the pricing more competitive is definitely a step in the right direction.
What do you think? Are you satisfied using phone storage for your music, or do you prefer a cloud streaming solution? If so, which do you use and how do you like it?
Source: Geeky-Gadgets