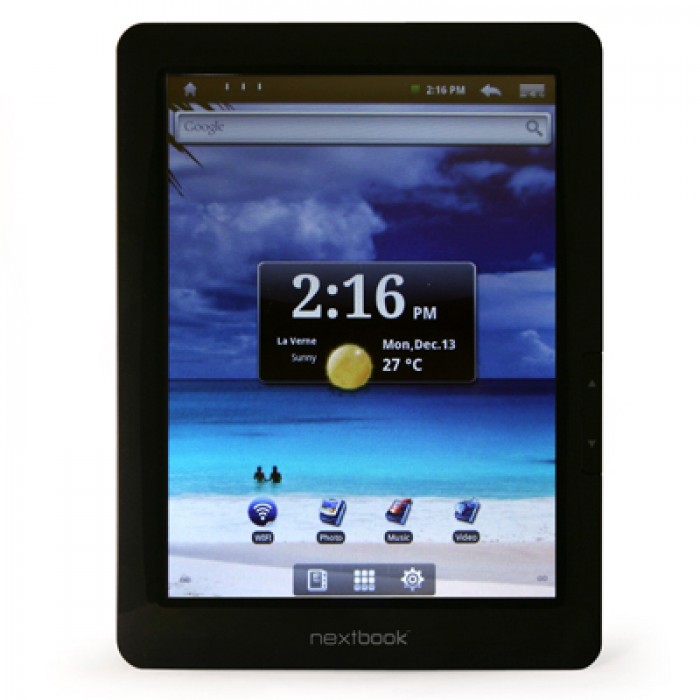 A few weeks ago we had the opportunity to review the E FUN Nextbook Next2 here on Gear Diary. It's a great little device for a bargain price, and definitely the best of the affordable Android tablets available this holiday season.
E FUN is taking it to the next level (no pun intended) and is debuting the Next3 tablet with a larger 8.4 inch screen. It looks like it still has Borders integration, and they've moved the page turn buttons all to the right side, but otherwise the software looks very similar. One exciting part: It is running Android 2.1 under the hood, so there's a much wider range of apps out there to try.
We're hoping to review a Next3 soon, so stay tuned to the site! In the meantime you can check out the official Nextbook site and read the full press release below!
E FUN Bows the Next3 8.4" Android Tablet Computer
New Nextbook Model Features Wi-Fi, Borders eBook Store and Multimedia Functions

WEST COVINA, CA – DECEMBER 16, 2010 – E FUN, a consumer electronics designer and marketer of fun, easy-to-use lifestyle products, is primed to add the next model to its quickly growing Nextbook line of sleek, lightweight Android tablets. The Next3, with built-in e-reader, Android 2.1 and Wi-Fi, will be introduced on HSN today. The take anywhere/read anywhere Nextbook brand is just that: the next generation of books.

"Our first Android tablet, the Next2, exceeded all expectations, selling out on HSN in less than a week in November," commented Jason Liszewski, Managing Director and VP of Sales for E FUN. "Our new Next3 tablet continues our objective to provide easy-to-use lifestyle products filled with fun and functionality.  With its large touch-screen color display, Borders eBook Store app, and multimedia capability, the Next3 delivers on all counts."

Built-in Wi-Fi (802.11 b/g) convenience allows users to browse the Internet, receive and answer e-mails, watch YouTube videos, listen to Internet music providers and get real-time weather reports. Turning pages and choosing applications is as easy as lifting a finger with the touch-screen feature. Additional functions include a calculator, clock, and alarm.

The Next3 features Google's powerful Android 2.1 operating system. It has a large 8.4" TFT color display, built-in speakers, 2GB flash memory with an SD card slot to increase storage capacity, and an MP3/photo viewer. For added fun, third-party applications are available. An elegant, removable case with magnetic closure provides protection.

The Borders eBook store is preloaded on every Nextbook making it easy to purchase and download favorite titles. Next3 users can choose from over one-million titles, many of which are free, including new releases and the latest bestsellers as well as biography, fiction, romance, etc., right from the comfort of their own home. 'Shopping' for an e-book is like shopping for a printed book, except the book is delivered instantly to the Next3 unit.

Accessories include an AC adapter, USB cable and protective pouch. The Next3 is compatible with Windows2000/XP/Vista/Windows 7, Linux and MAC OS.

The E FUN Next3 tablet e-reader will have a consumer friendly MSRP of $229.99.  It will be available on HSN December 16 and 17, and then online and at brick and mortar retailers.

About E FUN
As its name implies, E FUN is a designer and markets fun, lifestyle e-products that are easily accessible. While appreciated by techies, E FUN products are primarily designed for consumers who desire the latest technological products, but are more concerned with what they do, not how they do it.  E FUN's ongoing product innovation focuses on making electronics and computing more fun! Initial products offerings from E FUN include the APEN digital pen and Nextbook Android tablets.  E FUN is headquartered in West Covina, California.

For additional information please visit E FUN at www.e-funusa.com, APEN at www.apenusa.com; and Nextbook atwww.nextbookusa.com