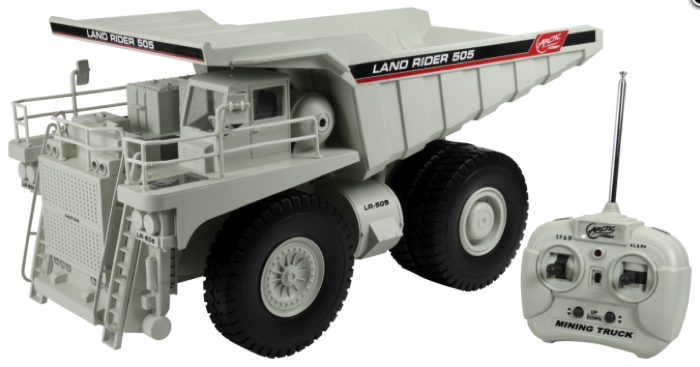 The Christmas season brings out the kid in most of us.  Luckily I have two little boys to cover my excuse to check out all of the cool toys.  One of my long time favorite toys are remote-controlled vehicles.  My whole life I have been a sucker for cars, trucks, planes, boats, virtually anything that can be controlled with a remote control.  A few Christmas's ago, I was accused of buying a remote control car for my young sons just because I wanted to play with it.  I will admit the boys were a bit young for the toy so they had to have help driving it.  Other than that, I am pleading the fifth!  Arctic has just announced their new line of remote-controlled vehicles bringing four full functioning toys that all dads….errr kids are sure to love.  Let's take a quick look.
Land Rider 403 is ready to take your backyard and roll to victory against your enemies. As a 1:16 scale with the renowned Leopard Tank design, this battle tank contains life-like qualities simulating the real thing.

Equipped with adjustable smoothbore gun and bullet shooting function, the Land Rider 403 is all set to gun down your enemy. For added realism, the tank is painted with camouflage scheme and decals. It also plays realistic sound effects when the tank starts, moves and fires. Six plastic bullets are included and can be fired off one by one. Blast your enemies on your living room carpet with the powerful smoothbore gun on this RC tank.

Equipped with treads, the tank is able to go uphill at a maximum angle of 35¢X and run on off-road terrains. Multi-directional turret and tank movement adds flexibility for you to trace down your enemies. At a control distance of 30m, the tank is capable to fire while moving and gives you greater accuracy to shoot at your target.
Land Rider 503 comes ready to rescue right out of the box! This highly detailed fire engine is fully assembled; along with the included battery packs, the Land Rider 503 is a great realistic gift for children that are fans of emergency vehicles.

The Land Rider 503 is a 1:18 fire truck, equipped with real siren, engine sounds, and flashing emergency lights. Exterior details of the truck are made to resemble an authentic fire engine design. These features bring the excitement and action of real-life situations to kids and provide them with the role-play "tools" they need for their fire-fighting adventures!

The Land Rider 503 is able to perform multiple functions, including full directional steering, extendable and rotating ladder, and water shooting function. The water shooting hose is located on the end of the ladder that shoots water like a real fire engine. Rush to the rescue with these realistic functions. The Land Rider 503 is for sure to inspire hours of heroic and imaginative play for kids!
Bring Land Rider 505 with you to the sandbox and begin on your miniature construction project. The Land Rider 505 is a 1:24 scale mining dump truck that carries loads from point A to point B. Pair up this loader with Land Rider 507 excavator to complete your engineering site at ease!

Equipped with authentic tread designed tires, the Land Rider 505 is able to run on any dirty terrains, such as muddy or rocky roads. Play it in your backyard, sandbox or even at the beach! Move and dump light materials just like a real construction site mining truck. The realistic designs in the driver's cab add realism for children to maneuver the vehicle as if they are real construction worker. Live out the construction fantasies for you and your kids.

The Land Rider 505 can be played right out of the box as it comes fully assembled. This construction site vehicle is ideal for occupying children's playtime and also fulfilling their imaginations delight.
Land Rider 507 is a remote-controlled toy, a 1:12 scale excavator with realistic design. The little construction worker in the family will for sure enjoy outdoor digging adventures. Tow this construction vehicle to the sandbox for simulation of real construction projects!

Rolling on its rubber tread, the Land Rider 507 is able to drive on all kinds of terrain. The body of the cab can rotate 360°, while the boom can be moved up/down and forward/backward. The bucket itself can also move forward/backward as well for raising and dumping material from one place to another. Be a real excavator digger and let it do all the hard work for building your magnificent sandcastles!
Check out these great new products at the Arctic website.