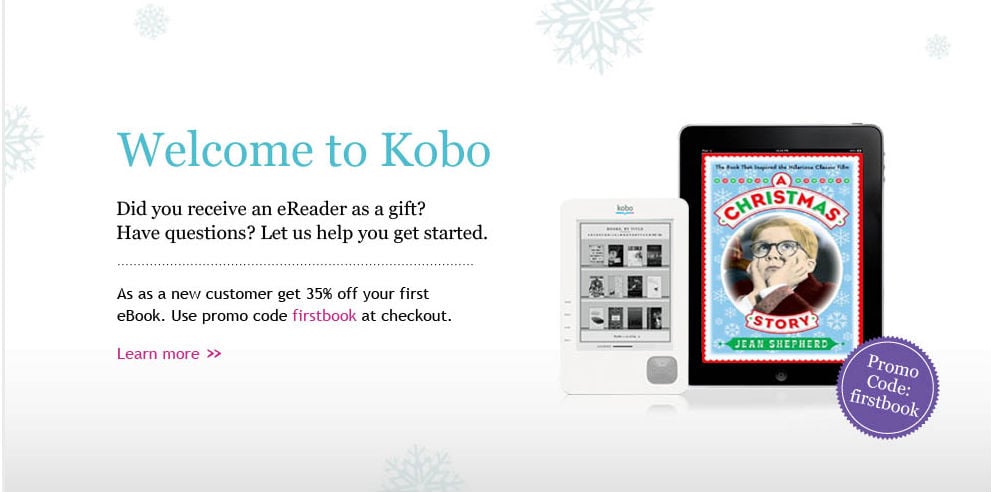 We're getting a better idea of how big this Christmas was for ebooks, since Kobo has now weighed in with their own declarations of success this season. They had a 50x increase from last year (when they were still called "Shortcovers" and saw some serious increases in registered users. Granted, some of this is due to Kobo's big exposure this year, with deals to be preinstalled on various smartphones and tablets as well as a distribution deal with Borders. But still, combine their enthusiasm with the reports from Amazon and all signs point to epic ebook growth. And if you didn't get an ebook reader for Christmas, or you're looking to fill one, be sure to check out Kobo's end of the year contest!
It does beg the question, though-Amazon and Kobo were quick to report in, but no news from B&N yet. Granted, they are headquartered in New York, and it's been pretty snowy, but really, nothing?
KOBO™ BREAKS EBOOK RECORDS THIS HOLIDAY SEASON

eBooks Downloaded in 130 countries on Christmas Day using eReaders, iPads, Desktops and Smartphones

TORONTO, ON — December 27, 2010— Kobo, the only pure-play global eReading service built on an open platform, today revealed its Holiday 2010 momentum.  This Christmas, readers around the world received new eReaders and iPads and other eReading devices under their tree.   Over a million people connected to Kobo, and hundreds of thousands of devices were activated each day since Christmas Eve, fuelling the highest eBook download rate in the company's history.   People around the world chose Kobo this Christmas, with the popular easy-to-use Kobo Wireless eReader, dozens of compatible eReaders, top-rated applications for iPad, iPhone, Blackberry, Android, and one of the largest catalogues in the world with over 2.2 million eBooks, newspapers and magazines.

"Earlier this month we predicted that Christmas would be a record breaker for Kobo, and we have exceeded our expectations driving several ebook downloads per second since Christmas Eve, or an equivalent number hardcover books stacked as high as 50 Empire State Buildings " said Michael Serbinis, CEO of Kobo.  "I would like to thank our customers for choosing Kobo to start building their digital library this Christmas.   Our success this holiday season is a pre-cursor to a New Year with people reading more than ever thanks to eBooks and Kobo."

Kobo's holiday growth also included:

Total registered users nearly doubling from the six weeks prior
A 50X increase in purchases from previous Holiday weekend last year
A 5X increase in purchases from the previous biggest weekend (also in December)
Customer purchases from over 130 countries, with some of the biggest gains outside of US, Canada, Australia, New Zealand, UK, occurring in Germany, Netherlands, and Singapore
A significant increase in device mix, with eReaders and Tablets accounting for the largest percent in sales

Kobo became the first eReading service to launch an eBook gifting and gift card program and for the first time in history, eBooks "arrived" digitally in people's email accounts this Christmas morning.  The top three most popular eBooks gifted this holiday were:

"The Girl With the Dragon Tattoo" by Stieg Larsson
"The Girl Who Kicked The Hornet's Nest" by Stieg Larsson
"Room" by Emma Donahue

Kobo also shared its Holiday 2010 best-selling eBook titles globally, a list dominated by Stieg Larsson's Millennium Trilogy series which includes the popular titles "The Girl with the Dragon Tattoo", "The Girl Who Played with Fire" and "The Girl Who Kicked the Hornets' Nest".

Top three Kobo eBook title sales by country:

Canada

1.     "The Girl Who Kicked The Hornet's Nest" by Stieg Larsson

2.     "The Girl With The Dragon Tattoo" by Stieg Larsson

3.     "Room" by Emma Donahue

United States

1.     "The Girl With The Dragon Tattoo" by Stieg Larsson

2.     "The Girl Who Played With Fire" by Stieg Larsson

3.     "The Lost Symbol" by Dan Brown

United Kingdom

1.     "The Girl With The Dragon Tattoo" by Stieg Larsson

2.     "The Confession" James E. Mcgreevey

3.     "The Girl Who Played With Fire" by Stieg Larsson

Australia

1.     "The Girl With The Dragon Tattoo" by Stieg Larsson

2.     "The Girl Who Kicked The Hornets' Nest" by Stieg Larsson

3.     "The Girl Who Played With Fire" by Stieg Larsson

Rest Of World

1.     "The Girl With The Dragon Tattoo" by Stieg Larsson

2.     "Dead Or Alive" by Tom Clancy

3.     "The 4-Hour Body" by Timothy Ferriss

Kobo's recently-announced Kobo Reading Life program, now available on the iPad, marked the industry's first comprehensive social eReading experience, personalizing eReading and creating a fun, engaging, and meaningful experience.   Over 250,000 Reading Life awards have been given out since its recent launch – simply for reading.  Tens of thousands were given out this Christmas, including the "Milk and Cookies" award, and the "Holiday Cheer" award for reading on Christmas Eve and Day.

This holiday season, open standards and the ability to read on any device is a consistent theme. With Kobo, customers can to build their lifetime libraries as they choose, and read on multiple devices by downloading a free eReading app at www.kobo.com.  People can also download books for free, borrow and read eBooks from their local library on the Kobo Wireless eReader – and alternatively can read Kobo eBooks on other dedicated eReaders like the Sony eReader and Nook.

About Kobo, Inc.

Kobo is a global eReading service backed by majority shareholder Indigo Books & Music, Borders Group, REDgroup Retail, and Cheung Kong Holdings. Kobo believes consumers should be able to read any book on any device. With a catalog of over two million eBooks, magazines, newspapers and an open platform, Kobo enables retailers, device manufacturers and mobile operators to bring the joy of eReading to customers everywhere. For more information, visit www.kobo.com.