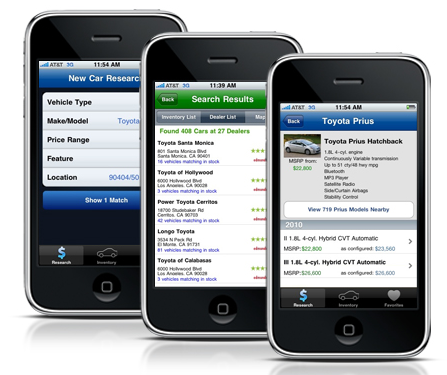 I first gained access to the internet in the 90s, but it was – as you might expect – rather basic at the time.  One of the first sites that actually made the internet seem like more than an interesting novelty to me was Edmunds.com, which started in 1995.  Here we go… a site that I could actually USE for something; a service that was provided online and not just someone's homemade website with poorly chosen wallpaper that was inevitably disappointing once I was done waiting for it to download ONE. PAINFUL. IMAGE. AT. A. TIME.
Well, Edmunds is still around today, of course, and they recently announced that they were making the foray into issuing mobile apps, the first of which is for the Apple iOS platform.  Like the full-fledged Edmunds.com website, the Edmunds app features:
The ability to specify car features
Information on the regional true market value
The option to locate local dealers for quotes
Inventory listings of cars with your specifications
High resolution photos when browsing
So, if you're in the process of looking for a new car or just enjoy window shopping, check out the Edmunds app in the iTunes store here.  It's free and it works on the iPad, iPhone, and iPod Touch.