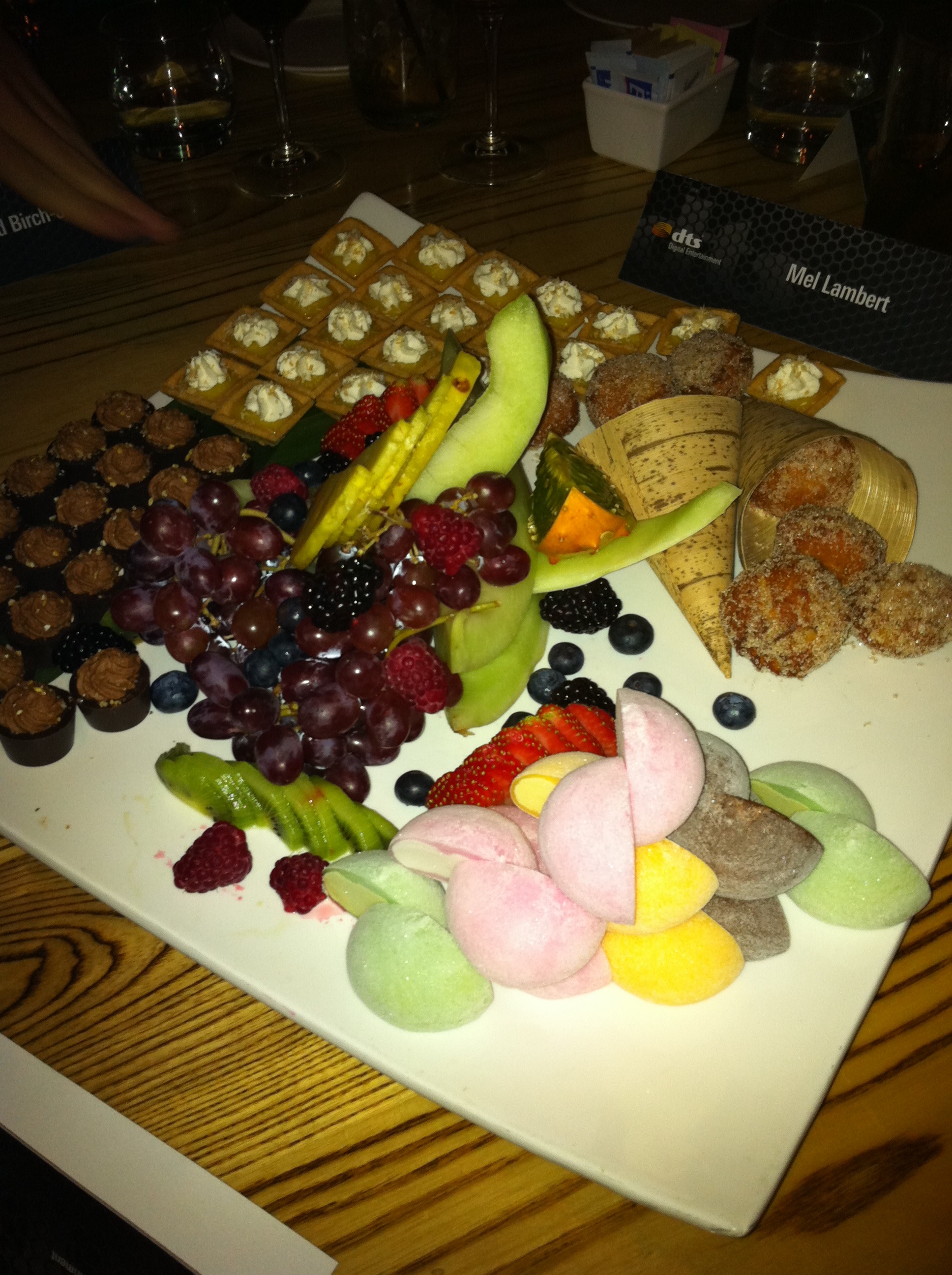 We spent the last evening having dinner at Nobu with the heads of DTS Digital Entertainment learning about their new, groundbreaking sound technology Neo X. Neo X brings a degree of depth, immersion and realism to the sound experience of music and movies. Here's a peek into what we learned tonight from a panel moderated by Mel Lambert that included Jon Kirchner, DTS Chairman and CEO, JJ Johnston, DT Chief Scientist and musicians Pat Leonard (think Madonna, Rod Stewart and other luminaries) and Diego Rocco.
The technology of Neo X, their new 11.1 technology, allows you to build a sound that is experienced as surrounding you and literally drops you into the center of the experience.  The depth of sound that of Neo X creates means that you don't need as many layers of music in order to get the submersive sound experience. The result is sound that surrounds you without being muddy. As one of the panelists noted, "It's a different way of creating [and experiencing] music".
"Good science is indistinguishable from magic" was one of the quotes that struck home after we had a chance to actually witness video that was employing the new technology. The sound was amazing.
Pat explained that he and Diego created the music we heard in the demo in a manner that was new and allowed them to be more creative than ever. As he explained, "We were just improvising and we wanted to let the technology speak for itself. Then, thanks to the technology, when we went to mix it we had 11 tracks to use."In other words, the sound was recorded in real-time and then mixed using 11.1. There were no synthesizers employed. Rather, the music was created "organically" and, thanks to the technology, it was entirely submersive.
How organic was it? Well, Diego, who is known for using unconventional items to create sound, commented on the performance saying "In it I play the tree…" Yes, he was actually playing a tree to create unusual sounds. But that wasn't the amazing thing. No, the amazing thing was that as we listened to it it sounded, and as a result it felt, as if we were in a forest.
The experience was something you have to actually experience to understand and appreciate fully. Since the technology should begin to appear in Q2 it will soon be available for others to make their own assessment.
The new technology is currently focused on the home theater market but DTS sees numerous applications in everything from extending the home tv experience, the audio environments and even gaming.
In order to aid in the experience of encountering DTS' Neo X the company held the event at Nobu, a restaurant known for dishes with multiple layers of flavor. Like the sound created by Neo X the dishes were… well take a look…
YUM!
Here's a bit from the Q and A:
How soon are they getting manufacturer support for Neo X?
2nd quarter 2011 in games and mobile devices.
How easily do you expect to convince people to buy extra speakers?
Must be heard, and it will sell itself. Best in class is 11.1
Doesn't the average consumer want less speakers than more. (ie soundbar)?
Yes but… this takes the sound from a movie like Pearl Harbor and makes it sound like you are in, or under the planes as they are flying. DTS allows people to experience a virtual sound that takes them beyond what they are actually seeing.
Blu-Ray is 7.1. How do you get the real 11.1 experience?
Adding the extra speakers and upgrading to 11.1 allows you to experience real height and real width to your music.
We felt that the experience of hearing music created using Neo X was impressive. We can't wait to experience it "in the real world"!
Check out their full press release too!
DTS(R) SHOWCASES AUDIO INNOVATIONS FOR A FULLY IMMERSIVE,
MULTI-PLATFORM 3D ENTERTAINMENT EXPERIENCE AT CES 2011

Booth Demonstrations to Feature First 11.1 Surround Sound System, DTS HD with Full
Resolution 3D Video Streaming over FiOS TV, and New Solutions for Portable Playback on
Mobile, PC and Connected Devices

CALABASAS, Calif. (Jan. 5, 2011) – DTS, Inc. (Nasdaq: DTSI), the leader in high definition
audio, today announced its lineup of newly launched technology demonstrations scheduled to
take place at CES 2011. The latest technology innovations will redefine high-quality HD audio
for consumers, studios and audio professionals worldwide, with:




The first 11.1 surround system with the highly-anticipated DTS Neo:X™ technology,
The industry"s first Proof of Concept live digital delivery of full resolution 3D video
content and DTS HD surround sound over FiOS TV,
New solutions for portable playback on mobile, PC and connected devices from
Free®, Lenovo®, Fujitsu®, Skyworth®, Huawei® and LG®.



All demonstrations will occur at DTS" booth #20907, located in the lower South Hall at the Las
Vegas Convention Center, Jan. 6 – 9, 2011.

First 11.1 Surround System—DTS Neo:X
DTS® will demonstrate DTS Neo:X, the next-generation of immersive 3D entertainment for
home theater enthusiasts and industry audio professionals. For cinema, music or gaming
entertainment, DTS Neo:X provides a semi-spherical sound field using an 11.1 speaker
configuration adding height/wide speakers to create a natural, immersive, spacious and
lifelike 3D surround soundscape. Further validating the significance of this groundbreaking
technology, DTS licensees will be demonstrating the technology at CES with the first products
expected to ship in the second quarter of 2011.

Initial reaction from early adopters of DTS Neo:X
 Patrick Leonard, legendary record producer and composer, best known for producing
and writing with Madonna, Roger Waters, Elton John, Rod Stewart, among others,
said: "DTS Neo:X brings audio experience to new heights. This technology is a must-
have and delivers an unprecedented multi-dimensional audio experience, even with
existing multichannel soundtracks."
 Diego Stocco, renowned sound designer, best known for his work on the award-
winning Spectrasonics Virtual Instruments Atmosphere™, Stylus™ RMX and
Omnisphere®, added: "Usually when you listen to music you are sitting outside the
sound field but with DTS NeoX, it drops you right in the middle of the instrument, it"s
like you are sitting inside the piano."

DTS HD Surround Sound and Full Resolution 3D Over FiOS TV
At CES 2011, DTS will demonstrate the industry"s first live digital delivery of full resolution 3D
video content and DTS HD surround sound over FiOS TV. This "Proof of Concept" demo
leverages fiber optic technology from Verizon to deliver the ultimate entertainment experience
for TV viewers who will "see and hear" 3D like never before with the integration of DTS HD
surround sound.

The Connected Home: New Solutions for Portable Playback on Mobile and PC
Connected Devices
DTS recently entered into agreements with Free, Lenovo, Fujitsu and LG to integrate DTS
surround sound technologies into their latest IPTV services, network-enabled PCs, HDTVs
and smartphone devices, delivering an unparalleled multi-platform home audio experience to
consumers everywhere. As such, CES 2011 show attendees will see working demonstrations
of DTS technologies in the following connected devices:

Lenovo and Free"s new digital media players: Freebox (DTS surround sound™)
Fujitsu personal computers (DTS surround sound)
Skyworth flat panel televisions with DTS post processing (DTS Premium TV™)
Huawei mobile handsets with DTS Envelo™ and DTS Boost™ (DTS Ultra Mobile™)
Select models of LG smartphones (DTS decoder with two-channel analog and two-
channel PCM output through a mini HDMI output)

Take the DTS Audio Challenge
Listen and decide for yourself how DTS stacks up against (and knocks down) traditional
audio. Take the DTS Audio Challenge and enter to win a 3D TV and home theater system.

Experience DTS @ CES 2011
Stop by the DTS booth in the lower South Hall, #20907 during the show, or get real-time
updates on Facebook and Twitter (@DTS_Inc). For more information on DTS surround sound
formats and all other DTS technologies, please visit www.dts.com.

About DTS, Inc.

DTS, Inc. (Nasdaq: DTSI) is dedicated to making digital entertainment exciting, engaging and
effortless by providing state-of-the-art audio technology to hundreds of millions of DTS-
licensed consumer electronics products worldwide. From a renowned legacy as a pioneer in
multi-channel audio, DTS became a mandatory audio format in the Blu-ray Disc standard and
is now increasingly deployed in enabling digital delivery of movies and other forms of digital
entertainment on a growing array of network-connected consumer devices. DTS technology
is in home theaters, car audio systems, PCs, game consoles, DVD players, televisions, digital
media players, set-top boxes, smart phones, surround music software and every device
capable of playing Blu-ray discs. Founded in 1993, DTS' corporate headquarters are located
in Calabasas, California with its licensing operations headquartered in Limerick, Ireland. DTS
also has offices in Northern California, Washington, Canada, China, France, Hong Kong,
Japan, South Korea, Taiwan and the United Kingdom. For further information, please visit
www.dts.com. DTS is a registered trademark of DTS, Inc. All other trademarks are the
properties of their respective owners. (c) 2010 DTS, Inc. All rights reserved. DTS-C

This press release contains forward-looking statements within the meaning of the Private Securities
Litigation Reform Act of 1995 that involve risks, uncertainties, assumptions and other factors which, if
they do not materialize or prove correct, could cause DTS' results to differ materially from historical
results or those expressed or implied by such forward-looking statements. All statements, other than
statements of historical fact, are statements that could be deemed forward-looking statements, including
statements containing the words "planned," "expects," "believes," "strategy," "opportunity," "anticipates"
and similar words. These statements may include, among others, plans, strategies and objectives of
management for future operations; any statements regarding proposed new products, services or
developments; any statements regarding future economic conditions or financial or operating
performance; statements of belief and any statements of assumptions underlying any of the foregoing.
The potential risks and uncertainties that could cause actual growth and results to differ materially
include, but are not limited to, the transition to the next generation optical drives and consumer adoption
of such technology, the rapidly changing and competitive nature of the digital audio, consumer
electronics and entertainment markets, the Company's inclusion in or exclusion from governmental and
industry standards, continued customer acceptance of the Company's technology, products, services
and pricing, risks related to ownership and enforcement of intellectual property, the continued release
and availability of entertainment content containing DTS audio soundtracks, success of the Company's
research and development efforts, risks related to integrating acquisitions, greater than expected costs,
the departure of key employees, the current financial crisis and global economic downturn, a loss of one
or more of the Company's key customers or licensees, changes in domestic and international market
and political conditions, and other risks and uncertainties more fully described in DTS' public filings with
the Securities and Exchange Commission, available at www.sec.gov. DTS does not intend to update
any forward-looking statement contained in this press release to reflect events or circumstances arising
after the date hereof.

SOURCE: DTS, INC

###