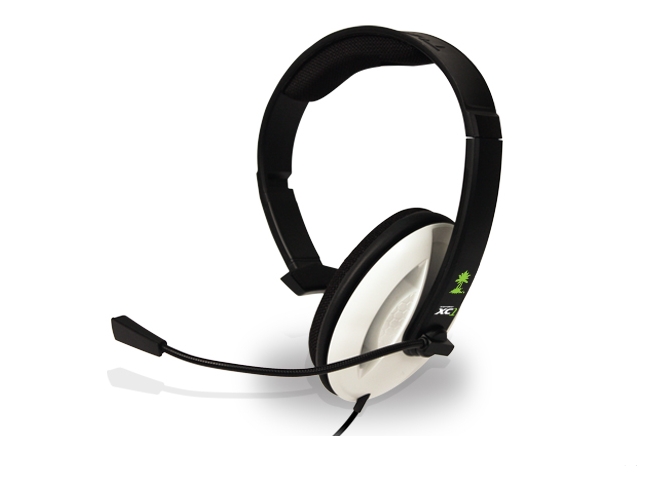 Image courtesy of Turtle Beach
Turtle Beach is one of the oldest names in computer audio that I can remember. Back when i needed premium audio for Oregon Trail I knew who I could turn to. Now in 2011 if you want to get serious with console gaming audio, then look no further. Turtle Beach announced three new headsets for PS3, Xbox, and PC that are sure to fit your gaming needs. If you're an avid First Person Shooter fan then you know as well as anyone that hearing the footsteps of the enemy like he's right next to you is what it takes to survive. They give you some options that should do nicely with your price range, but any of the three are bound to bring your frag count and the audio level of your game to a higher standard.
Image courtesy of Turtle Beach
Ear Force PX5 Programmable Wireless Surround Sound Headset
The PX5 is pretty much the Cadillac of wireless gaming headsets. This is an absolute killer headset that will surely bring your gaming experience to the next level. The PX5 incorporates a dual radio design that separates the Dolby Digital 7.1 surround sound and Bluetooth Microphone for chatting via the PlayStation network. The Bluetooth also supports streaming audio while in-game and has the ability to accept a phone call while wearing the headset. If I had the time to run and gun COD Black Ops all day on my PS3 then this would be the choice headset. If you're looking for the best of the best then look no further. This audio masterpiece will run you $250 and will be available soon from Turtle Beach.
The PX5 is the most technologically-advanced headset ever designed for PS3 and XBOX 360 gaming, incorporating a programmable digital signal processor to allow independent customization of the chat, game and microphone signals.  Custom settings stored in the headset as presets can be selected during specific parts of the game to emphasize sounds like footsteps or reloads that might otherwise be difficult to hear. It can even be programmed to disguise a gamer's voice or to enhance the voices of online players to be heard when the game gets louder. These personalized presets will be possible with software available from the Turtle Beach web site that allows the user to adjust the settings on a PC and transfer them via a USB connection to the headset.
Quick Specs:

Customizable Presets
Dolby 5.1/7.1 Surround Sound
Digital RF Wireless Game Sound
Voice Morphing
Dual-Pairing Bluetooth Wireless Chat
Dynamic Chat Boost™
Microphone Monitoring
Sonic Silencers
Sonic Lens™ + Sound Field Expander
Interactive Voice Prompts
Ear Guard™ with Blast Limiter
PS3 and XBOX 360® Compatible
Image courtesy of Turtle Beach
Turtle Beach Ear Force P11 Amplified Stereo Gaming Headset
If you're ready for a new headset for your PS3 or PC and don't have the loot for the PX5, then the P11 may be for you. This wired stereo headset works with your PS3, PC, or Mac and allows you to independently control both the stereo chat volume and amplified in game volume. The 50mm drivers and adjustable padded headset provide hours of precision audio for gaming and chat regardless if you're using them for the PS3 or PC. This high quality stereo headset will give you that extra edge during high stakes battles and intense combat situation. The headset will run you $59.99 and will be available Spring of 2011.
The Turtle Beach Ear Force P11 Gaming Headset, designed for the PlayStation 3 and also compatible with PC/Mac, raises the bar for affordable gaming headsets. Powered directly through USB with its 50mm high fidelity speakers and amplified stereo sound, the P11 headset gives the player an immersive audio experience. With independent volume controls for chat and game audio, you can ensure that you won't miss out on a single footstep or a warning from a teammate. The P11 delivers crisp audio while providing hours of comfort with its oversized fabric mesh ear cushions and adjustable headband, ensuring your competitive edge during those long gaming sessions.
Quick Specs

Amplified Directional Audio
Mic Monitor
Independent Volume Controls
USB Powered
Oversized 50mm Speakers
Bass Boost
PC Compatible
Image courtesy of Turtle Beach
Turtle Beach Ear Force XC1
The final addition to the Turtle Beach line is the XC1. This headset is a premium slimline headset designed for comfortable use with your Xbox console. The cheapest of the trio packs a single mono speaker design that allows you to communicate with your teammates accurately and with precision while listening to the battle openly with your other ear. The headset is designed as a high quality alternative to the standard Xbox communicator and provides comfort for hours of fragging fun. This headset will run you $24.95 and will also be available this Spring.
Designed specifically for the XBOX 360, the Turtle Beach Ear Force XC1 XBOX LIVE Communicator combines audio performance and a streamlined design to create a headset far above the standard communicator headsets. With a unique slotted ear cup design, the XC1 allows you to hear external game sound and internal chat at the same time, so you will never miss out on any of the action. The fully adjustable, single ear lightweight design fits comfortably on either ear and is perfect for long gaming sessions.

Quick Specs:

In-line Chat Volume Control
XBOX LIVE Communication
Mic Mute
via Turtle Beach