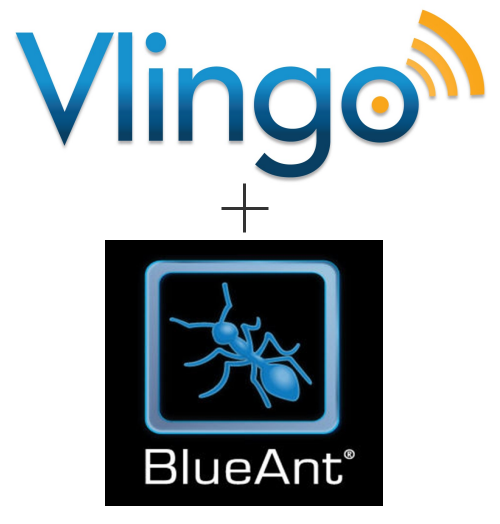 Back in the 'old' days of 2009, you typically had your smartphone then paid for a separate voice-application to give yourself some hands-free capabilities. One of those applications has been the very popular Vlingo. Now, just like the Plantronics and Dial2Do partnership that came last year, Vlingo and bluetooth device manufacturer BlueAnt have come together at CES to show a wonderful marriage of hardware and voice-integrated software.
So, beginning Q2 of 2011 if you purchase a BlueAnt bluetooth headset or speakerphone you will be getting Vlingo's features for free. What's great about that is it will work regardless of whether you use an Android phone, BlackBerry, iPhone or just about any other smartphone out there today. You'll be able to do voice searches, update your social networks without typing a keystroke, have your emails read back to you via text-to-speech and even open 3rd party apps on your smartphone. Upgrade your phone? No worries.
All those features are now right in your bluetooth equipment. Pair it to your new phone and you're all set. And no extra apps to purchase! Read on to view the full press release and feature list.
BLUEANT WIRELESS AND VLINGO PARTNER TO DELIVER FREE INTEGRATED VOICE APPLICATION ON BLUEANT PRODUCTS


Turn Your Words into Action With New Application Optimized for BlueAnt Product Line that Lets Consumers Multitask Effortlessly While On the Move
Las Vegas. Consumer Electronics Show (Booth No. 31253)

BlueAnt Wireless, a leading innovator of Bluetooth peripheral devices, has extended its partnership with Vlingo, the maker of a Virtual Assistant that turns your words into actions, to elevate hands-free communications with a fully integrated free application that pairs Vlingo's speech-enabled virtual assistant solution with BlueAnt's hallmark voice-control technology and superior sound quality.

With the new BlueAnt Vlingo Application, consumers can speak into their favorite BlueAnt Bluetooth Headset or Speakerphone to initiate many actions on their smartphone, including sending and responding to texts and emails; conducting searches, making social networking updates and leaving reminder voice-to-text "notes2self" messages and more. Unlike other voice solutions on the market, many of which involve laborious consumer set-up, multiple application downloads and separate voice calls, BlueAnt's integrated application comes bundled in the box with all BlueAnt products for immediate and seamless operation.

According to David Hogan, CEO of BlueAnt Wireless, the company's long-standing partnership with Vlingo has evolved based on the success of integrating Vlingo's SafeReaderTM text-to-speech feature on BlueAnt products. "Our expanded partnership with Vlingo is further reinforced by a shared philosophy that consumers shouldn't have to compromise functionality or simplicity when it comes to hands-free communications," he says. "Together, we're taking advantage of our respective strengths in voice technology to offer consumers a multitasking personal assistant that makes it easier to manage their smartphones as well as many aspects of their busy lives."

In optimizing its voice application for BlueAnt's product portfolio, Vlingo tuned its audio recognition capabilities to ensure the highest levels of speech recognition performance. "BlueAnt is well known in the market for its industry-leading audio quality and innovative voice technology, so their products were a natural fit for our application," says Chris Barnett, EVP of Markets, Vlingo. "We look forward to further leveraging our collective expertise and understanding of the mobile communications market to continue bringing consumers the most compelling features and voice technology advancements."

Setting the Standard in Mobile Multitasking

The BlueAnt application powered by Vlingo will include the following *capabilities to provide the ultimate in mobile multitasking:

Voice Search,
Social Networking Updates,
Voice to Text "Note2Self,"
Voice Dialing,
Open Key Native and Third-Party Applications,
Compose SMS and emails with your voice, and
Integrated Text-To-Speech reading of incoming SMS and email messages.

*Feature availability based on phone platform

Vlingo and BlueAnt will provide support for the following languages: North American English, UK English, Canadian French, French, Spanish, Mexican Spanish, German and Italian.

Availability

The BlueAnt application powered by Vlingo will be available free of charge for all BlueAnt products and will be available on Android, iPhone and BlackBerry smartphones in Q1 2011.

Beginning Q2 2011, the free BlueAnt application powered by Vlingo will also be available on Symbian-based smartphones and additional functionality will be incorporated into the multiple smartphone platforms already available.