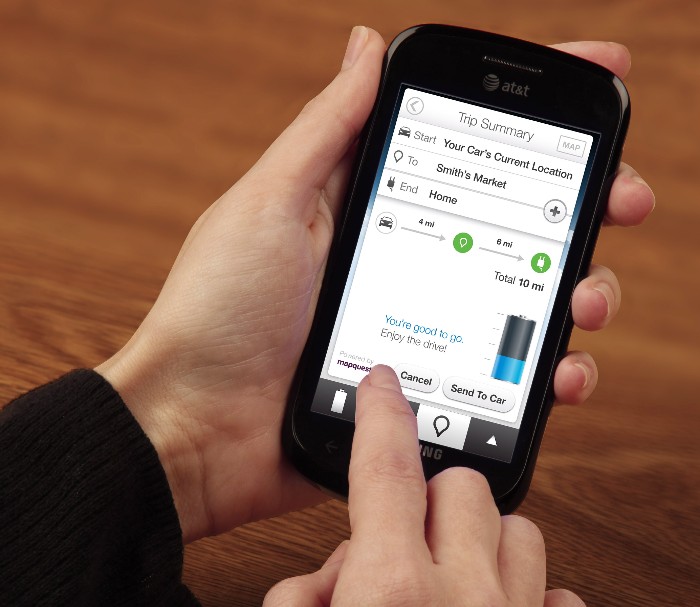 Day Three at the 2011 Consumer Electronics Show in Las Vegas and things have begun to wind down a bit, at least where the flurry of press releases is concerned. Down on the show floor it is a completely different story as doors have opened and the world's media are dividing and conquering.
One of the biggest stories of the day may have tipped the hand of part of the keynote speech being delivered today by Ford CEO Alan Mulally, specifically that Ford is bringing an electric Focus to market soon. Later today we should get the rest of that story and perhaps our first glimpse of a working model.
Here is that and more from Day Three in Vegas, baby:
Electric vehicle owners can plug in and walk away from their vehicles while staying connected, thanks to the new MyFord Mobile app being introduced exclusively with the all-new Ford Focus Electric.
• Ford has developed the all-new MyFord Mobile app for North America, allowing Focus Electric drivers to remain engaged and in control even when away from the vehicle. It's part of a strategic approach to make Ford electric car ownership simpler and easier
• MyFord Mobile works via a smartphone app or secure website to give owners the ability to monitor and control selected vehicle functions anywhere they and the car have connectivity
• The new app dedicated to Ford plug-in vehicle owners helps remotely monitor and control vehicle charge levels, plan single- or multiple-stop journeys, locate charging stations, pre-heat or cool the car and perform other convenient electric vehicle-specific tasks
• A value charging feature, powered by Microsoft, allows Ford customers to reduce their electricity costs by taking advantage of off-peak or reduced rates from their utility without a complicated set-up process
• MyFord Mobile will help Focus Electric owners make smart-trip planning decisions with features powered by MapQuest®, which will maintain the largest database of charging stations.
On the opening day of the 2011 Consumer Electronics Show in Las Vegas, iSimple (www.isimplesolutions.com) shot into the spotlight with several exciting new accessories for Android smartphones and tablets. Highlights included:
The TranzIt™ BLU:
A 2011 CES Innovations Award winner, the TranzIt BLU is the first universal automotive kit to use a hybrid FM modulator/Bluetooth connection to play audio through a car stereo. Designed for use with any car stereo and any Bluetooth-equipped smartphone running the Android operating system, the TranzIt BLU is expected for release toward the end of Q1 2011. iSimple is also developing versions of the TranzIt BLU for use with BlackBerry and other smartphones.
The GateWay USB™:
iSimple booth visitors will also be among the first to see the company's newest automotive full-integration kit – the GateWay USB. This vehicle-specific interface will allow a user to access, play and control music from any Android device, as well as most other popular smartphones and tablets, via his/her factory car stereo with 100% digital clarity. Expected for release in Q2 2011, The GateWay USB will also support battery charging and interfacing with select mobile apps on Android devices.
The HedFX™ Bluetooth Headset:
iSimple is also using the 2011 CES as a stage to showcase its HedFX Bluetooth stereo headset, an Android-friendly kit that features A2DP audio streaming, caller ID and hands-free capabilities. Suited for use either on the job or in the gym, the HedFX Bluetooth headset gives users the power to wirelessly stream audio or talk hands-free from almost any Bluetooth-enabled phone, while also offering superior comfort, sound isolation and hi-fidelity performance.
The iSimple booth will also highlight the company's current Android-based offerings like the TranzIt USB universal car kit, the JamKast™ digital FM transmitter, the DuaLink™ car integration kit, the SymPhone™ noise-cancelling headphones, and the uLinx™ line of USB cables.
General Motors Co. and the U.S. Department of Energy's Argonne National Laboratory announced today they have reached a worldwide licensing agreement to use Argonne's patented composite cathode material to make advanced lithium-ion batteries that last longer between charges and can charge at higher voltages.
"The creation of this battery technology represents an important return on the American investment in innovative vehicle and battery research," said Energy Secretary Steven Chu. "This agreement gives General Motors the ability to use cutting-edge battery technology throughout its supply chain. The licensing of this technology will also spur the renewal of the American battery industry, creating hundreds of new jobs where they are needed most."
Compared with currently available materials, Argonne's composite cathode material has a unique combination of lithium- and manganese-rich mixed-metal oxides in a stable materials-design approach that will:
• Extend the operating time between charges and increase the calendar life of batteries
• Improve the inherent safety of lithium-ion cells
Allow charging at higher voltages, which leads to a substantially higher energy storage capacity.
Clarion Corporation of America, a leader in the mobile electronics industry, announces the introduction of two all-new premium in-dash navigation units with advanced high-resolution widescreen VGA touch panel displays, a full-featured active GUI with unique HMI graphics to control all navigation, multimedia and connectivity features.
Livio Radio, developers of innovative audio products for use in the home and on the go, showcased two new in-vehicle Internet radio devices at Pepcom's Digital Experience today.
The New Carmen, Livio's new ultimate FM transmitter, offers auxiliary output capabilities for users looking to take audio files available for free on the Internet into the car or boat. The patent-pending Carmen software automatically launches once users connect the device to their Mac or PC, and quickly sets about recording their favorite music, sports and other programming for enjoyment later.
The company's new Bluetooth Internet Radio Car Kit allows users to stream the Livio Radio Car Internet Radio App, and to talk hands-free using A2DP Bluetooth controls in the kit. The Livio Radio Car Internet Radio App offers more than 45,000 radio stations from around the world in the car, without a monthly fee.


And here is the Ford release in its entirety:
Electric vehicle owners can plug in and walk away from their vehicles while staying connected, thanks to the new MyFord Mobile app being introduced exclusively with the all-new Ford Focus Electric.
The unique new MyFord Mobile technology provides Focus Electric owners in North America with a powerful tool to stay connected, monitor and control their vehicle. Via a smartphone or a secure website, MyFord Mobile allows Focus Electric owners to plan trips, monitor the vehicle's state of charge, receive various alerts for vehicle charging, as well as provides several other features designed to simplify the electric vehicle ownership experience.
It is part of the innovative Ford approach to understand that electric vehicle customers want to be informed and in control of their vehicle at all times, especially while away from the vehicle. The technology builds on Ford's connectivity leadership and is part of a complete suite of tools designed to give Focus Electric vehicle owners peace of mind through constant connectivity, helping strengthen the unique EV ownership experience.
"We're putting battery charge and vehicle range information, along with an interactive, data-driven trip planning app right at customers' fingertips," said Ed Pleet, Ford Connected Services manager. "That's going to get drivers involved and excited about the electric car ownership experience."
MyFord Mobile uses an on-board wireless module integrated into Focus Electric that allows the car to communicate off-board via standard cellular technology. Owners can use any connected mobile phone with a data plan or computer with Internet access when not operating a vehicle to:
• Find current and projected state of charge information including estimated range and the amount of charge time necessary for additional distances
• Program vehicle charging with utility input, allowing the car to start charging immediately or when electricity prices are lowest with the value charging feature, powered by Microsoft
• Using features powered by MapQuest®:
Locate charging stations and get the destination sent to the vehicle
Know if the vehicle can reach a specific charge station from its current location with the current charge level
Create a journey with multiple stops, and determine the likelihood that the car has adequate charge for the full journey
Find the car by creating a route from a mobile phone to the vehicle
• Receive alerts if the vehicle isn't charging when it's scheduled to, or if charging stops unexpectedly due to a power outage, plug removal or other event
• Receive alerts during recharge when the vehicle has reached a particular preset charge level or has the ability to reach a particular destination
• Engage remote vehicle preconditioning, using grid power to heat or cool the battery and vehicle interior
• Remotely lock/unlock doors
• Use the built-in GPS system to locate the car
• Download performance and system data
• Receive various achievements for driving and ownership milestones that can then be posted to your Facebook or Twitter account
• Fun ways of understanding your driver behavior, with ratings from 'Zen' to 'zippy'
• Receive information personalized to the driver, depending on which key the driver used
How the system works
At launch, the MyFord Mobile app will be available for most major smartphones, including BlackBerry, Android and iPhone, along with a mobile web application for compatibility with any phone supporting HTML-5 browser-based access, or features phones with WAP 2.0-supported browsers. The feature also is accessible via a secure Ford website.
Owners will use the smartphone to communicate with a cloud-based secure server, which stores information provided by an embedded wireless module in Focus Electric. Using a cloud-based architecture ensures users will have up-to-the-minute access to information anywhere both they and the vehicle have connectivity.
Key component in the electric vehicle ownership experience
MyFord Mobile is a primary feature in the suite of tools Focus Electric owners in North America will have to help them manage the recharge process and involve them engagingly.
They will engage with a version of MyFord Touch™, the Ford driver connect technology, which is being introduced across the all-new Focus family, designed exclusively for electric vehicle owners. The MyFord Touch system in Focus Electric adds an impressive layer of electric vehicle operation information on top of the broader MyFord Touch functionality.
The unique implementation of MyFord Touch offers configurability of vehicle information including battery state of charge, range budget, distance to charge point and expected range surplus. The cluster's MyView option allows drivers to access even more vehicle data such as the electrical demands of vehicle accessories including air conditioning, which can impact driving range.
Working with the charge station manufacturers and MapQuest, Ford will provide Focus Electric owners with the most current, comprehensive charging station information in the country. That information is accessed via MyFord Mobile and can then be communicated to Focus Electric using SYNC's Traffic, Directions and Information Service (TDI) when the vehicle is stationary.
Once SYNC TDI receives a charging station location from MyFord Mobile, turn-by-turn guidance is provided by the in-car map-based Navigation System. In the vehicle, drivers also can get charging station information directly through SYNC TDI simply by connecting to SYNC Services using voice commands.
Additional elements of the ownership experience include a new value charging feature powered by Microsoft that lowers cost of ownership by allowing customers to recharge their vehicles at off-peak or at other reduced rates from their utility through an uncomplicated "set it and forget it" approach.
"Ford recognizes the electric vehicle ownership experience is going to be new for just about everyone," said Pleet. "Our goal is not just to provide the most practical, enjoyable electric car on the market, but also to give drivers the information, applications and resources they need to feel confident about choosing fun, environmentally conscious transportation."