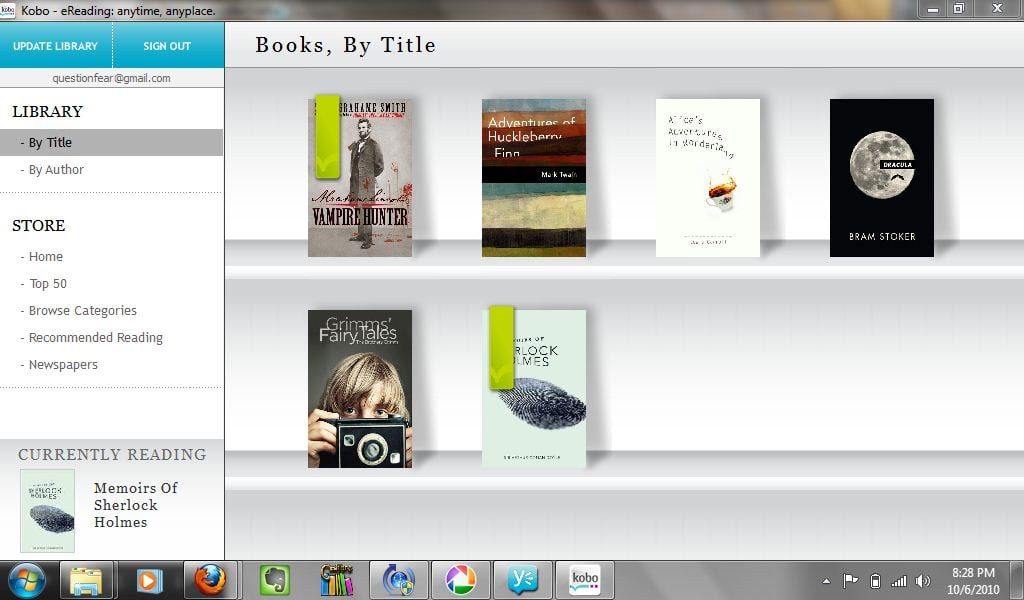 Kobo is moving aggressively in 2011, and they're kicking things off by offering PDF versions of major reference and educational materials. Their press release is light on the details, but my guess is that this is a way to beef up their content offerings ahead of B&N getting more aggressive with NOOKstudy. I find the decision to use PDF to be a bit odd, but I suppose it renders charts and such better than ePUB. Still, since most eInk readers (including Kobo's own) aren't great with PDFs this seems like a questionable compromise.
If you are in need of reference materials, or just looking for new ways to expand your horizons, be sure to check out Kobo! Just remember it might look better on your desktop than Kobo Reader!
A World of Educational Information Now Available from Kobo™

Kobo Introduces Over 175K Education, Technical and Reference PDFs to their World-leading Content Offering

TORONTO – January 7, 2011 – Kobo, the only pure-play global eReading service built on an open platform, today introduced more than 175,000 PDFs geared towards education and self-education for much less than the cost of a textbook. Content is in digital PDF format and is available to download and read through the Kobo Desktop Application, on Kobo eReaders, and for users of Adobe Digital Editions software. Kobo boasts a comprehensive selection of informational PDF content, including:

Medical texts and dictionaries
Economics and business manuals
Technical manuals
Academic and scientific texts

"Learning happens everywhere. Kobo believes that everyone should have digital access to textbooks, reference works, and academic materials anywhere in the world," said Michael Tamblyn, EVP Sales & Merchandising for Kobo. "The simplicity of downloading PDFs to an eReader or a laptop allows increased access to educational materials and expanded mobility and reading options. Whether it's a university text, new and relevant 'For Dummies' book, or a Medical dictionary, we are allowing Kobo users in 200 countries access to the latest academic and scientific content."

Over 2,000 participating publishers have provided titles, including Prentice-Hall, McGraw-Hill, Blackwell, Palgrave, The World Bank, Springer, Financial Times Press, Routledge, and university presses including Cambridge, Yale, Wharton, Harvard Business School, Rutgers and many, many more. Kobo's most popular PDFs include titles from the business, health and marketing categories, including:

1. "The Art of Business Seduction"

2. "Handbook of Women's Health"

3. "Social Media Marketing All-in-One for Dummies"

4. "Global Warming for Dim Wits: A Scientist's Perspective of Climate Change"

5. "Webster's New World Medical Dictionary"

In addition to PDFs, Kobo also offers one of the world's largest catalogs of content with over 2.2 million eBooks from New York Times bestsellers, new releases, and much more – additionally Kobo offers newspapers and magazines, and has a selection of over one million books available to download and read for free.

Kobo continues to focus on open standards and partnering with OEMs and software companies to consistently allow users to read on any device. Kobo customers can compile lifetime libraries as they choose, and read on multiple devices by downloading the free eReading app at www.kobo.com. Kobo offers an extensive collection of free books, allows users to borrow and read eBooks from their local library and allows eReading of Kobo eBooks on other dedicated eReaders, such as the Sony eReader and Nook.

About Kobo, Inc. Kobo is a global eReading service backed by majority shareholder Indigo Books & Music, Borders Group, REDgroup Retail, and Cheung Kong Holdings. Kobo believes consumers should be able to read any book on any device. With a catalog of over two million eBooks, magazines, newspapers and an open platform, Kobo enables retailers, device manufacturers and mobile operators to bring the joy of eReading to customers everywhere. For more information, visit www.kobo.com.