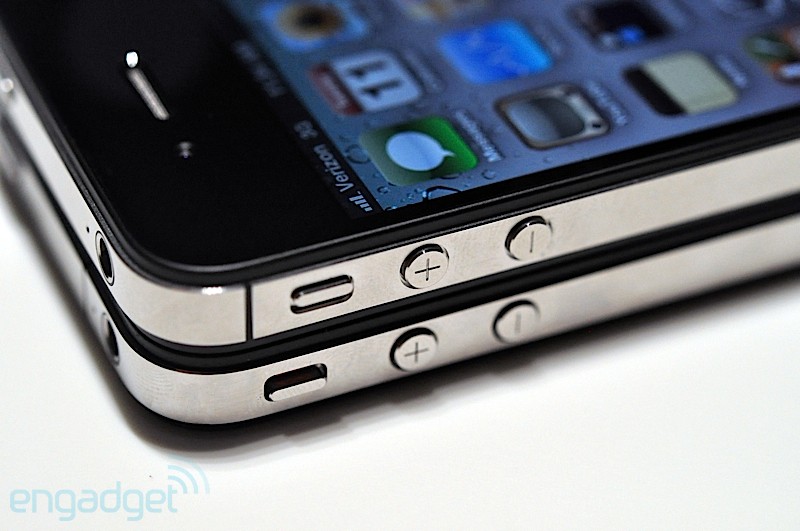 Image courtesy of Engadget
By know you already know Verizon just announced the availability of the iPhone 4 for their CDMA network.
Perhaps the biggest WTF moment though came after the hardware of the device was being closely examined.  Now it might just be the angle of the picture above but if you look closely you'll notice that the volume buttons and vibrate switch on the Verizon iPhone 4 don't line up with those of the AT&T version (in the photo above the AT&T iPhone 4 is on the bottom and the Verizon on top.)
If this is indeed true that means many cases made for the AT&T iPhone 4 simply won't fit with the Verizon version – most notably the Apple Bumper!
This means case companies would have to create all new versions of their cases, come up with re-labeled packaging and so forth so they could differentiate between the two versions.  Not to mention the retails stores who'd have to keep separator inventories of each case and instruct customers on which to buy based on which phone they have.
Talk about a nightmare!
The iPhone 4′s antenna was re-designed for the Verizon CDMA model and if this button mis-alignment turns out to indeed be true we'll have to assume, for now, it's due to the antenna change.  You'll also notice the absence of a black line near the vibrate switch on the AT&T version where one now exists on the Verizon phone.
Story developing, stay tuned …