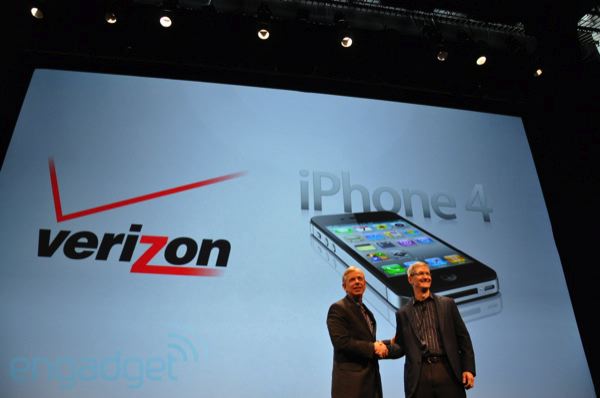 Image Courtesy of Engadget
At a press conference held today Verizon announced the iPhone 4 will be made available for their CDMA network in early February.  It didn't really come as a big surprise since the Wall Street Journal all but confirmed the announcement would be made last week during CES.
The device will be available starting 2/10/11 for $199.99 (16 GB)  and $299.99 (32 GB) with a new 2 yr. agreement.  It will be available to both new and existing customers.
The device itself will be no different than the iPhone 4 currently available on AT&T (same camera, same retina display, same Facetime etc.)
However, the Verizon iPhone 4 will include a mobile hot spot feature – where up to 5 users can share the device's internet connection.
The other unfortunate difference between the Verizon branded iPhone and AT&Ts is that like all other CDMA phones the Verizon iPhone will not be able to do data and phone calls at the same time.
When asked why the Verizon iPhone wasn't being made to support the company's Lte network Tim Cook stated that in order to make the device compatible with their Lte network a design change would be required.  Since they recognized their users wanted the iPhone now they decided not to make them wait any longer.
Learn more here.