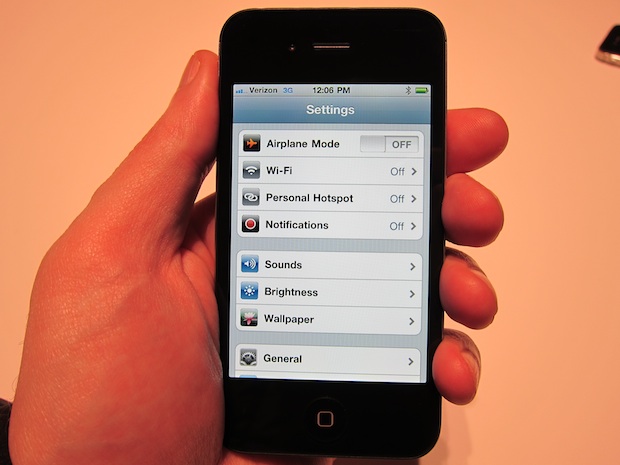 Image via Tech Crunch
Judie and I have been discussing the Verizon iPhone 4 announcement all afternoon. The pros, cons, new features (there aren't many), etc. One of the main, if not the only difference, between the Verizon iPhone and the AT&T version is the mobile hot spot feature found on the Verizon version. The Hot Spot feature allows up to 5 users to connect to the iPhone's internet connection and share it to get online.
After seeing the Verizon iPhone 4 demoed following the announcement we learned that the Hot Spot features appears to be part of iOS and the Verizon phone is running a new version of the iPhone operation system, 4.2.5.
Since the Hot Spot feature isn't an application, but part of the iOS, we can assume AT&T could easily implement it into their iPhone once this new version of iOS comes out and after they've had a chance to test the Hot Spot feature.
So what are the chances AT&T chooses to utilize the 4.2.5 version of iOS and thus offer the same Hot Spot feature to their customers? As Judie pointed out to me it would be a great way for them to try to stay on par with Verizon, and perhaps minimize the amount of current AT&T iPhone users who jump ship and head to Verizon. Especially if they offered the feature for free, instead of charging a monthly fee. Considering that the AT&T iPhone could theoretically operate as a hotspot and still function as a phone at the same time, this would make the AT&T iPhone an even more valuable device.
If AT&T doesn't plan on using the same iOS as Verizon, then does this mean we'll see completely different versions for each carrier? Will AT&T even get the same updates at the same time and vice versa?
Stay tuned to find out…