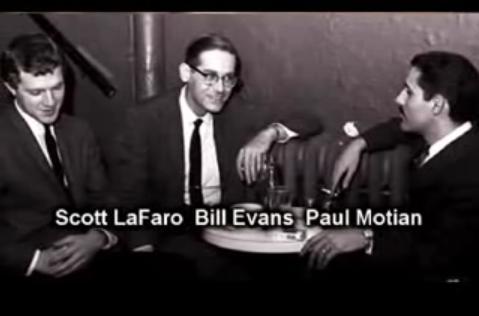 The Bill Evans Trio played five sets at the legendary Village Vanguard jazz club in New York City back in 1961, meaning we have come upon the Golden Anniversary of those sessions. Why should we care? Fair question, since the Village Vanguard has been one of the major jazz havens since the mid-1960s, and pretty much every major jazz musician has played there multiple times through the decades.
The reason to care is that those sessions from a single day have spawned not one, but TWO of what are considered some of the top live jazz recordings ever made. Concord Records recently reissued Waltz for Debby, and I am reviewing it for an upcoming Music Diary Reviews. Back in 2008 Keepnews had reissued the equally stellar Sunday at the Village Vanguard back in 2008.
For me, listening to one always leads me to listen to both – and I end up on a huge Bill Evans binge where I shuffle all of my songs together and just lavish in all of it! But this time I needed to focus on just the one recording – and was immediately reminded of something someone had mentioned in passing on a jazz forum years ago: while everything recorded that day epitomizes the pinnacle of a trio playing as equals, Waltz for Debby is all about Bill Evans, whereas Sunday at the Village Vanguard is about bassist Scott LaFaro.
Those recordings are a milestone – they are the metric against which all piano trios are measured, and the pinnacle of Bill Evans recorded work.
That is the Triumph.
Here is a video of Waltz for Debby. Sadly the trio with Motian and LaFaro was never caught on film, and this is from a London film from 1965 with Chuck Isreals on bass and Larry Bunker on drums.

Because of the way the trio worked, each member was critical. Paul Motian remains active to this day, and I looked at his 2010 recording Lost in a Dream here. Evans had periods of solid activity and other periods where his self-destructive lifestyle took over and he was inactive. He had a creative resurgence in the 1970s before his death in 1980, referred to as 'the longest suicide in history' as he never fully kicked the drug habit started in the 1950s.
But the tragic element of this great trio is Scott LaFaro. A late starter, he picked up the bass at age 18 (1954) as he wanted to go to college for music and learned that playing a string instrument was required. Quickly he gained significant abilities on the instrument and left in his sophomore year to join Buddy Morrow's big band.
Here is a rare live snippet of Scott LaFaro.

After playing with a who's who list of jazz stars during the next couple of years, he spent 1959 – 1961 in the company of two of the greatest figures in all of jazz: Bill Evans and Ornette Coleman.
With Evans he created four stunning recordings, which I would rate as four of Evans five best works (Conversations With Myself from 1963 as the fifth): Portrait in Jazz, Explorations, and of course Sunday at the Village Vanguard and Waltz for Debby. Those recordings – and particularly the stunning Sunday at the Village Vanguard demonstrate a style that allows him to weave melodic lines while simultaneously holding down the bottom in the harmonic structure. These recordings are must-listen for any serious student of the bass, and really something any fan of improvised music should have in their collection.
LaFaro joined Ornette Coleman to replace the great Charlie Haden, and made only two recordings: Ornette! and Free Jazz. Free Jazz, recorded in December of 1960, remains one of the landmark recordings in jazz – there are two quartets playing simultaneously, creating the tension and chaos that you would expect. LaFaro stands out in spite of simultaneously having Charlie Haden play!
Ornette! was recorded a mere 45 days after Free Jazz, and while it retreats from the full-on freedom to more song-oriented work, it shows a depth of maturity that makes it sound modern to this day. Don Cherry had grown tremendously as an improviser and player, and the switch from Charlie Haden to Scott LaFaro was the perfect muse to help Ornette open his new chapter of music. Next week (January 31st) marks the 50th anniversary of those recording sessions.
Here is the first section of Free Jazz:

Scott LaFaro had played bass for a mere 6 years before he died, yet made a huge impact on his instrument and on the entire history of jazz. He didn't burn out due to drugs or alcohol like so many brilliant young stars. He died in a random car accident during the summer of 1961, a mere two weeks after making the Village Vanguard recordings with Bill Evans. He died just as he was growing and maturing and his contribution was being recognized.
And THAT is the Tragedy.