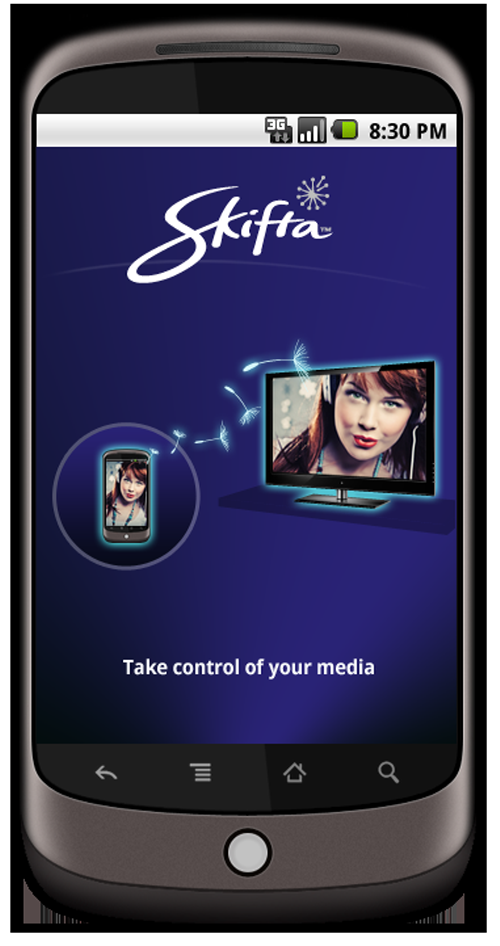 Our smartphones are very rarely 'just phones' for making phone calls these days.  More and more, we are using our smartphones as one of our primary means to access and share our media.  One of the biggest constraints, as a consumer, is having to take your music, photo or video collection and figure out how to share content between multiple devices.
Apple gave iOS device users AirPlay, giving the ability to stream content from iPads and iPhones to their Television via AppleTV.  Skifta took this concept a step forward at this year's CES, by showing how their Android application can stream digital media to certified DLNA (Digital Living Network Alliance) devices like TVs, IP-connected stereos, Playstation®3 consoles, and Windows 7 PCs.    Forget having to purchase or connect yet another set top box to play your music or videos.  Using Skifta you can take your media and stream it to your TV or stereo — without any cords.  Whether your music, photos or video is on your phone or stored in the cloud,  Skifta's application-based media shifting service allows you to access it from anywhere — and then play it on your TV, Stereo or computer.
Though it's still in Beta, Skifta is quickly carving out it's place on the 'must have' applications list for your Android (2.2 or higher OS) phone.  Let's take a closer look…
Skifta is…
A free media shifting service that turns your smartphone into a global remote.
Gives you mobile access to your digital music, photos and videos on your phone,  from the cloud, and remotely from your home.
Lets you stream your digital media to DLNA TVs, networked stereos, including Sonos systems, Windows 7 PCs and PlayStation 3 consoles on any Wi-Fi network via the phone.
The setup is simple.  Once you install the application from the Android Market, you choose your media source(s).
The application quickly found images on my smartphone that could be streamed over to any DLNA Television or Windows 7 computer.   If you have any music stored on your phone, SD card, or in a cloud service you can also set up Skifta to access and stream that content right from the application.
I definitely want to keep using Skifta to put it through some more paces, but I definitely like what I see.  Even after just a few days of use, I can say that it is definitely worth downloading.   I can't wait to see how it will handle content from the cloud.   This is where Skifta may have the biggest opportunity for Android users — the ability to easily get to and share your content without impacting device or SD card memory.
Official Press Release:
Skifta Service Puts Smartphone at the Center of the Connected Home

Service Turns Smartphone into Global Remote for Streaming Media from Your Phone, the Cloud or Your Home to Connected Consumer Electronics Anywhere —

LAS VEGAS —  Skifta™, a service of Qualcomm Services Labs Inc., debuted at the 2011 International CES in Las Vegas.  The Skifta service gives smartphone users the ability to control and play their music, photos and videos on connected devices at home, at a friend's house, at work or on any WiFi network without syncing or side loading media to the phone.

Skifta is an application-based media shifting service that allows you to access and play your digital media, whether you access it on your phone, in the cloud, or remotely from home.  Skifta also gives you the power to stream digital media to DLNA Certified™ consumer electronics, including TVs, IP-connected stereos, Windows 7 PCs, PlayStation®3 consoles and thousands more devices.

Leading industry analysts estimate that there will be nearly 2 billion DLNA Certified devices in homes worldwide by 2014.  Skifta takes advantage of the rapid adoption of DLNA-enabled devices, the growing desire for on-demand streaming media, and the increase in smartphone proliferation to deliver an easy-to-use service for taking your digital media with you, without actually taking it with you.

Skifta is designed to simplify mobile media management.  Just launch Skifta on an Android 2.2 phone, connect to a WiFi network, and choose from one of several media sources, including:

·     Your Android Phone – With Skifta, you are no longer forced to view photos or videos on the small screen of your phone or listen to music with ear buds or headphones.  Now you can stream high-quality music, videos and photos from your Android phone to any DLNA Certified player connected to a WiFi network.

·     Your Internet Channels – Skifta gives you access to many of your favorite cloud media services in a single application, which you can play on your phone or other Internet-connected electronics.  Skifta channels available today include Facebook, Picasa, Soma.fm, Revision 3, Radiofeeds UK, and Podcasts & More, which offers a handful of suggested RSS media feeds and lets you add your own personal favorites.  Additional new channels will be available in the coming weeks.

·     Your Home – Skifta also gives you global access to media stored on your home PC, media server or network-attached storage drive via any WiFi network.  Watch family photos on your friend's TV or access your music collection from home while on vacation.

Once you have chosen your media source, simply connect to a DLNA Certified device, choose your favorite music, videos or photos, then enjoy the experience.  With Skifta, you now have your digital media collection at your fingertips.

"Our media is often unreachable when we want it because it is trapped on our smartphones, computers and online services," said Ed Smith, director of product management at Qualcomm Services Labs.  "Skifta combines the mobility and WiFi connectivity of the smartphone to create a personal global remote for music, videos and photos without having to worry about where they are stored.  It lets users enjoy their favorite content on connected consumer electronics and in a rich audio and visual environment."

Availability

Skifta beta is currently available as an application in the Android Marketplace for smartphones running Android version 2.2 and higher.

The Skifta service includes a simple desktop application for remote access to your media stored at home (PC, Mac and Linux), available at www.skifta.com.   It is also available as a custom add-on for the NETGEAR® ReadyNAS Ultra range of NAS drives.

For regular Skifta updates, follow us at www.twitter.com/skiftaor become a Fan on Facebook at www.facebook.com/skifta.

About Qualcomm Services Labs

Qualcomm Services Labs Inc. is a wholly own subsidiary of Qualcomm Incorporated (NASDAQ: QCOM) created to develop and introduce new services and applications that tap into the advantages of mobile technology.  Designed to operate as an incubator, the company explores new ideas, technologies and service models that can have an immediate impact in the marketplace, as well as drive the adoption of Qualcomm's technologies.  Additional information on Qualcomm Services Labs and its products is available at www.qualcomm.com/qsl.

###

Skifta is a trademark of Qualcomm Services Labs Inc.  Qualcomm is a registered trademark of Qualcomm Incorporated.  DLNA Certified is a trademark of the Digital Living Network Alliance.  All other trademarks are the property of their respective owners.

You can Install Skifta to Your Android Phone from the Barcode Below, www.skifta.com or direct from the Android Market.