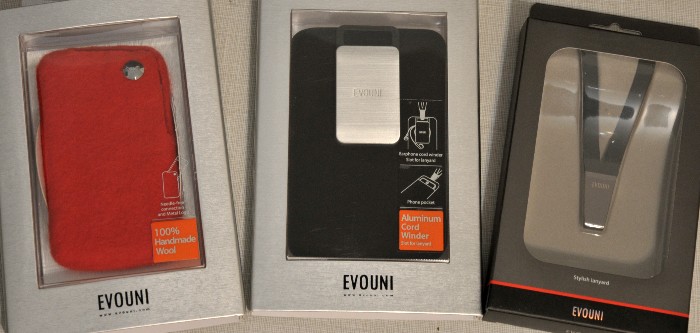 Gadget accessory company Evouni (I will leave the pronunciation up to you) sent GearDiary.com a few items recently, three of which made it into my hands.
The first two are designed to work in synergy: The Stylish Lanyard and the Aluminum Cord Winder. The lanyard consists of a soft flat rubber neckstrap with a clip at the end to attach to either an ID holder or in this case the Aluminum Cord Winder with a soft pouch attached. The pouch and cord winder host you personal device for hands-free operation (once you set it up with your hands, of course). On each side of the neckstrap are slots to help keep annoying earbud cables in place and on the rear of the pouch is an expandable cord winder clip for taking up the slack.
The other item is a handmade Wool pouch for the iPhone made from Merino wool in black or red (ours was the very stylish latter). While simplisticly chic, the pouch does not allow for use of the device, only storage. There is a slot in one corner for the device to slip in and out and after quite a few uses I believe this is going to begin tearing (ours already has). No opening for earphone jack, no cutout for camera lens and no slot on the bottom for a charge cord. Because of this I believe this item is a bit overpriced.
From Evouni.com:


Pouch
(On the company website this item is called Pouch but on the package it is designated as the Aluminum Cord Winder, both listed as item A51)
This iPod pouch has an aluminum alloy earphone cord winder and utilizes microfiber inner lining to keep your iPod touch/ iPhone/ iPod classic safe. Wrap the cord around the aluminum hook for a desired length. The pouch has a soft feel, holds the unit snug, and allows for hand-free use when attached to EVOUNI Stylish Lanyard.
Product Features:
• Custom fit for iPod touch/ iPhone 3G, iPhone 3G S/ iPod classic
• Terahedron inner lining is perfect for keeping your iPhone & iPod clean and safe
• Earphone cord winder
• Connection for lanyard
• Material: Microfiber
• Color: Classic Black
• Weight: 28.3g/ 0.99 ounces Dimensions: 126x81x18mm/ 4.96×3.19×0.71 inches
Like: Easy access open-top pouch, soft material, cord winder
Dislike: Lanyard sold separately
MSRP: $33.90
Stylish lanyard 



The lanyard neatly wraps around your neck and is formed for comfortable use. OAD material provides more comfort when listening to music for long road trips or exercising. There are earphone cord grommets on each side, placed specifically to hold earphones, so when not in use they can hang conveniently to the side. The sturdy clip connects to a variety of cases, and works well with the EVOUNI protective series cases.
Product Features:
• Zinc alloy clip
• Silicone neck strap (OAD)
• Earphone cord grommet design
• Clips to EVOUNI protective series for iPhone/iPod
Like: Soft, flat material; cord-minder slots
Dislike: Lack of color choice
MSRP: $18
Handmade Wool Pouch for iPhone



Maintain a sophisticated look for your iPhone with EVOUNI next generation wool pouch. This soft edged pouch offers comfortable fitting for your iPod. Slip it in and out, easy access makes this wool cover simple and stylish.
Product Features:
• Custom fit for iPhone
• Handmade from Merino wool
• Needle-free connection and body shape
• Metal engraving plate with logo
• Material: Merino Wool
• Weight: 12g/ 0.43 ounces
• Dimensions: 123x73x15 mm / 0.05×0.03×0.006 inches (obviously US dimensions are listed incorrectly)
• Color: Black, Red
Like: Soft material; cool style
Dislike: Lack of access cutouts, price
MSRP: $34.90