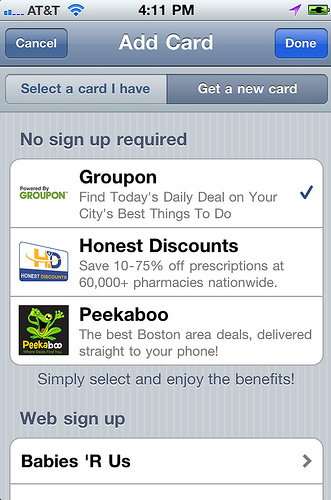 CardStar has come a long way since first hitting the scene and simply giving users the ability to store loyalty cards on their smartphones.    First they brought Foursquare check-ins to their application — and helped show local businesses the huge impact of location-based sales.  That's one reason I am an avid user of Groupon.  I'll get daily updates on my phone about various deals specific to my city.  But the one thing I've always missed is a way to get automatic deals when I travel.   As of today, I now have that convenience — thanks to CardStar's brand new Groupon integration.
When I travel from Atlanta to New York (or to any of the other 160-plus cities supported), I'll  now get automatic deals on my phone based on my location.  No time wasted searching or finding coupons.  Even better — I get all of this direct within  CardStar's application , so I don't even have to manually  switch between applications on my phone.    Fast.  Easy.  Convenient.  It gives you deals based on the city you're in — when you're in it.    And it SAVES you money.
If you use an iPhone or Android smartphone, you're going to want to have CardStar.  I'll pause while you go download it from MyCardStar.com.  When you're set, be sure to hit the jump for more info!
"The mobile wallet is no longer a pipedream and consumers are looking for tools that combine location, mobility and loyalty in order to access the right deals, at the right time, in the right place. Bringing deal services like Groupon into platforms like CardStar is a major stepping stone towards making the mobile wallet a reality. CardStar will continue to announce partnerships in 2011 that demonstrate its commitment to developing a comprehensive platform for savings-focused consumers." – Andy Miller, CardStar CEO
This application looks like a win-win for consumers and businesses alike.   There's never a bad time to save money (or bring more customers to your business), but in these times an application like CardStar makes even more sense by bringing all the deals to straight to you — with no effort besides downloading the app!   Forget scouring for coupons or trying to find the best deals while traveling.   CardStar's new Groupon feature covers all of your bases.
You can sign up or learn more about the free CardStar app  direct from their website MyCardStar.com
.
CardStar to Offer Groupon Location-Based Deals

CardStar extends its mobile loyalty platform by publishing Groupon's daily deals its users in more than 160 cities

CardStar announced today that it is the first mobile loyalty app to integrate with Groupon – bringing Groupon's estimated $1 billion in savings to CardStar's 1.3 million iPhone users.

Through the CardStar app's Groupon card, users can access daily deals offered by national and local retailers specific to the user's current location.

The Groupon Card extends CardStar's mobile couponing feature and gives local businesses and merchants another touch point to reach shoppers in their area.

CardStar is branching into new forms of loyalty, such as services like Honest Discounts and Groupon, in order to give users access to savings outside of traditional retailer rewards programs.

ABOUT CARDSTAR
CardStar Inc. is a privately held software company developing mobile applications that perpetuate the use of loyalty cards and mobile coupons. The CardStar application consolidates membership and rewards cards on smartphones – letting consumers access cards from within a single app and enabling merchants to tailor mobile deals and information to their customers. The company was founded in 2008 and is located in Boston, Mass. For more information, visit www.mycardstar.com.

ABOUT GROUPON
Groupon, launched in November 2008 in Chicago, features a daily deal on the best stuff to do, eat, see and buy in more than 500 markets around the world. Groupon uses collective buying power to offer unbeatable prices and provide a win-win for businesses and consumers, delivering more than 650 daily deals globally. For more information, visit http://www.groupon.com.