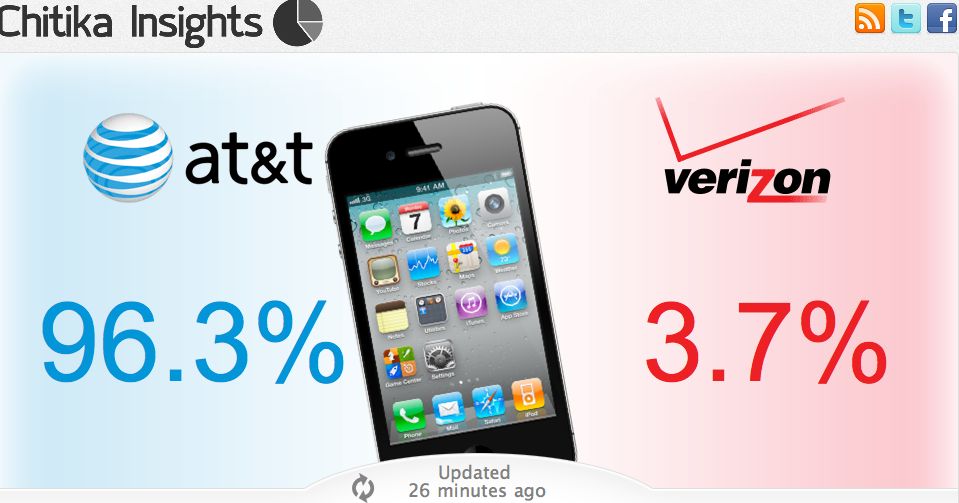 Over the last week or so we have read about Verizon completely selling out of pre-orders of the iPhone 4, then an estimate that those pre-orders were 500,000 or more, and then that there was some shock that there weren't lines and crowds outside of Verizon and Apple stores across the country. Keep in mind that this phone is 9 months old and just coming to a new carrier – and as noted by HTC they expect their phone life-cycle to be well under 9 months … so selling 500,000 at this point is already pretty amazing!
According to an article at MacRumors, Chitika Insights has set up a data tracker which monitors the data in real-time and updates based on 24-hour rolling averages. According to the site:
On Thursday, the iPhone came to Verizon. After years of rumors and guesswork, hordes of iPhone fans clamoring for a new network, it's happened, and predictions of the effects are flying everywhere. Will this kill ATT? What will happen to all the Android phones on Verizon?

Well, we're here to watch and report on just that. Our first tool: a live iPhone carrier tracker. Updated regularly throughout the day, the tracker will show you what percentage of iPhones we see in a rolling 24-hour period are ATT, and what percentage are Verizon.
Interestingly when the MacRumors article went up the Verizon iPhone was at 3% … but now it is close to 4%. Guess that gives some hints as to the trajectory we can expect!
Another funny story – last night we were getting our hair cut, and the stylist was at the mall with friends for the morning 'mall walker' thing and noticed that there were seven people between Verizon employees and guards at the kiosk … and two customers! She told her husband, and he went down to grab one right away. In our area AT&T is just now getting beyond one bar, so pretty much everyone is on Verizon. What surprised me was that she said that since no one in their house has an iPad or iPod Touch he was really learning everything from the ground up, and when she suggested he look something up like in a commercial … he said he didn't know how yet. A whole new generation of people get to discover iOS for the first time!
What experience have you seen as Verizon enters the iPhone market? Are you planning to get an iPhone now?
Source: MacRumors