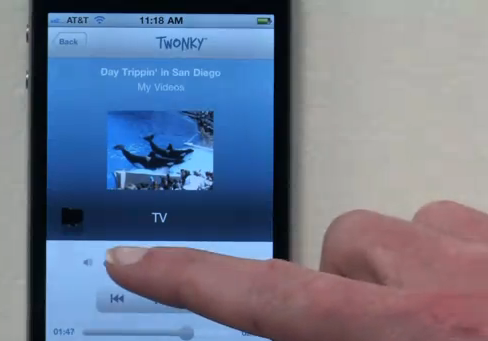 Recently, I wrote about the Android app Skifta that lets you access personal media you have stored on your computer — or in the cloud — and stream it to your TV, stereo or other DLNA enabled device.    iPhone users may have felt left out in the cold, but no more.   Twonky now brings media sharing to to your iPhone, turning it into the ultimate wireless remote control. 
What's great about apps like Twonky and Skifta is that you are not confined to the storage space on your phone.   Whether you have 8 gigabytes or 32 gigabytes of phone storage, you can now access, share and stream all of the photos, music and videos you've stored on your computer.  Twonky will stream that content to your TV or stereo and let you access much more than you can store with internal phone or even SD card storage. 
In addition to DLNA, as of today Twonky will also use Apple's Airplay and UPnP — so you can even stream media to your AppleTV,  Xbox 360 or Sony PS3.    Twonky is a $2.99 application available for iPhone.  If you install TwonkyManager or TwonkyServer, you can also wirelessly copy media fromyour network onto your phone — or vice versa — if you want to take photos or music you just downloaded to your phone and want to copy that media to your home computer.   Hit the break to see Twonky in action. 
You can thank PacketVideo for bringing Twonky to the masses.   The company's CTO, Osama Alshaykh, understands that in today's market consumers are going to have different devices — and want to easily access and interact with their content: 
"People engage with media content on a variety of devices, and we wanted to make viewing that content on a mobile device as intuitive as possible. Twonky Mobile lets people tailor the way they view their media and experience entertainment, regardless of the brand of devices they have at home." 
Interested in learning more about Twonky?   Check out their website and the official iPhone application announcement below.   You can download Twonky from the iTunes App Store. 
Twonky Brings Media Streaming to iPhone 

  

Media-sharing app lets you wirelessly send media content with the touch of a button, turning your iPhone into the ultimate remote control 

  

NEWS FACTS: 

PacketVideo (PV) announced today its Twonky Mobile media streaming app is now available for the iPhone. With Twonky Mobile, you have on-the-go access to all your media (e.g. videos, music and photos) without being tethered to a PC or needing clunky cables to connect to devices.

Using Twonky's patent pending beaming technology, you can discover local or network-based content on your iPhone and play it instantly on Web-connected TVs and devices (e.g. Roku, Xbox 360, Sony Blu-ray players, PlayStation 3, etc.).

Additional Twonky Mobile features include:

o Digitally connect your home – Use your iPhone to take control of your media and send content around the house to Web-connected devices (e.g. beam music from your PC to your Sonos S5 in the kitchen) 

o Take and share photos instantly – Access photos on your iPhone and beam them to your TV, PC or a digital picture frame. 

Twonky Mobile is also available for the Android, which beginning today has Apple AirPlay support.

ABOUT PACKETVIDEO: 

Founded in 1998, PacketVideo is the software pioneer powering the world's leading multimedia services on millions of home and mobile devices. For more information, visitwww.pv.com. Twonky (www.twonky.com) is PV's line of consumer software