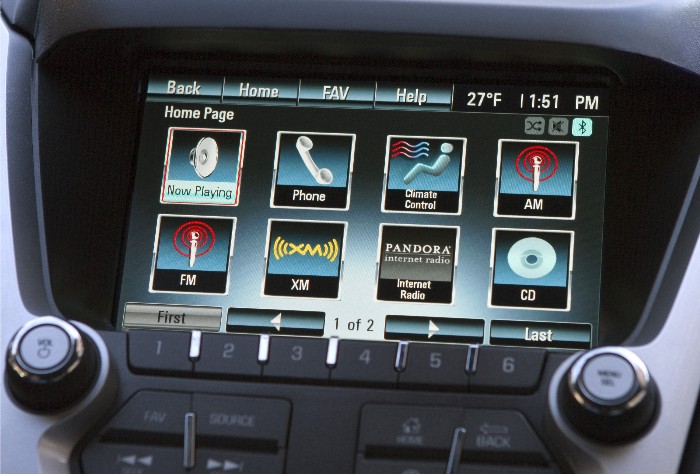 During GearDiary.com's days of CES coverage last month we told you about the next generation infotainment technology coming to GM vehicles called MyLink. Chevrolet has announced that its first two models to offer this will be the 2012 Volt and Equinox. This is the automaker's answer to systems already in use or coming very soon in other brands.
From the press release:
Consumers who seek a higher level of in-vehicle wireless connectivity and customized infotainment options, plus the unmatched safety and security of OnStar need look no further than the 2012 Chevy Volt and Equinox.

When these vehicles go on sale later this year, they will be the first to offer Chevy MyLink – an in-car infotainment package that builds on the safety and security of OnStar and seamlessly integrates online services like Pandora® internet radio and Stitcher SmartRadio® using hands-free voice and touch-screen controls via Bluetooth device connectivity.

"There is a new generation of car buyers who don't want to settle for mass market radio," said Rick Scheidt, vice president of Chevrolet Marketing. "They want to create their own individual stations and have access to them wherever they are. Chevrolet vehicles have offered customers the ability to use portable media devices since 2006 and the introduction of MyLink takes media personalization to a new level. "

MyLink adds stereo audio streaming and wireless control of smartphones, building on the voice-activated Bluetooth hands-free calling capability already offered in most Chevy vehicles. MyLink also includes a seven-inch, high-resolution, full-color touch screen display that makes media selection easy to navigate.

"Chevrolet MyLink is the next logical step for in-vehicle connectivity," said Karl Stracke, vice president for Global Product Engineering. "MyLink leverages the mobile broadband capability and the sophisticated, online services made possible by today's smart phones."

MyLink retains all the capabilities of today's entertainment units, including AM/FM/XM tuners, CD player with MP3 playback, auxiliary and USB inputs. But, Stracke says, "These are the essentials and we're building from there."
Among the new benefits provided by MyLink:
• Enhanced hands-free voice control system powered by Nuance®, which allows simple voice commands to initiate phone calls and select radio stations or media from portable MP3 players and smartphones. A tap of a button on the steering wheel enables intuitive verbal control of smartphone applications like "play (artist name)" or "call (name of contact)" to keep the driver's hands on the wheel and eyes on the road.
• Pandora® internet radio allows users to create personalized radio stations based on favorite artists or genres and Stitcher SmartRadio® enables access to thousands of audio programming choices allowing customers to build a personalized listening experience. MyLink integrates control of both of these apps for a driver directed listening experience.
• Gracenote®: identifies the music collection on the driver's smartphone or MP3 player and presents information such artist name, genres and album cover art on the MyLink screen and enables users to select similar music to the tunes they love. Gracenote also improves the accuracy of MyLink's voice activation system by allowing users to access music using artist nicknames, such as "The Boss," "G.N.R," or "The Fab Four" simply by using MyLink's touch-screen or steering wheel buttons and voice control interfaces.
• Upgraded USB connectivity: While Chevrolet has offered auxiliary device connectivity since 2006, MyLink adds flash memory capability to its USB device connections. This provides users with the ability to access approved applications that will make their MyLink system even more functional, while assuring that driver's maintain eyes on the road and hands on the wheel.
The debut of Chevy MyLink extends the OnStar experience from safety and security to information and entertainment by seamlessly integrating the capability of a smartphone into the vehicle so that hand-held phones may be safely stowed while driving.