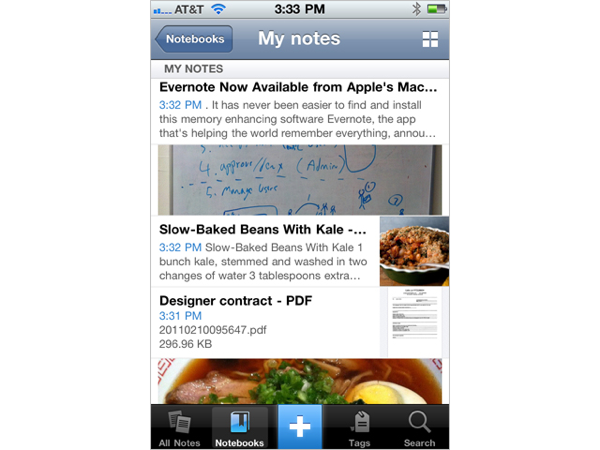 When the iOS App Store first went live there were only a few standout apps among the first releases. I should know, after all I got very familiar with each of them within the first 72 hours after it went live. At the time I was launching one of, if not the, first iPhone app review sites. We didn't yet have a code for automatically importing new apps so, I loaded every one of the first crop manually. And among all of them, just a few were standouts  that made me go "Wow!". Among those standouts was Evernote's iOS app; it let you add text, voice and image notes, sync them to your Evernote account and access all of the notes in your account on the go. It was a game changer.
In the years since, Evernote's iOS app has seen incremental improvements. But it is, on the whole, pretty much the same app that appeared in the App Store that very first day. Well today that all changes.
Evernote has just announced a brand new version of their iPhone and iPod Touch app, and it looks awesome.
The completely redesigned Evernote 4 for iPhone and iPod Touch is built from the ground up. As the company explains:
.. we went back to the drawing board and reconsidered every single aspect of Evernote for iPhone. We think you're going to love the changes. With that, we give you Evernote 4, available in the iTunes App Store.
So what's new? Here's a video of it in action-
Here are details from Evernote's own blog post explaining the new version…
The new Home Screen and Snippet View
The first thing you'll notice is that we have unified browsing and note creation in the application's new home screen. Your notes list is now shown in Snippet View. This view maximizes the amount of information that is presented in a small amount of space. If a note is text only, then the app will show the title of the note and as much text as will fit into the snippet. If the note only contains an image, then we'll take a slice out of the image and present it full width. If the note has a mix of text and other forms of content, then we'll show you the title, some text and a thumbnail. This means that you'll get more at a glance than ever, in many cases allowing you to skip opening the note entirely.
The New Note screen
Gone are the big home screen tiles of old. They've been replaced with an ultra-functional New Note screen. When you tap the big plus, you're presented with a split screen. The top half is your standard text entry area. The lower half lets you attach images and snapshots, record 90 minutes of audio, assign notebooks and tags and even set your location. You can now attach multiple items to a single note. So, if you're sitting in a meeting or lecture, you can have notes, recorded audio and a whiteboard snapshot all in a single note.
To create a note on the audio recorder (one of my personal favorites): tap once to start recording, tap again to stop and attach the recorded audio to the note. Tapping a third time will start a new recording, which will become a second attachment.
Removing attachments
To remove an attachment, tap on the paperclip icon. This will show you the attachment screen. To remove, tap edit and tap the red circle. You can also swipe across the item.
Selecting multiple camera roll images at once
When adding images from your Camera roll, you can choose to attach multiple images to a single note or create a note per image. To select multiple notes, tap on the arrow in the lower left corner of the Camera Roll note screen. If you decide to make multiple notes, the title, notebook and tag settings associated with the note you are creating will be automatically be applied to all of the new image notes.
Assigning notebook, tag and location
The top row of buttons lets you create and assign a notebook and tag your note. The location button is a convenient way to double-check your current location or modify (or even delete) the note's location information.
Browsing by notebook and tag
This is a biggie. Many users have asked for a way to view a single notebook at a time. Now, you can. Both notebooks and tags are options along the lower tab bar. Select the notebook or tag you wish to view and that's all you'll see.
Resource views
Have you ever had that tip-of-the-tongue feeling? You're trying to remember something and you almost have it, but not quite. The new Resource Views will cure you. When you have your list open, tap on the 2×2 box icon in the top right corner. All of the Resource Views relate to the current note list, so if you're filtering by a specific notebook, then only those notes will show up.
Image view: This view displays all the images from all the notes. Tap on an image and the note will open.

Attachment view: This view displays a list of all the attached items (excluding images) contained in the notes

Map view: This view drops pins on a map for all notes with geo-location information. Tap the compass icon to find notes near your current location.
Search
Search now gets its own screen. That's because all of your saved searches appear below the search bar. You can either create a new search or tap on a saved search using a desktop version of Evernote.
Finally, Evernote offered this with regard to the iPad app…
Evernote for iPad got numerous behind-the-scenes improvements as part of this update. You can expect many of the ideas and concepts from this iPhone redesign to make their way into upcoming versions of Evernote for iPad. Stay tuned.
In all this is a huge update that will hopefully make Evernote even better, for free and premium users alike.