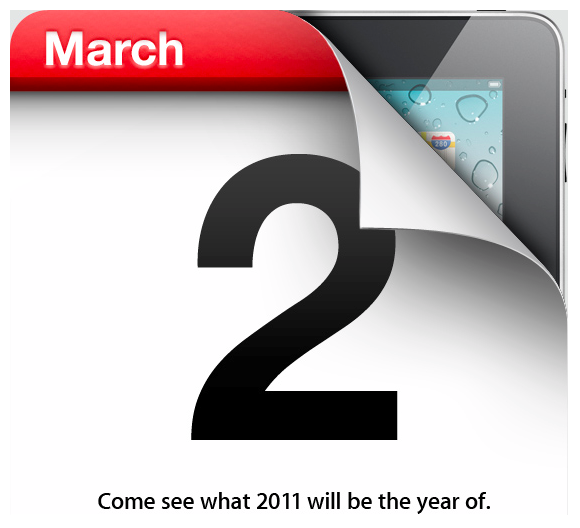 Any Apple fan loves an Apple event, and there is a big one hitting today, March 2. What will we see? Well, since the iPad 1 is no longer available, the iPad 2 is a lock. But what features will it have and will it really be just the iPad 1.5 the blogosphere has been spewing about? We'll see soon.
And what else will we see? There are lots of guesses but we'll know for sure once Apple announces it.
We wish we were there in person, but instead we'll be monitoring all of the feeds … and we'll share the news with you as soon as it's out!

Images from Engadget
And Steve is there!
200 million iBooks accounts. (Sorry Apple I use Kindle.)
Just shipped the 100 millionth iPhone. WOW!
There is something serious going on here. Noted iPod, iPhone and iPad and the "next" addition… That doesn't sound like the iPad 2. (Update… It is!)
15 million iPads sold as of December. That is more than every tablet pc ever sold.
Apple- "2011: Year of the Copycats?"
As expected, we are going to see dual-core processors, up to a 2X faster CPU and up to 9X faster graphics.
And as expected, it has two video cameras and the same gyroscope as the iPhone and iPod touch.
The first generation iPad was 13.4 mm while the new one is 8.8 mm think.
The new iPad will work on AT&T and Verizon and will come in back and white. It will have the same 10 hours of battery life of the first generation.
And it comes in at the same pricing!
Shipping March 11th.
Whats new…
HDMI out and it works with all apps. The adapter is just $39.
New case… Errr cover, that attaches with magnets. Open it and the iPad wakes up. Close it and the iPad goes to sleeps. (comment- SWEET!) 5 colors in each of polyurethane and leather. Cases are $39 and leather ones are $69.
Releasing iOs 4.3 with the iPad 2. Will see Safari and Airplay enhancements, home sharing and more. And 4.3 will add personal hotspot for iPhones. (but not iPads… Booo)
PhotoBooth is on the way and the iPad 2 will let you stream 9 video chats at once. And of course FaceTime is there too.
New apps for the iPad- iMove for iPad and GarageBand! Nice!
GarageBand and iMovie- $4.99 each on March 11th.